Key issues to raise with workers and managers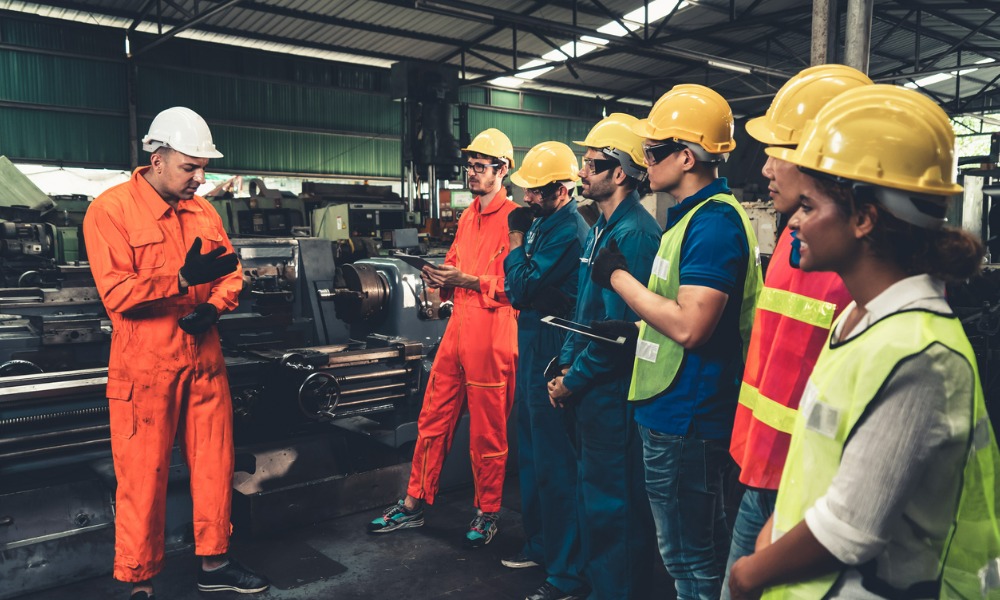 One thing most safety professionals agree on is that communication is key. Effectively communicating with workers on the importance of safety helps enhance workplace health and safety by keeping it top of mind. This is why many safety officers and managers like to start the day by having a live or virtual chat with employees about an array of topics that are key in the safety sphere.
But it's not just employees that safety folk are having meetings with. It's just as important to bring up these important topics with upper management, because workplace safety is only effective if supported by every level of an organization. Here is a list of 13 workplace safety topics that safety officers can (and should) discuss during meetings with workers and managers.
1. Building security. It always serves to remind workers about proper entry and exit procedures in the workplace. This includes refreshing minds about policies around outside visitors or how to properly lock the building if they're the last one to leave at the end of the day.
2. Personal Protective Equipment (PPE). It isn't enough to simply purchase equipment, the equipment needs to be effective. This involves providing clear instructions (and perhaps even training) on how to use it, reminding workers to use it, and looking into it when they're not. Does the equipment fit? Is it compliant? Could it be improved? These are all questions that should be asked during meetings.
3. Safety training. A lot of workers require some form of safety training. Some positions and some industries may require more than others. Meetings are a great place to remind workers about the training they need, ensure that they are up to date and share basic safety tips with employees.
4. Reducing slips, trips and falls. These are among the most common hazards in the workplace. Things such as slippery surfaces, poor lighting and inadequate footwear play a huge part. Reminding workers and managers to be vigilant about these hazards, and investing in solutions to mitigate said hazards, can go a long way in reducing unnecessary injuries.
5. Mental health. Mental wellbeing and psychological safety have become integral to workplace health and safety. Checking in with workers to make sure their mental health is doing ok, or reminded them of resources available to them are great things to discuss during meetings. If workers don't feel comfortable sharing publicly, remind them that they can always share in private.
6. Stacking. Badly stacked items can create huge hazards in the workplace. During meetings, safety officers can remind workers of proper stacking methods and also – if necessary – give tips and best practices on how to lift heavy objects so as not to get injured.
7. Heat exhaustion. As we saw during the extreme heat conditions last summer, heat exhaustion and other related issues such as heat stress or heat stroke can be deadly. Reminding workers to take regular breaks in the shade, stay hydrated and teaching them the signs of heat exhaustion are essential during hot weather conditions.
8. Fire safety. Perhaps not something for every meeting, but safety officers shouldn't hesitate to refresh workers on the importance of fire safety and some basic best practices they need to know in case of a fire. Of course, fire safety requires more intricate plans including fire drills and proper emergency preparations, but a brief reminder here and there is always useful.
9. Reporting accidents. Do you have a system in place for reporting accidents? You should. And you should frequently remind workers of the correct procedures to ensure that should an accident happen, workers are confident in reporting. When should first aid be administered? Which emergency services need to be called? Which paperwork needs to be filled out? Accident reporting is something that needs to be properly planned and communicated.
10. First aid. Similar to fire safety, this isn't one for every meeting but a reminder on the basics of first aid can be very useful. Providing training to workers on first aid is even more useful – and in fact, depending on the organization, training at least some workers on first aid is mandatory.
11. Workplace ergonomics. Pretty much any workplace is concerned with ergonomics. Even those working from home need to invest in items such as ergonomic chairs or laptop raisers to avoid developing musculoskeletal disorders (MSDs). Poor ergonomics can have terrible consequences for workers. Best practices must be clearly communicated with workers, and safety officers should consult with workers to see if there is anything the organization can do to improve.
12. Workplace violence and harassment. While thankfully not an issue in all workplaces, violence and harassment can still be real and frightening issues in the workplace. A zero tolerance policy is essential, and this policy needs to be clearly and repeatedly communicated with every level of the organization. Employers may also wish to provide training so that workers can pinpoint and learn about toxic behaviours.
13. Work hours, long shifts, and worker fatigue. The pandemic has had a huge impact on worker mental health, as mentioned before. For some workers, the pandemic has meant longer work hours or longer shifts (nurses, for example, have seen their workloads increase substantially). This can eventually lead to issues such as fatigue and even burnout. Outside of the pandemic, these issues are still common. Sharing resources and relaxation techniques during meetings could prove helpful.