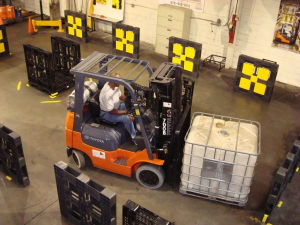 Following safety
inspection blitzes on forklift hazards
for two consecutive years – 2009 and 2010 – the Ontario Ministry of Labour has found that not much has changed.
"Unfortunately we didn't actually see a real difference in the type of orders we wrote," says Wayne De L'Orme, the province's provincial coordinator for the Industrial Health and Safety Program. "Unfortunately, it appears that we're still writing the same orders on basically the same issues."
Issues such as operators' competence on
safe forklift operations,
their knowledge of the truck's load capacity, proper maintenance of the forklifts and work environment came up consistently during inspections, and which the ministry is now focusing on when conducting regular inspections to industrial workplaces, De L'Orme said.
Over 700 forklift-related incidents occur in Ontario workplaces every year, according to data from the Occupational Health and Safety Council of Ontario. Thirteen workers died between 2003 and 2007 as a result of industrial incidents involving lift trucks, reach trucks, forklifts and tow motors.
De L'Orme says operator competency is a vital component of forklift safety. Although the province does not have a mandated set of requirements for forklift operator training, he notes that under the Occupational Health and Safety Act, it's the employer's responsibility to ensure that workers are properly trained.
That's one of the things ministry inspectors will be looking for. "We are going to be asking questions to the people who are operating the forklift what is it they know about their equipment and how they know to operate it safely; what sort of training they have received for this specific piece of equipment that they are driving right now."
De L'Orme warns forklift training should not be a one-size-fits-all as every type of forklift may have different characteristic. A worker must be trained on the specific forklift he or she is going to operate, and re-trained every time the operator gets assigned to a different machine, De L'Orme says.
"I think sometimes employers believe that if they get somebody who have been trained from an outside agency…then that means that person is competent to drive equipment in their workplace." The operator must be able to demonstrate competence on the specific equipment they are using, De L'Orme adds.
A huge part of that competence is knowledge of the load capacity of that particular forklift, he adds. Many forklift-related incidents involve tip-over due to overloading, because the operator is not aware of the machine's load requirements.
Although most forklift manufactures today have anti-tip or anti-turnover technology built-in to their lift trucks in varying degrees, nothing can ever replace a good, comprehensive operator safety training, says Martin Boyd, vice-president of product planning and marketing at Toyota Material Handling U.S.A. Inc.
Toyota forklifts, for instance, have built-in system of active stability (SAS) technology, which uses different sensors that can sense potential instability in the lift truck, and an electrical controller that determines what type of action is required to prevent a tip-over.
But even with advancements in technology, driver training is still key. "Before you even get on the product, our stance is that training, training, training is always the best way to get operators to understand how the equipment operates… that in itself is going to have a very significant and beneficial impact in reducing any kind of accident as it relates to forklifts," Boyd says.
According to the U.S. National Safety Council, 70 per cent of all industrial accidents are operator induced. The Occupational Safety and Health Administration (OSHA) says that training may reduce workplace accident rates by 25 to 30 per cent.
---
Maintenance of the equipment is also key, says De L'Orme. Evidence of improperly maintained lift trucks – such as breaks and lift mechanisms not working properly – is another issue that ministry inspectors found rampant in many workplaces.
"Forklifts seem to be a lot of fun to drive and they are very handy tools in the workplace. But not having breaks or not having a way of ensuring that the load does not move up or down as you're moving is a pretty major issue," De L'Orme points out.
Forklift safety tips
Whether you're a forklift operator or facility manager supervising for forklift operations, Boyd offers these best practices to help ensure safety at your worksite.
Train, train, train.
All equipment dealers offer training classes that teach operator safety training. Take advantage of those, Boyd says. Equipment dealers can either train all the operators directly or do a train-the-trainor-type of program where they would train one person on how to operate lift trucks, and that person can, in turn, run on-site operator training.
Mind the newbies.
Facilities that have a high operator turnover rate or employ seasonal workers, such as young workers in the summer, must ensure that any new operator coming in are properly trained. "It's really important for those facility managers to send those summer operators, even though they may be only working there for three months, to get them quickly through a training program."

Pre-shift checklist.
Require operators to walk around and inspect the lift truck before getting on the equipment to start a shift, Boyd says. Check the tires and make sure there's nothing on the tires that could lead to instability. For gasoline-powered or propane-powered truck, make sure the tank is secure. Look for any damaged hoses. Look for any damage on the truck. "A lot of times an operator, by walking around the lift truck and doing his OSHA pre-shift checklist can actually identify things before he even gets on the truck – whether or not the truck is going to have a safety issue."
Tag it.
If an operator sees an issue or a potential issue, this should be tagged immediately. Do not attempt to fix the issue yourself. Tag it for the dealer to send a trained professional to fix the issue.