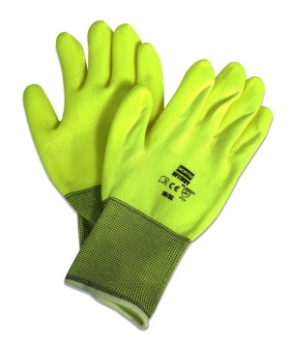 Wearing protective gloves requires more than just putting on a pair. Like any other personal protective equipment, they have to fit both the users and the job. Here are some best practices to make sure you're using the right glove for the right job.
One of the most important requirements for any personal protective equipment is that it should "fit like a glove." When it comes to hand protection, the phrase has a more literal translation.

Gloves are worn in industrial work settings as part of an organization's safety program. But, as Jan Chappel of the Canadian Centre for Occupational Health and Safety (CCOHS) warns, there is no single glove that will work for every hazard. Safety professionals and company buyers must do their homework and ensure they choose the right glove, made of the correct material, that will protect workers in each job or situation.

Choosing the right hand protection for the job and the worker is something safety glove manufacturers are advocating as well.

"Industry has been slow to change the way they select and use hand protection," says Joe Geng, president of Superior Glove Works Ltd. Many times, workers are still relying on "the same glove Dad used," he says, as many companies haven't checked to see what's been happening in hand protection technology.

For instance, he wonders how many safety professionals — and workers — are aware that many gloves can be laundered? Instead of disposing gloves, cleaning them up to two-to-three times according to manufacturers' instructions can prolong their use, save the company money and even add value to the company's green thumbprint.

"There are always evolving glove technologies," agrees Adel Gadallah, of Edmonton-based Bob Dale Gloves & Imports Ltd. "There are cut resistant glove shells that are coated for grip. As well, there are cut resistant gloves that are abrasion resistant which are great for prevention of cuts and (protect against abrasion) which, in turn, provide longevity of the gloves being used. There are also fully dipped gloves that provide cut, abrasion, puncture and liquid resistance."

Fortunately, the good news is that over the last five to ten years, many safety professionals and industry buyers are, in fact, becoming more knowledgeable. They are now not only seriously analyzing their organization's hand protection needs, but also seeking information on the various types of gloves available, and more likely to use objective CE (European) and ASTM (U.S.) standards in making their choices.

If your organization is evaluating its hand protection program, or just about to start one up, here are five tips from industry experts to help guide your way.

1. Assess jobs and workplace needs
Just as no one glove will handle all hazardous situations, no workplace is identical to another. So, the first thing to tackle when reviewing or launching a hand protection program is to conduct a detailed inspection of your workplace and its specific jobs.

Mary Lavigne of Sperian — part of Honeywell — suggests walking around the company's work site along with a glove manufacturer/supplier's representative. Glove companies will normally provide this as a free service, and their representatives are fully trained to help their clients make the right choices.

2. Review available products and choices
Sperian representatives, says Lavigne, will bring a full bag of glove samples with them, not only to show the different products available, but also for workers to try on. All the suppliers we talked with follow the same practice.

While there is no particular Canadian standard for hand protection, many glove manufacturers are now testing and labelling certain gloves according to either the European CE standard or the ASTM standard (American Society for Testing and Materials).

Both Sperian's Lavigne and Superior's Geng note that it's important to know whether the glove you're choosing complies to these standards. They warn, however, that while the rating systems seem similar, their levels are not at all the same. For instance, a cut-resistant glove rated as a CE level 5 meets different criteria from an ASTM level 5.

Pricing should not always be the deciding factor when making an economical purchase. Often, the cheaper choice will not last nearly as long as the more expensive one — costing the company more money in the long run.

3. Get the right fit
"Firstly, the gloves have to fit and be comfortable (not thick and bulky)," says Gadallah. "Secondly, the gloves have to have the dexterity to perform under the conditions set forth. The protection of having the proper glove will eliminate the need for the worker to remove the glove to perform the task at hand."

With the expanding work force, Gadallah notes, there is a very diverse need to provide a wide variety of sizing. Most of the suppliers told us they carry a variety of sizes in all categories of gloves, from welding, to synthetics to fitters. Get the end users to try on the samples provided by the suppliers and use them while performing the real tasks they're meant for.

4. Training
Make sure all users, and their supervisors, understand when and where to use each type of glove the company has. It won't be much help if they wear chemical resistant gloves when moving pieces of sheet metal.

Moreover, if workers and supervisors understand the different types of gloves available, they may be able to offer valuable input into tasks that require further hand protection.

Train workers on the proper care of their hand protection and provide mechanisms, such as signed checklists, to make sure inspections are done and care instructions followed.

5. Inspection and care program
The most chemical resistant glove in existence will still become permeable in time, the most cut-resistant Kevlar glove will eventually sustain damage. Therefore, have guidelines in place so that all gloves are inspected on a regular basis and replaced as necessary.

Know which types of gloves can be laundered, and which must be disposed after single use. Again, depending on the substances handled, you may also need to establish particular contamination procedures to include hand protection.

---------------
Laurie J. Blake is a Newmarket, Ontario-based freelance writer.