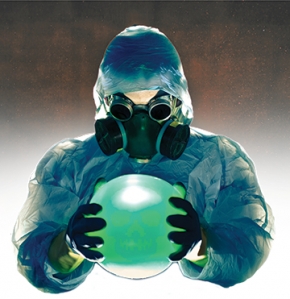 In 2013, after being doused with sulphuric acid by a disgruntled dancer, Sergei Filin, artistic director of Russia's Bolshoi Ballet, was left permanently scarred and partially blinded. Several years before, United Kingdom model and media personality Katie Piper suffered an attack by an angry ex-boyfriend that destroyed her facial skin and blinded her in one eye. And in Texas recently, a young truck driver unloading sulphuric acid at an International Paper facility suffered burns to 40 per cent of his body from a leak in a hose.
While accidents and incidents keep sulphuric acid in the headlines, behind the scenes this odourless and usually colourless viscous liquid facilitates the creation of innumerable products that we use every day. According to the Federal State Statistics Service of the Russian Federation, the world production of sulphuric acid is 200 million tonnes — more than any other chemical.
It plays a part in producing, processing or refining paint, petroleum, pharmaceuticals, textiles and paper. In the textile industry, for example, sulphuric acid forms rayon fibres (viscose); in the paper industry, it helps to bleach paper; in the automotive industry, it works as battery acid.
It is also used in mineral processing, oil refining, waste-water processing and chemical synthesis. In agriculture, it is commonly used at harvest time to kill green potato shoots to keep them from getting entangled in the harvesting equipment. And in research labs, it can be mixed with various substances for testing. The majority of sulphuric acid, however, is used in the fertilizer industry, where it dissolves phosphate rock for use in soil improvement.
As a raw material or processing agent, sulphuric acid is classified by WHMIS as very toxic (Class D1A) and corrosive (Class E). It reacts violently when mixed with water, moisture and countless other chemicals. But its most dangerous characteristics are the speed and severity with which it attacks human tissue. Workers exposed to it in plants, labs and myriad other locations can be hit with anything from respiratory tract irritation and digestive tract burns to nosebleeds and tooth erosion. However, "the substance is not bio-accumulative," according to Environment Canada. This means that "it does not accumulate in the tissues of organisms (for example, humans or fish) in a quantity that is considered hazardous."
Awareness of the dangers, along with good policies and procedures for working safely with sulphuric acid, can prevent health threats and incidents.
Wherever sulphuric acid resides, workers must follow proper handling and storage guidelines, wear the right personal protective equipment (PPE) and apply effective first aid in case of an incident. For example, sulphuric acid must be stored carefully in containers made of nonreactive material in a cool, dry area. PPE should include items such as chemical-splash goggles, a face shield, protective clothing and a breathing apparatus.
In case of an accident, first-aid treatment for a burn must include taking off contaminated clothing and flushing damaged tissue with lukewarm water for at least 30 minutes. In some situations, safe handling and response requires advanced first-aid training. The Canadian Centre for Occupational Health and Safety (CCOHS) recommends that procedures be periodically reviewed by a doctor familiar with the chemical and its conditions of use in the workplace.
Training options
Sulphuric acid training needs vary widely — from workplaces that house small quantities in cleaners and batteries to those in chemical processing industries where specialized expertise and training are required.
According to Claire Stewart, marketing manager of Belleville, Ont.-based Electrolab Training Systems, sulphuric acid safety training should begin by informing employees about critical aspects of the substance, such as appearance, odour, toxicity and behaviour, as well as the health effects of exposure.
"Training should also include demonstrations on proper handling and storage, usage of personal protective equipment and effective first aid in an emergency," she says.
Stewart points out that a wide range of multimedia training programs on sulphuric acid are available commercially that companies can adapt to their unique needs. These include everything from mandatory compliance to human factors influencing behaviour. Supplier websites generally offer online previews of modules for both trainers and workers that can include e-learning, DVDs and PowerPoint presentations.
Other chemical safety education and training scenarios in Canada include industry or company seminars, conferences and events.
Elmira, Ont.-based CCC Sulphur Products, which manufactures 200 tonnes of sulphuric acid and oleum ("fuming" sulphuric acid) per day, provides comprehensive on-site safety training to suppliers and customers that use sulphuric acid in businesses such as ethanol production, aluminum manufacturing and water and waste-water treatment. In addition, the company website houses downloadable technical documents that are available to anyone.
Ron Koniuch, vice-president of CCC Sulphur Products and corporate compliance, says the best way to safeguard workers against the dangers of sulphuric acid is to "diligently apply the basic principles of health and safety, identify potential risks and devise a plan to keep them to a minimum."
In addition, the company believes in starting safety education at an early age, so it encourages school groups to tour the Elmira plant to learn about the dangers of sulphuric acid and best practices for dealing with it.
"Knowing it's corrosive enough to eat jeans for lunch gets students' attention," says Koniuch. "They are then excited about discovering how to work safely around it — and what they learn raises their comfort level if they're handling it in shop classes, for example."
Student sessions also stress the importance of being careful at home when using cleaning products and materials that contain the substance.
As a member of the Chemistry Industry Association of Canada (CIAC), CCC Sulphur Products participates in the national TRANSCAER outreach program. In partnership with the Railway Association of Canada and other industrial associations across North America, the program provides first responders, residents and government officials with practical information and education about dealing with chemical emergencies on roads and rails. While TRANSCAER focus is community awareness, companies may find these events useful if they are looking for expertise or training in any specific substance.
Launched by CIAC to help address concerns about the massive quantities of chemicals moving through communities, the outreach program features the TRANSCAER Safety Train — a railway tank car converted into a classroom on wheels — that travels annually from one end of Canada to the other.
In 2015, some 25 events across Canada were attended by nearly 3,000 people, including emergency responders.
According to Kara Edwards, CIAC's manager of transportation safety and security, "TRANSCAER is an opportunity for our member companies, all of whom are committed to environmental responsibility, to inform their industry partners and the public about their products and proper preparedness in case there is ever an incident."
E. Lisa Moses is a freelance writer based in Cambridge, Ont. She can be reached at

[email protected]

.

This article originally appeared in the Dec/Jan 2016 issue of COS.