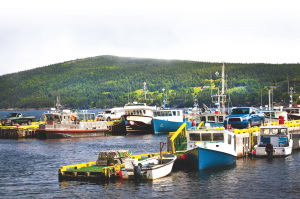 Provinces on Canada's Atlantic Coast deal with the same challenges affecting workplaces throughout North America — they have an aging workforce and face a labour shortage now or in the near future. Like the rest of North America, Atlantic Canada's industrial facilities have benefited from advances in automation and technology that have reduced hazards by automating dangerous tasks. More common in these resource-rich provinces, however, are the hazards unique to its fishing, aquaculture, forestry, agriculture and mining sectors.
Injury rates across New Brunswick, Nova Scotia, Newfoundland and Prince Edward Island are on a steady decline. That's due to many factors, including promotion and awareness, stricter rules and penalties for non-compliance, training and education, attention to high-risk areas, and industry-driven initiatives that allow the most experienced and knowledgeable players in a sector to zero in on what needs to be done.
On the waterfront
Commercial fishing continues to be one of the most dangerous occupations in the world. Keeping vessels afloat or keeping workers from falling overboard in rough waters is never a guarantee, and death by drowning still happens every year in Canada's fisheries. Though fatality statistics from compensation boards don't list causes of death, between 2004 and 2008, seven workers died in Nova Scotia in the salt water fishing industry, and 14 died in Newfoundland in the fishing industry.
Fisheries also have high incidence of injuries, including strains and sprains, the common fallout of heavy lifting and unsatisfactory job design. In Nova Scotia, there were 421 fishing industry injuries, 172 lost-time injuries and eight fatalities in 2008. Due to the high rates and higher than average cost of workplace injury insurance for employers, Nova Scotia has been pushing for a safety association specific to the sector, and got its wish last January.
In operation as of this January, the Fisheries Safety Association of Nova Scotia is comprised of individuals and firms from the harvesting, processing, aquaculture and/or services sectors registered with the WCB. It aims to promote safe work practices, improve safety and make the industry more attractive for new employees. (Newfoundland has tried for years to start a sector council for the fisheries — perhaps this one will help pave the way).
Anyone working in the fisheries knows that what cannot be controlled – the weather and conditions at sea – industry must make up for with safety systems and initiatives, checks and balances, perhaps more so than in other industries.
Aquaculture – the farming of fish, shellfish and aquatic plants in fresh or salt water – is another important sector in Atlantic Canada. Prince Edward Island's mussel industry, to cite just one example, produced 37 million lbs. (17,052 tonnes) of mussels last year and contributes over $60 million to P.E.I.'s economy. Like any sizeable industry, it merits close attention by health and safety authorities.
"The workers are on boats, on water, in all kinds of weather," says George Stewart, director of the WCB's occupational health and safety division. The hazard associated with the water is drowning. Tomorrow it could be blowing 50 kms an hour and they still have to harvest those mussels."
What can be done to minimize the danger? Stewart says the approach is the same regardless of the job, and that's what the Prince Edward Island Aquaculture Occupational Health and Safety Code of Practice, released this spring, intends to demonstrate.
"It's no different than building a high-rise building," Stewart says. "You have to do a hazard assessment. We give them the tools to do that, the forms to fill out, the process to complete, and they have to feel empowered to do that."
For someone who works at sea, assessing risk might include things like routinely inspecting equipment and vessels, and listening to the weather channel and coast guard warnings. There are fewer excuses for putting oneself at peril with access to today's communication systems, including the Internet, satellites and GPS technology.
---
Above and below ground
The Atlantic provinces have also made significant headway in their land-based sectors:
• In Newfoundland and Labrador, Chris Flanagan, director of communications for the province's Workplace Health, Safety and Compensation Commission, says mining has "an exceptionally good safety record compared to other sectors." It has a lower lost-time incident rate than manufacturing, forestry, construction and fish harvesting/processing.
"The number for 2009 is less than one incident per 100 workers," Flanagan says. "By comparison, our average, including banking and so on, and all the service sectors that have low rates, across the province, is 1.8 for 2009, and mining is half that."
He says part of the reason for the low rate might be that several Newfoundland mines are open pit operations, which are inherently safer than those thousands of feet underground. Open pit mines still present hazards, though, such as falls from ledges, environmental hazards and the potential collapse of an underground mine below the site.
"It's a mature industry and these are highly successful companies with a lot of safety programs and committees," Flanagan says. "I think [the lower rate] is an aspect of maturity, size and doing a good job."
Newfoundland and Labrador had a mining fatality this year, its first in a decade. Also worth noting is that figures from the Association of Workers Compensation Boards of Canada list several fatalities in Newfoundland and Labrador's asbestos mines in recent years (eight in 2008, five in 2007, one in 2006, eight in 2005 and six in 2004), but very few injuries. These statistics likely reflect occupational disease from asbestos exposures years ago.
• One sector in Newfoundland and Labrador with a surprisingly high LTI, according to Flanagan, is healthcare, which involves lifting patients, pushing and pulling equipment and, again, an aging workforce. But the challenge is not unique to Newfoundland and Labrador. In 2008, there were 419 recorded injuries in general hospitals in Newfoundland and Labrador, 492 in Nova Scotia and 403 in New Brunswick – not to mention exponentially higher numbers in other provinces.
• Besides its brand new fisheries safety association, Nova Scotia has industry safety associations for healthcare, construction, retail gas, trucking and forestry. One of the earliest, the Nova Scotia Construction Safety Association, was founded in 1994. Lost-time incidents decreased from 1,224 in 1993 (the year before the association started) to 802 in 2006, despite a growing workforce, according to the association's website. Jim Leblanc, executive director of Nova Scotia Labour and Workforce Development, credits the construction safety association for having significant impact in changing the culture and the accident experience in the industry. "I think other folks new to the game are hoping to see the same sort of results," he says.
• In 2004, P.E.I. amended its Occupational Health and Safety Act to specify requirements for the agricultural sector and is the last province to do so. Previously, farms and workplaces with fewer than three employees were exempt from health and safety laws.
The act now contains a code of practice, written in laypersons terms, that help the agricultural community understand exactly what is required in terms of machine guarding, chemical safety and other hazards. Power take-off (PTO), for example, is a spinning shaft on farm equipment that can cause loss of limb or life if a person's hair or clothes become entangled in it. The P.E.I. Farm Safety Code of Practice spells out that the machine must be turned off, and the key removed before anyone makes repairs or adjustments to it; that the drivelines be fully shielded; that workers never wear loose, baggy clothing around PTO driveline and stay clear of rotating PTO drivelines.
Stewart says the province is seeing positive results with the code of practice. "We've been very successful and our injury rates have continued to go down in that sector since we started that process," he says.
• Besides getting more specific in legislation regarding exactly what safety practices are expected, the Atlantic provinces are getting tougher with enforcement. Newfoundland & Labrador introduced a prime program in 2006 that rewards good performers with lower premiums and imposes a small surcharge on those that don't perform so well. The province also amended its 2009 Occupational Health and Safety Act to require more training for flag people (doing traffic control), mandating that they receive certified training.
Nova Scotia has introduced and administered a penalty system allowing an officer doing an investigation to assign an administrative penalty where violations are found. Leblanc says in his years with Labour & Workforce Development, this has generated more discussion than any other initiative. "That's good," he says, " because it raises awareness for everyone in the workplace."
---
Atlantic youth
New Brunswick has achieved a statistic not common in industrialized countries. According to Andy Rauska, director, divisional support, WorkSafeNB, the injury frequency for 15 to 24-year-olds in the workplace is lower than in the rest of the working population. An aggressive push for promoting occupational health and safety in schools seems to be helping. In September 2009, about 6,500 students in all college programs received 14 hours of health and safety instruction. Another 7,379 students benefited from other programs such as "progressive Agriculture Safety Days," the "lost Youth Tour," and more.
P.E.I. and Newfoundland and Labrador, too, have youth-focused initiatives, though their prevention efforts are generally focused on the older workers that make up most of their workforce. A similar initiative in Nova Scotia includes a pilot program slated for September, whereby everyone in grade 9 will receive 10 hours of occupational health and safety instruction as a mandatory part of the curriculum.
Leblanc says the idea is to create general awareness and get young workers asking questions about workplace health and safety when they get their first job.
"They're very much about pleasing the supervisor or employer and we don't want to change that," he says, "but we want them to know they can freely ask. We want them to be aware of the risks. It's about getting the information in front of them so they can do something with it."
Rural challenges
It would be impossible to fairly compare the state of occupational health and safety in Atlantic Canada to that of other jurisdictions, because they experience such different economic factors, and the lay of the land – and sea – varies so much. Atlantic Canada has a lot of activity in manufacturing, for instance; plants may be numerous, producing anything from machine parts to processed fish to French fries, but small compared to those in, say, Ontario or Quebec.
Newfoundland and Labrador, outside of St. John's, has a lot of small companies. Timely and safe return to work merits special focus in the area.
"What we find outside of St. John's are a lot of one-industry towns," says Flanagan, "where it's hard to take an injured worker who hurt his hand and find him other opportunities to work. It's more challenging in a rural, smaller economy."
And as the rest of Canada struggles with the impending retirement of its baby boomers, he says the effect tends to be more severe in smaller towns and is going to hit harder. But Atlantic Canada's health and safety authorities are part of an active Canada-wide network of like-minded people who share best practices and work together to address health and safety challenges.
---------------------
Michelle Morra is an award-winning journalist and former COS editor. You can contact her at

[email protected]