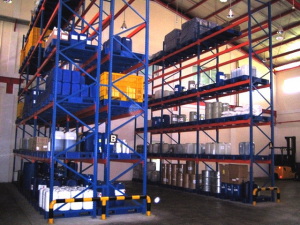 Racking systems in plants and warehouses aren't just passive rows of shelves anymore. They're evolving into dynamic machines with many automated moving parts. These more advanced systems are introducing some new risks to workers who interact with them.
More and more companies are upgrading their racking systems. To increase the storage density of products and reduce real estate and labour costs, retailers and other large companies are consolidating their warehouse space in centralized locations, explains Steve Duncan, SafeRack program manager at Redirack Storage Systems, an Oakville, Ont.-based company that offers safety training for a wide range of systems in addition to selling them.
"These sophisticated systems have automation built in to move product around, and they also feature dynamic pallet flow and push-back systems that require more skill to operate safely," says Duncan.
For example, in a push-back racking system, when a pallet is removed, there are more pallets behind on wheeled carts that will roll forward, he explains. "As lift-truck operators back out, they must control other pallets and how fast they come forward, so positioning the truck is critical."
Many fatalities have occurred because racking systems weren't set up or used properly. A particularly horrific landmark case occurred in 2003 at Versacold, a refrigeration storage company in Brampton, Ont., when a steel racking system suddenly collapsed, causing the wall and roof to cave in. A worker was trapped and killed under the pile-up of twisted metal and frozen food, and it took rescue teams three days to recover his body.
Regulatory entities stepped up their safety requirements in the wake of the accident. The Canadian Standards Association (CSA) issued a new set of national standards in 2005 setting out the requirements for the safe use of storage systems, but these aren't mandatory.
In addition, Ontario's Ministry of Labour (MOL) has increased the amount of regulation in recent years. The MOL adopted a process called the Pre-Start Health and Safety Review, which falls under the province's Occupational Health and Safety Act (OHSA). The Pre-Start program requires all storage systems to be approved by professional engineers, who establish the capacity and conditions for the system's safe use and determine whether it's in compliance with the Act.
Other provinces are looking at implementing a similar model as Ontario's, says Duncan. "We're getting a lot of calls from customers in other provinces where inspectors are asking for documentation, even though it's not specifically in their legislation."
Government inspectors in Ontario have grown more vigilant since the new CSA standard was introduced, says Chuck Leon, training specialist at the Industrial Accident Prevention Association (IAPA), a Mississauga, Ont.-based non-profit safety organization. "There's very little specific detail about racking systems in the legislation, which is where the CSA standards come in."
Companies need to increase their attention to this area. "The Ministry of Labour has about 300 government inspectors who are going into warehouses across Ontario to ensure they're in compliance with its policies, and shutting them down if they're not," says Bill Carter, director of distribution at Redirack."
---
Safety considerations
Most companies that operate warehouses as part of their business have a reasonable degree of safety awareness regarding their storage systems, says Leon.
But manufacturing plants are an area of concern, as rackings are often overlooked in safety reviews, he says. "These plants may have five or six racks standing alone somewhere, and management may not be paying attention to them. We fear they're not being checked properly."
But even companies in the warehousing world overlook potential issues sometimes. A big red flag to inspectors is damage to the racking system, says Duncan. "If inspectors walk in and see damage, they'll issue orders. And these systems do get damaged frequently, mostly to the front portions from impact with lift equipment and palettes."
The horizontal and diagonal bracing of the frame itself also gets damaged frequently, he adds. "This is often caused by operators not using the equipment properly. They try to make turns while going in or out before the palette is clear of the rack. It may also be caused by congestion in the aisles, as supervisors determine how fast workers are supposed to turn palettes, and they cut corners sometimes."
Poor housekeeping is one of the biggest contributing factors to accidents, says Leon. "Oil spills on the floor, skids in the way, stuff leaning against walls: lift-truck operators often have to manoeuvre around things and this creates the potential for accidents."
Leon says there's a big issue now with stand-up lift trucks, as there have been some fatalities. "Operators got pinned between the beam and the truck, as some of these don't have a guard rail on the back. When operators back up against the racking system, if the beam is below their heads, they can be crushed. The MOL is really going after companies for this."
Companies are trying to jam more and more product in their warehouses, so storage systems are getting taller and trucks are getting bigger, says Leon. "There's less space and this creates the danger of hitting racks. Many have back-to-back rows which create a lot of problems, as you're supposed to leave adequate clearance. There're also overloading them, and many companies don't have documentation telling them what the racks' maximum capacity is because they've purchased used racks and installed them themselves."
Loading docks are also a related area of concern, as collisions between lift trucks and pedestrians often occur, he adds.
When MOL inspectors come in, they look at documentation in addition to conducting a walk-through of the facility, says Leon. "They review documentation from the company's internal safety reviews, preventative maintenance and training records. They may also check documentation to see if the storage system's manufacturer or another party installed the racking systems, and if it was installed to standards."
Proper training is paramount for everyone, not just workers, says Leon. "This is a critical piece that's overlooked at many companies, as they tend to forget supervisory staff," says Leon, adding that the IAPA offers a half-day course that covers warehouse hazards from A to Z, inspections and other courses.
Redirack offers training for installation contractors who assemble the racking systems, operator training for various types of automated racking systems, and general training for conducting inspections, says Duncan. "We have a wide range of people who come to our inspection training, from the V.P. of manufacturing down to the receptionist who's also on the health and safety committee at a company."