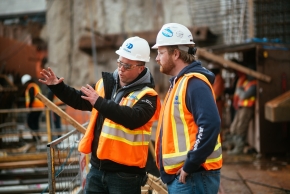 When EllisDon wanted to increase employee engagement in safety, it went first to Prime Minister Trudeau for help.
In December, in response to a company-wide safety culture survey that showed employees wanted a greater voice in safety, the large general contractor based in London, Ont., launched the Jersey of Courage tour. Travelling across Canada, the safety team visited project sites and invited workers to sign a jersey pledging their commitment to safety.
"They were big, celebratory events," says Kari Lynn Harris, vice-president, health and safety, adding the tour was also directed to sub-trades in the industry. "We want them to commit to helping us improve safety."
Workers who take the pledge commit to participating in improving safety on work sites, working together to find innovative safety strategies and transferring their safety knowledge to the next generation.


WATCH THE EXCLUSIVE VIDEO HERE
The tour began in May in Ottawa, where Trudeau was the first to sign the jersey, Harris says. The company plans to meet him again later this year.
"That will be exciting for us. There are thousands of signatures on the jersey he signed. He will see the momentum and success we had during our tour."
The safety culture survey gave rise to other, "next-level" safety initiatives, Harris says. EllisDon, which has about 2,800 employees, conducted a company-wide safety procedure review. It wanted to ensure procedures were truly understood by workers and relevant to their tasks.
"That was a big undertaking, and we're really proud that we are appealing to such a wide audience to try and get feedback from everyone," says Harris.
It also developed a subcontractor management development program. The program focuses on competency, supervisory safety awareness and field-level training in the sub-trades. The goal is to provide mentorship and thus improve safety performance within the trades.
The company also replaced its long-time manual spreadsheet system of tracking safety data with a safety management software system, Harris says.
"This helps us mine the data. We can now track and trend, look at the at-risk behaviours, and we can adopt corrective actions much quicker," she says. "The idea is to be as proactive as we can when we see a sub-standard safety condition."
EllisDon operates across Canada and around the world. Stuart Long, Vancouver-based western regional safety director, says its biggest challenge is providing consistency in its construction safety program across so many diverse markets.
In B.C., EllisDon worked with the University of British Columbia and B.C. Construction Safety Alliance to develop an online silica exposure control plan.
"This is a very cool tool to help contractors at any level to produce silica exposure control plans," says Long.
The company has also been working with the B.C. Ready-Mixed Concrete Association to put together a best practice for the training and certification of concrete pump and placing-boom operators. Long hopes it will be adopted across Canada and in other countries.
EllisDon works hard to improve safety, Long says, because it is a people-driven organization.
"People are the number 1 resource we have. And we have a moral obligation to provide as safe a workplace as possible."