But LTC troubles already present even before the pandemic, says report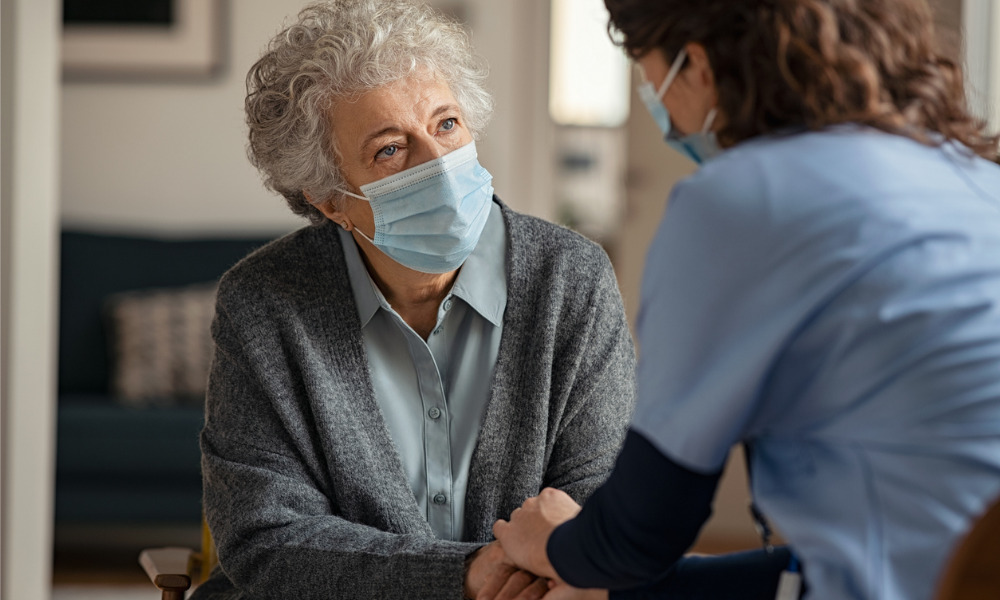 Three-quarters (73 per cent) of Canadians surveyed believe that the high number of deaths in LTC homes related to COVID-19 could have been reduced if governments had acted sooner, according to a report from the Canadian Medical Association (CMA) and the National Institute on Ageing (NIA).
And many feel that governments have not fared well in the battle against the virus. Only 35 per cent of respondents rate the federal government's performance in managing the COVID-19 pandemic as good (29 per cent) or excellent (six per cent).
Also, only 39 per cent of Canadians report having trust in the federal government to ensure the health and safety of LTC residents, even though the provision of long-term care is the responsibility of provincial and territorial governments.
Only 39 per cent believe their provincial or territorial government has done a good (31 per cent) or excellent (eight per cent) job of managing the COVID-19 pandemic, and only 43 per cent have trust in the provincial and territorial governments to ensure the health and safety of LTC residents.
In May 2020, the Ontario government received a report from the Canadian Armed Forces (CAF) which details medical, professional and technical issues present in five long-term care facilities in the province, which the military inspected over two weeks.
"The reports they provided us were heart-breaking, they were horrific. It's shocking that this can happen here in Canada," said Ontario Premier Doug Ford then. "It's gut-wrenching, and reading those reports is the hardest thing I've done as Premier, knowing that so much more needs to be done."
The recent survey however found that just 45 per cent of Canadians surveyed believe that federal, provincial and territorial governments have learned from the first wave of the COVID-19 pandemic and will work to ensure minimal loss of life moving forward.
Concerns
Eighty-six per cent of all Canadians and 97 per cent of those aged 65 and up are concerned about the current state of the long-term care (LTC) system in Canada.
"The second wave of the COVID-19 pandemic has done little to restore the faith of Canadians in long-term care. This survey shows that the Canadian public, and older Canadians in particular, have lost trust in their governments' ability to safeguard LTC residents," said Dr. Samir Sinha, director of health policy research and co-chair of the NIA. "Canadians are telling us that they'll do anything necessary to avoid having to move into a LTC home, and that they want governments to make up for lost time and act urgently to improve the state of long-term care, including the development of national standards and better integration of long-term care into the wider healthcare system."
The concern is more rampant among women (90 per cent) compared with men (81 per cent), according to the survey of 2,005 Canadians conducted from Nov. 27 to Dec. 1, 2020.
Some (22 per cent) of the respondents have a parent or a loved one in LTC, and many among them are worried their loved one will contract COVID-19 (81 per cent) or are worried about their loved one's mental health (85 per cent).
In June 2020, the Canadian Institute for Health Information (CIHI), in partnership with NIA, reported that 81 per cent of Canada's deaths from COVID-19 during the first wave occurred in LTC and other congregate settings.
Pre-pandemic problems
While the pandemic has caused further concerns in LTC, many Canadians believe that the system has had problems even before COVID-19 hit, according to the report.
More than eight in 10 (81 per cent) of all Canadians and 92 per cent of seniors said that the challenges facing LTC homes were evident before the pandemic, and COVID-19 only made them worse.
Only 26 per cent of all respondents believe that LTC homes were safe and operated at high standards before the pandemic. The number drops to 13 per cent among Canadians aged 65 years and older.
Eighty-three per cent of all respondents believe that LTC homes are understaffed, and the number jumps to 91 per cent among seniors. Also, 78 per cent of all respondents, and 86 per cent of seniors, believe that people who work in LTC are underpaid for the work they do.
In June 2020, the Registered Nurses Association of Ontario (RNAO) released a report that compiled 35 reports about the troubles in the province's long-term care system, and the recommendations that different groups have made since 1999.