National Medical Laboratory Week runs from April 11 to April 17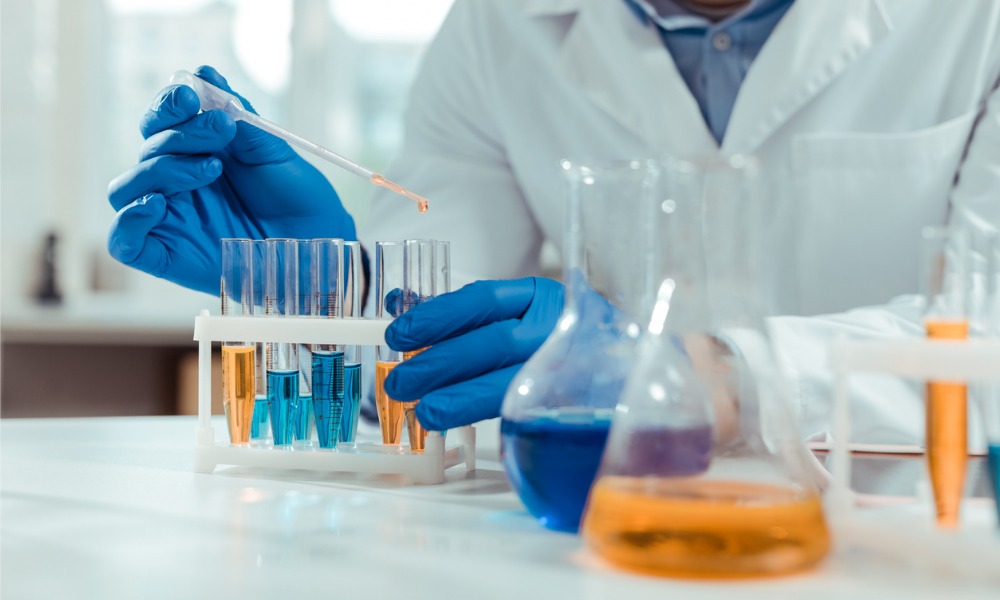 This week is National Medical Laboratory Week in Canada.
Running from April 11 to April 17 this year, it is the perfect time to learn about the profession, celebrate and advocate for those who work in such an essential profession.
Since 1985, the Canadian Society for Medical Laboratory Science (CSMLS) has sponsored this week in April to promote awareness and understanding of the role of medical laboratory professionals in the health care system.
COS spoke with Eoin O'Grady, PhD, CRSP, Occupational Health and Safety Consultant to CSMLS, about common hazards facing med lab workers and the impacts of the pandemic.
A controlled environment
What are key things to consider when thinking about health and safety in a medical lab?
There are a number of things to consider, says Dr. O'Grady, such as engineering controls (such as lab furniture, ventilation systems, equipment), administrative controls (such as established rules and procedures to follow) and PPE control.
Protective equipment for med lab workers would typically include lab coats, gowns, gloves, eye or face protection.
"There are many similarities to other workplaces," he says, "what is really different in a medical lab setting is that the med lab professionals are really on the front line in terms of identifying and characterizing new infectious diseases, and new agents."
This is obviously incredibly important – and timely – due to the current COVID-19 pandemic.
Despite the novelty of the pandemic, and the fact that new controls can be tricky to implement, med lab professionals have extensive training and competencies "so that they can be really functional and contribute to the healthcare system." Says Dr. O'Grady.
Worker hazards
Med lab workers in laboratories across the country face chemical, biological, radiological and physical hazards – including things like noise and stress.
"And a big feature for medicals labs would be laboratory ergonomics," says Dr. O'Grady.
"[Med lab workers] process millions of tests per day. And while there is a lot of technology and automation, there are still a lot of repetitive tasks," he says. "So lab ergonomics continues to be a challenge for all med lab professionals, and probably more so for those in hospitals in rural setting where maybe they don't have the automation to try and keep pace with the numbers of tests they're required to do every day."
As with a number of other frontline workers, access to PPE such as N95 masks was a huge area of concern at the start of the pandemic. As well as a PPE shortage, there has also been an issue with supply chains and equipment shortages – for example, nasal swabs to be able to conduct a COVID-19 test.
Mental health
With the pandemic in mind, med lab workers are potentially also overworked and understaffed.
"[Mental health] definitely is a growing concern," says Dr. O'Grady. "These folks have been really battling fatigue for years.
"Since the start of 2020, factors like long work hours, demanding schedules, and high volume work have really contributed to stress in the med lab profession."
COVID-19 has significantly contributed to an increased workload.
"Med lab workers find themselves at the bleeding edge [of the pandemic] because they are the ones who are receiving high volumes of specimens and trying to figure out a positive or negative result, or variant of concern," says Dr. O'Grady.
He also highlights the fact that there is a shortage of med lab professionals across Canada. A high percentage of current workers are due to retire in the next five or so years and there currently isn't a sufficient number of persons coming in to the system to make up for that.
Celebrate the profession
There are a number of difficulties facing med lab workers and these should be highlighted, but National Medical Laboratory week is also the time to "celebrate med lab professionals as an integral piece of [the healthcare] chain," says Dr. O'Grady.
"They are valued in the healthcare system and without them we couldn't have been able to ramp up testing like we did to respond to COVID-19," he says.
We need to recognize this and continue investing in education, training, equipment and infrastructure to keep these workers safe, says Dr. O'Grady, "because if med lab professionals weren't safe in their workplace then there would be a big problem."