Too many players 'being abandoned by their teams after an injury,' says union executive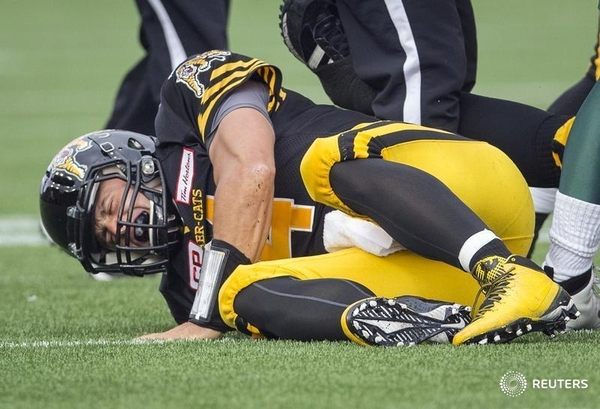 Professional athletes deserve the same health and safety protections as other workers, notably workers' compensation coverage, according to various players' unions. Currently, professional athletes are excluded from such coverage across Canada.
Late last year, the group representing more than 3,500 professional athletes met with ministers of labour from British Columbia, Alberta and Saskatchewan. Led by representatives from the Canadian Football League Players' Association (CFLPA), alongside representatives from the Professional Lacrosse Players' Association (PLPA), Professional Hockey Players' Association (PHPA) and the National Hockey League Players' Association (NHLPA), the group outlined their case in support of appropriate workers' compensation coverage for all professional athletes, saying the current policy "has serious flaws that require immediate review."
"The current exclusion policy is based on a number of assumptions that may have been valid decades ago when they were drafted, but are no longer relevant or applicable," said Brian Ramsay, executive director of the CFLPA.
The group also said the exclusion of professional athletes unfairly restricts them from the standard protections available in every workplace and allows employers to sidestep their full safety responsibilities.
"Medical care and rehabilitation services should be the full responsibility of the team that employed these players when the injury occurred," said Ramsay. "Right now, too many of our members are being abandoned by their teams after an injury, and those players are forced to fend for themselves."
A 2016 B.C. Supreme Court ruling, and later a Supreme Court of Canada decision, involving a former CFL player precluded professional athletes covered by existing collective agreements from accessing the court system when their injuries are no longer covered by team-supplied medical care and rehabilitation.
"We hope to achieve an outcome that brings fairness, balance and most of all, real accountability on the part of team owners in professional sports who need to demonstrate care and respect for the players who work for them," said Ramsay.
This article originally appeared in the February/March 2019 issue of COS.