Why CAA is sounding the alarm and what safety professional can do to help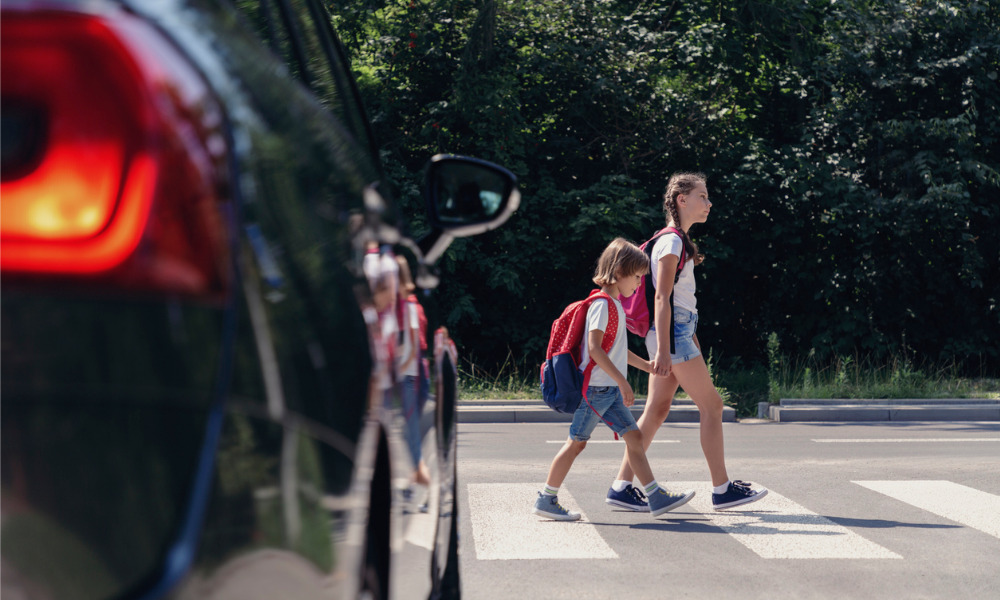 Safety professionals responsible for ensuring the well-being of students in Ontario's school zones must take heed of concerning findings from a recent survey commissioned by CAA South Central Ontario (CAA SCO). The survey, conducted by Dig Insights in May 2023 and polling 1,560 Ontario parents and guardians between the ages of 18 and 74, reveals a worrying increase in dangerous driving behaviors in these critical areas.
"Our children deserve to travel to and from school safely. As another school year begins, it is imperative that safety professionals prepare for heightened traffic in school zones and instill extra vigilance among staff," says Tracy Marshall, manager of community relations at CAA SCO, as she stresses the urgency of the situation.
The study shows 82 percent of parents surveyed reported witnessing dangerous driving behaviors in school zones, marking a four percent rise compared to the previous year. Even more distressing, over half, or 55 percent, of parents now consider the roads around their child's school to be unsafe.
Dangerous driving behaviours
The survey identified several common dangerous driving behaviors witnessed by parents, including speeding, double parking, and stopping in undesignated areas.
A crucial factor safety professionals must address is the continued reliance on cars for transporting students to and from school. This has led to congestion around schools for over 80 percent of parents surveyed. The respondents identified several contributing factors to unsafe driving behaviors in school zones, including parents in a hurry (38 percent), excessive congestion (33 percent), and parents not following drop-off or pick-up procedures.
The survey also revealed overwhelming support for safety-enhancing measures within school zones. An astounding 91 percent of parents in Ontario advocate for lowering speed limits in these areas, with 83 percent specifically endorsing limits of 30 km/h or lower.
Regarding Automated Speed Enforcement (ASE), the survey unveiled significant backing for its implementation:
Seventy-seven percent, marking an 11 percent increase compared to the previous year, strongly support the use of ASE in school zones.
Eighty-one percent believe that the presence of ASE would effectively deter speeding around schools.
Seventy-five percent assert that ASE should remain a permanent fixture in school zones.
Advice for fleet managers
In addition to supporting these measures, safety professionals may want to reinforce adherence to the rules of the road, particularly concerning school buses. Marshall says, "it is dangerous and illegal to pass a stopped school bus with its red lights flashing and stop arm extended."
Shockingly, the survey found that 11 percent of parents reported having been charged with failing to stop for a school bus.
Marshall adds, "not only do you risk facing a fine of up to $2,000 and six demerit points for a first offense, but you are also putting the lives of others at risk."
Safety professionals can provide clear guidance to staff who drive company vehicles, attend schools frequently, or are responsible for road safety on how to keep school zones safe. CAA offers the following tips for consideration:
Enforce speed limits: Ensure staff are aware of and comply with speed limits in school zones.
Be aware of safe drop-off points: Reinforce school rules to prevent double parking or stopping in hazardous areas.
Alert to pedestrian presence: Caution staff that children may not easily see or hear moving vehicles.
Support CAA School Safety Patrollers: Staff should watch for these volunteers in lime green vests who play a crucial role in ensuring safe crossings.
About the survey:
The survey was conducted by Dig Insights on behalf of CAA SCO in May 2023 and included responses from 1,560 Ontario parents and guardians between the ages of 18 and 74, with children attending school from kindergarten to grade 8. The margin of error for a sample of this size is plus or minus 2% at the 95% confidence level.