Sleeves are essential safety equipment for many workers and can reduce serious injuries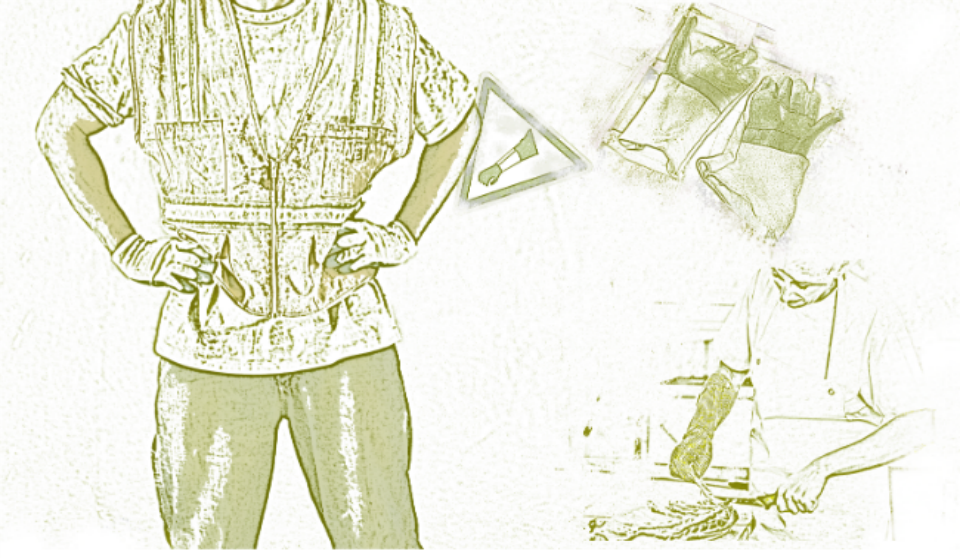 In August, a sawmill worker in British Columbia was changing the band saw on a 2.7-metre-tall head rig. As the band saw was raised out of the saw pit by an overhead crane hoist, the saw detached from the hoist and fell to the ground, striking the worker, who suffered lacerations to the head and arms. In the same month, another B.C. worker was unloading scrap metal from the back of a truck. The worker slipped and fell, and a piece of metal punctured one of the worker's arms.
Occupational arm injuries are extremely common and occur across a range of industries. In the United States, statistics collected by the National Safety Council show that, in 2017, arm injuries accounted for almost five per cent of injuries involving days away from work. Yet, while arms are vulnerable to almost all the same hazards as hands, dangers to the arms tend to be overlooked. From lacerations to burns, protective sleeves can help prevent or reduce the worst effects of many injuries in the workplace.
Protective sleeves are manufactured in a variety of styles. Some cover only the forearm (from the wrist to the elbow), while others cover the full arm, from the wrist to the underarm and almost to the shoulder. Cuffs may be knit or elastic. Some have Velcro closures. They may also come with a thumb hole, which holds the sleeve in place and prevents it riding up the arm when the wearer is lifting objects or reaching up.
The CSA Group does not have standards relating to protective sleeves. Still, employers should provide sleeves whenever the risk assessment indicates the presence of a hazard that could cause injury to a worker's arms.
Sleeves provide protection against cuts, abrasions, punctures, heat, burns, electric shocks, UV rays, sparks, toxic dust irritants, chemicals and other contaminants. Protective arm coverings can also be used to keep the forearm and a worker's shirt sleeves clean from dust and dirt. Arm injuries often occur when workers brush up against or bump into sharp or hot objects, or when they're holding parts on their arms.
Sleeves may be required in a wide range of industries, says Melanie Charuk, occupational health and safety manager for the Parks and Roads Services Branch of the City of Edmonton. These include agriculture, forestry, health care, oil and gas, mining, manufacturing, construction and utilities. Moreover, they are sometimes needed by those who work in wholesale retail, depending on what materials they handle.
Municipal governments, given the variety of workers they employ, may also need to provide protective sleeves.
"Protective sleeves are worn by employees who are at risk of injuring their arms from performing work tasks where they're putting their hands into a line of fire or into a hidden area where there are sharp or protruding objects," Charuk says.
"In our city, for example, [these risks occur] in our forestry or horticulture operations, where we're working with sharp twigs, and in our welding and auto body operations, and also when we're handling any type of chemical products, where we need to have body protection."
When there are plant visitors, company policies vary: Some always require visitors to wear protective sleeves; others make it mandatory only if the visitor's regular clothing does not include long sleeves.
Sean Sweeney, vice-president and general manager for Ansell's mechanical strategic business unit at the Iselin, N.J.-based company, says a risk assessment should be done to determine whether or not visitors may be exposed to any risks that would require sleeves to be worn.
"It's important in any plant visit to engage with the on-site safety director to determine what the optimal suite of PPE [personal protective equipment] should be when visiting a plant," he says.
IF GLOVES, THEN SLEEVES?
Some manufactures say that when a situation requires workers to wear safety gloves, there should also be a requirement for protective sleeves. Whether the need is for protection against common hazards, such as cuts or burns, or against injury in more specific applications, such as material handling, the risk is not just to the hand but to the arm as well.
"We see sleeves as an extension of the protective glove," Sweeney says. "The majority of applications where sleeves are utilized are where you see the need for highly cut-resistant solutions and for thermal protection solutions. The risk here is not just to the hand but to the hand and the arm. And if you can imagine some of the applications where individuals are moving large sheets of metal and glass, the risk goes up the arm and should be considered as such."
Derek Coughlin, automotive and metal specialist at Acton, Ont.-based Superior Glove, says that while it is generally true that workers who require hand protection also require arm protection, there are exceptions.
"If workers need cut protection in their hands but also need dexterity — they're sitting in their chair and just moving their hands — then generally they wouldn't need a sleeve for that. For people working on circuit boards, for example, there are a lot of sharp edges. But they'll generally not wear sleeves," he says.
"But, most times, about 90 per cent of the time, if workers are using a cut-resistant glove, they're going to use a sleeve as well. Or if they're moving around in a very high-paced atmosphere, like an automotive plant, then generally everyone will take sleeves. It's mandatory."
CHOOSING A MATERIAL
Sleeves should be selected on the basis of their performance (their effectiveness in protecting against risks identified in the hazard assessment), fit and comfort. For performance, the most important factor will be material. The materials used to make sleeves range widely, from reinforced polyester to PVC (polyvinyl chloride) — a readily available and cheap plastic — to highly specialized fabrics.
Sleeves made of Tyvek (a polyethylene material that resists penetration of small-sized particles and splashes) are suitable for workers handling toxic substances. Sleeves made of Tychem (Tyvek fabric coated with polyethylene) are designed to prevent permeation of chemicals and are used for light splash protection in industrial environments.
Kevlar and Dyneema are two commonly used materials in the manufacture of cut-resistant gloves and sleeves. Dyneema, made from HPPE (high-performance polyethylene), generally feels cooler on the skin and provides better protection from abrasion than Kevlar, Coughlin says. Dyneema, SuperFabric, nitrile, metal-mesh, woven Kevlar and leather provide good puncture resistance.
Kevlar and Nomex (used widely in firefighter suits) provide effective protection against flame and heat hazards. Dyneema melts at a lower temperature than Kevlar, so it is not good in instances where flame resistance is required.
Materials vary in durability. Some, such as Kevlar, can be reused and washed with regular work clothes without losing their protective qualities, unless contaminated with substances more difficult to remove. Others, such as Tyvek, are designed to be single use and disposable, which prevents workers inadvertently transferring toxic materials to other work areas or taking them home.
When selecting materials, it is important for safety managers to consult product manufacturers, which best understand the limitations and ideal applications of the different materials.
"Typically, employers will work with PPE suppliers in working out what the appropriate protection level and types of protection are. There are numerous products out in the industry," Charuk says, adding that, with chemical hazards, a manager should check the chemical protection rating assigned to various chemical-resistant materials and also look at the manufacturer's specifications and follow the requirements identified for personal protection.
Once the risk profile has been analyzed and is understood, the safety manager needs to ensure the sleeves will fit workers properly and be comfortable, Sweeney says. Protective sleeves are made in a variety of arm length and width sizes. A key consideration when selecting the length of the sleeve will be where the potential risk is, while the width should be chosen according to workers' arm and body sizes. Sleeve materials can also be selected for greater breathability.
"The ultimate goal is to keep the customer protected and also able to perform the given task and be comfortable for a majority of the day," Sweeney says.
To improve fit and increase comfort, many sleeves today are tapered. Non-tapered sleeves often fit properly around the wrist but have to be stretched tightly around the upper arm.
"Comfort is key with sleeves. A lot of sleeves get pushed down to the wrist because they're binding on workers' biceps or they're too hot. The tapered sleeve alleviates all that," Coughlin says. "If it's the proper fit and cool on the arms, you'll have a much easier time getting employees to wear them properly. And safety is increased because the sleeve stays up."
Where both gloves and sleeves are required, the safety manager may choose to combine arm and hand protection in one item by selecting a gauntlet, a style of glove that extends up the forearm. Welders often wear durable gauntlets, while rubber gauntlets are used for chemical handling and in food processing to handle hot objects.
However, in many situations, there is a distinct advantage to providing sleeves and gloves separately. If workers often need to remove their gloves, they can do so without having to pull off the long gauntlet every time.
There are many ways sleeves can be customized for a work task or environment. For example, they can be reinforced in areas, such as the elbow crotch, where the material will wear over time due to the nature of the task. Sleeves also come in a variety of colours. High-visibility sleeves are used in many workplaces, particularly in the construction industry. Choosing different colours is also useful for companies that want to clearly distinguish visitors from workers: They might have guests wear orange, where everyone else wears grey.
CUT RESISTANCE
For safety managers who need to select cut-resistant sleeves, Coughlin says, it's generally recommended that they match the cut resistance of the sleeve to the resistance of the gloves worn for the same work task. The right level for the glove is identified by following ANSI/ISEA 105-2016, a standard for hand protection classification. The cut levels in that standard range from A1 to A9 (lowest to highest resistance). The cut level is indicated by a label on the sleeve.
The higher the glove's required cut level, the more important it is to get the same cut level in the sleeve, Coughlin says.
"If you're using a low-cut glove, such as A2 or A3, then you're good with an A2-cut sleeve. But if you're using an A4 or higher glove, then we always try to match the sleeve cut to the glove cut. If the hazard on the hand is an A4, then you need the same cut protection on the sleeve," he says.
"With the glove, the main concern about cuts is the wrist because that's where the main artery is. So having a sleeve under a glove will double the material that an object has to cut through. That double protection on your wrist is another reason a person will wear a sleeve with a glove on top."
The task of balancing comfort, protection and performance is often far from straightforward, Sweeney says. The level of protection needed — with cut resistance, for example — may vary from application to application.
"It's important to get an industry expert in place to analyze the application itself, the risk profile and make an optimal recommendation with regards to your glove and sleeve combination," he says.
Protective sleeves tend to be the forgotten item of PPE, Sweeney adds. At his company, the safety teams who go out and assess risks at different organizations often notice that workplaces neglect to provide workers with sleeves even when there is a clear need for them.
"Sleeves are something that is often overlooked. Safety directors, employers and even employees — because safety consciousness has improved — will very quickly nowadays think about the optimal hand protection solution," he says. "But they won't think about taking that protection up the arm."
Linda Johnson is a Toronto-based freelance journalist who has been writing for COS for eight years.