Many women in hazardous jobs still wear ill-fitting safety gear made for men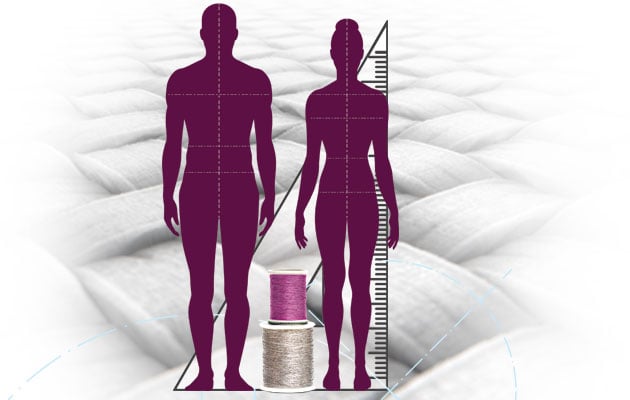 When Amy Charette, a journeyperson welder, was just starting out in the late 1990s and needed to buy her own personal protective equipment (PPE), she had a hard time finding PPE that fit her properly. As a woman in the trades, she had to rely on men's PPE.
"In gloves, there was nothing under a medium. When I started, that was the smallest size you could get," says Charette, program co-ordinator at Edmonton-based Women Building Futures, which provides trades training and housing for women.
"I remember, as an apprentice, the ends of my gloves would hang off my fingers and burn in the radiant heat of the arc. They would crimp up because I couldn't get my hands all the way into the gloves. They were so big. I would have to roll them or put my coveralls over them, or they would fall off my hands when my hands were at rest beside me. So safety was a primary concern."
Many women workers are compelled to wear PPE designed for men. Even those in smaller sizes tend to not fit properly: Women are typically smaller, have shorter arms, more slender hands and feet and faces that are shaped differently. Loose or disproportionate PPE can itself become a safety hazard and put workers at risk.
When women wear men's flame-resistant (FR) clothing, for example, they are wearing safety clothing that doesn't fit them properly, says Mark Saner, FR technical manager at Oxnard, Calif.-based Workrite Uniform Company. With any uncomfortable clothing, there's a tendency for workers to not wear them properly or not wear them at all.
"There are more and more women in these work environments that need FR clothing, so it's important for them to have the right kind of safety PPE when they are doing their jobs," he says.
Some of the ways women have adapted men's FR clothing makes it unsafe, Saner says. If the pant legs are too long, for example, they often roll them up at the bottom. If a woman is wearing a man's shirt that fits her torso, it's likely the sleeves will be too long and she will roll them up. If the shirt is too long in the tail because it's made for a man's torso, she may not tuck it in.
"Now, you have that open area between the shirt and the pant that's a hazard for heat and flames to blow up underneath. You're supposed to keep the shirts tucked in but you can't bunch a whole big wad of your shirttail into a pant if it's a man's versus a woman's shirt. It makes it uncomfortable, all bunched up in there," he says.
Women's FR clothing is identical to men's in the FR fabric, sewing thread, buttons and zippers and differs only in cut and design, he says. The waist area is usually contoured differently, and measurements through the seat and thighs are different. The shirt has darts in the back or chest area, and sleeves may be slightly shorter. The buttons, as with street clothing, are on the left side.
RE-DESIGNING THE COVERALL
Sudbury, Ont.-based Covergalls specializes in manufacturing PPE designed for women, including FR coveralls and bibs. Company CEO and creator, Alicia Woods, designed coveralls for women working in mining and presented them on the CBC television program Dragon's Den in 2014.
Woods, also general manager at Marcotte Mining Machinery Services, says she was driven to devise coveralls for women out of her own frustration of wearing men's PPE. She had both safety and health concerns. In mines, loose-fitting coveralls present constant safety problems.
"When you have big, baggy clothing on, there's a risk of getting it caught in machinery. I've seen girls just get a roll of duct tape and tape their sleeves up because they're big and baggy and they want to prevent their garments getting caught," she says. "There's also a risk of tripping. And if you have to climb an escape ladder, you're going to struggle wearing men's coveralls. So women need to wear PPE that fits properly."
But Woods had other concerns, too. When she first went underground, she realized how difficult it was to use the bathroom in coveralls made for men. If there was a portable toilet, it was usually dirty, and she would have to take everything off. That problem led her to design her own pair. Then a close friend, also in the mining industry, saw them and asked Woods to make her a pair.
Woods' design includes a rear opening, which makes for easier bathroom breaks and allows women to keep their coveralls cleaner. The feature is also hidden: Women's coveralls look identical to men's.
The company is also manufacturing a wider range of PPE for women: safety gloves, bibs, cargo pants and shirts.
WHEN SMALLER SIZES WON'T DO
Gordon Leffley, duty consultant at Mississauga, Ont.-based Workplace Safety and Prevention Services, first confronted the limitations of standard-sized PPE when, as safety co-ordinator at a food plant in Ontario in the 1980s, he introduced a safety glasses program. He then learned that not everyone's face is shaped so they can wear glasses that come in a box. The different shapes of noses, cheekbones and chins make it difficult to wear the equipment safely, comfortably and properly.
"Our experience with PPE taught us the theory that one-size-fits-all means 'doesn't fit anyone right,'" he says.
Safety goggles that don't fit a narrower face leave gaps in the seal against the face, which can allow flying debris, chemicals or sparks to go past the goggles and enter the worker's eyes.
The difficulty reappeared with respiratory protective equipment, Leffley says, which was not compatible with many women's bone structure. One woman maintenance worker, who had to wear a self-contained breathing apparatus to work on an ammonia compressor, couldn't get the breathing apparatus to fit at all. In the end, she had to be taken off the task.
"With respiratory equipment, proper fit is essential," he says. "The face masks absolutely require a proper seal, and if the equipment cannot be adjusted to create that proper seal, you're going to have a problem."
One item of PPE where women's different needs are often overlooked is hearing protection, Leffley says. Companies should offer employees several different kinds and allow a trial period.
"There are several types of fitted hearing protection available that some people find very, very uncomfortable. And most of the insertable types are designed around the standard ear canal, which not everyone has."
Although there are many designs of safety shoes and boots for women on the market today, there are not as many options with steel toes and reinforced shank for women as for men. Women's feet tend to be not only smaller but also a little narrower, so it can be difficult to get a proper fit.
Boots that are too large can cause tripping, slipping and falling, as well as blisters and burning soles. Moreover, the worker's toes may not be protected by the steel cap on the boots.
Just as finding gloves in the right size was a problem, Charette also had difficulty finding safety glasses that fit properly. Glasses and goggles typically came in one size and were made for men.
"None of the glasses would stay on my face, no matter how hard I tried," she says, adding more glasses are available in smaller sizes now. "They actually stay on my face and don't fog up because of their massive size."
Chris Roddelt, journeyperson carpenter and carpentry instructor at Women Building Futures, agrees the need to use men's PPE created many safety issues in the past. She would often take her safety gloves off and forget to put them back on again because they provided no dexterity and made the task more difficult to perform. In her experience, too, certain types of equipment — such as harnesses and respirators — were not made for women to wear and properly fitting ones were, until recently, almost impossible to find.
Today, although women working in trades certainly have more choices, they may still opt to wear men's small sizes. Coveralls and other safety clothing made specifically for women tend to be more tailored, Roddelt says.
"It's not sometimes practical at all in the working world. You need room to be able to bend over and flex, and some of the clothing that are specifically made for women don't work well."
Part of the problem, Charette adds, is manufacturers' assumptions about women's shape.
"They assume every woman is an hour-glass shape. So, they think you need a ton of room in the hip area, for example, which is not necessary true," she says. "A men's small may fit perfectly."
Some manufacturers have also gone for pink, a feature that women don't want, Charette says.
"They assume that because I am a woman in the trades I want to wear pink. I don't. I don't want to stand out; I'm one of the crew."
Moreover, women's PPE is usually more expensive than men's. That extra cost, Charette says, makes companies less willing to buy it and makes workers who have to pay for their own PPE less willing to pay for it — even if they prefer the women's version. "If I have to buy my own or take what the company supplies me, I'm going to take what the company supplies me, just in a smaller size because that smaller size is in fact available now."
In many locations, too, PPE designed for women is not available locally but must be purchased online, requiring much more time and effort, Roddelt says.
"You order something that you think might fit and you're willing to pay the price, but if you have to return it two or three times to get the right fit, it's not worth the time."
Generally, Charette and Roddelt agree, there are far more options available to women today. Buying work boots, for example, is much easier today than in 1995, when Charette was starting her training, in Fort McMurray, Alta.
"Women's boots were unheard of. I had to purchase a men's size 6, so I had the choice of about three different pairs," says Charette, adding that now, she only needs to go to one store to find a dozen options specifically for women and all available in women's sizes.
"That, right there," she says, "is a testament to how our numbers are growing and the effect we're having on the workforce, which is fantastic."
Linda Johnson is a freelance journalist based in Toronto. She can be reached at [email protected]
This article originally appeared in the February/March 2017 issue of COS.