From face masks to respirators, top companies weigh in on the essentials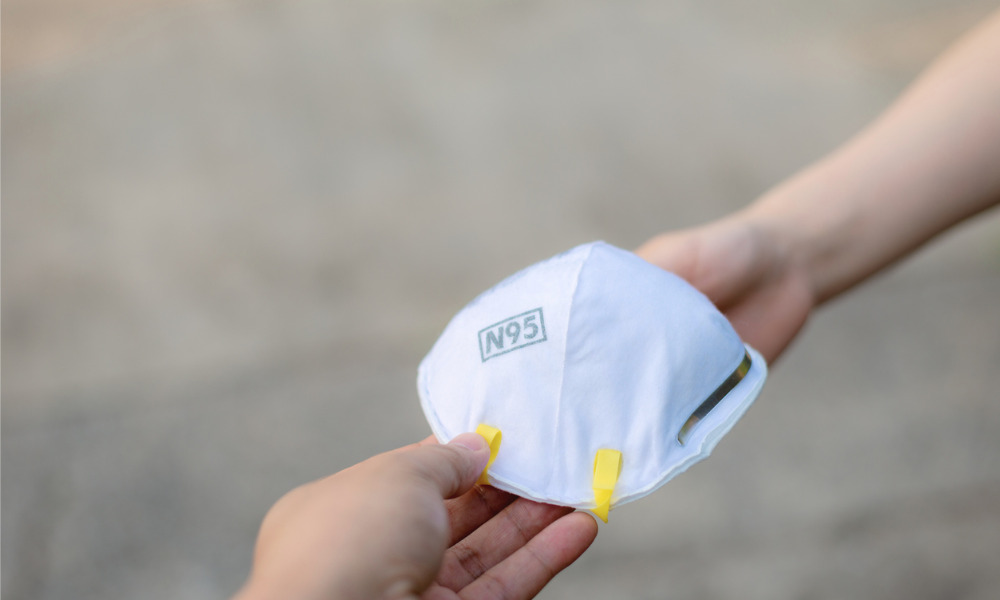 What was already a pretty key bit of PPE has now become one of the most sought-after pieces of equipment due to the ongoing pandemic. Respiratory protection has been an integral part of a number of professions for many years, be it doctors who require surgical masks or construction workers in need of N95 respirators. Since the COVID-19 outbreak last year, however, almost every single worker is required to wear a respirator or face covering of some sort.
With almost every retailer, specialized or not, offering an array of masks and coverings, the market can be difficult to navigate. We looked to some of the top companies in the space — some newer and some more established — to share their expert insight with us.
First and foremost, though, before delving into more specific product offerings, it is essential to consider standards and product certification.
CSA Group
CSA Group "develops consensus-based standards and performs testing, inspection and certification services to published standards in Canada, the U.S. and around the world on hundreds of products, including personal protective equipment," says Dana Parmenter, vice president, industrial, CSA Group.
For those who don't know, certification and standards development are actually two unique and separate processes.
"The need for a standard is usually driven by some type of identified need in the market," says Parmenter, "whether it be related to safety or a gap where there needs to be some kind of guidance on how a product can be used more safely or effectively."
With regards to product certification, that process is performed by specialized teams of certification professionals. Their role is to evaluate and test products supplied by manufacturers against the public safety standards, the goal being for the manufacturer to have their product certified as compliant.
"The CSA certification mark is really an easy way for consumers to know that a product has been tested and meets the relevant safety requirements," says Parmenter.
Standards are published by a number of bodies, CSA being one of them. In Canada, in some cases, some standards are developed provincially. Products have to conform to the standards of the locality where they will be put on the market.
Face masks, face coverings and respirators are all different things often brought up together under the general "face mask" or "respiratory protection" umbrella. We will delve into their differences later on, but different standards may apply to each. With regards to medical or surgical masks, the related standard would be ASTM F2100.
With regards to N95 respirators, they are tested to the 42 CFR 84 standard developed by NIOSH, which verifies the filtering efficiency of a respirator. An N95 respirator provides 95-per-cent filtering efficiency of a non-aerosol-based particle that is 0.3 micron in size.
3M
First and foremost, users need to know that face coverings and respirators are two different products. Face coverings or masks will cover the user's mouth and nose, and may act as a fluid barrier. In a way, these products are meant to protect others from being potentially infected from the wearer. Respirators, such as the oft-mentioned N95, are meant to protect the person that is wearing it.
3M is a global company with a huge presence in Canada, so large in fact that it has expanded its manufacturing site here to product different respirators. Globally, says Stacy Richardson, senior health and safety application professional in 3M's Personal Safety Division, in 2020, 3M produced two billion respirators. This is triple the company's 2019 output, but the demand will continue to exceed the supply for some time.
Although the current focus for respiratory protection has been linked to COVID-19, as we mentioned before, respiratory products have in actual fact been widely used in a number of industries for years.
"The lack of availability has been frustrating for not only health-care customers but also industrial customers," says Richardson. "Many of those places didn't stop functioning during the pandemic."
Shortages aren't the only issue facing respirator manufacturers. Indeed, there is a huge problem with products coming into the U.S. and Canada that are counterfeit. 3M launched a website in 2020 to provide information to combat fraud and price gauging, as well as provide tips and tricks to help determine if the product is authentic.
"When you're purchasing, make sure you purchase through one of [3M's] authorized distributors. If you're uncertain, call the 3M fraud hotline," says Richardson.
What should users look out for in a good respirator? For filtering face piece respirators, they need to be "tight fitting… It has to be a tight fit so that it can actually help filter your air," she says, but you also "want it to be comfortable to keep it on as long as you need to."
The only real way to figure out if an N95 is able to properly protect the user is by doing a fit test.
"What's difficult is that respirators are regulated through federal and provincial work laws — fit tests may not be available for general public; it's really up to the employer," says Richardson.
Many respirators are one-size-fits-all, although a number are also available in different sizes. Nevertheless, you won't know which size to use unless you do a fit test. And, indeed, if an employer or worker changes the make, model or size of their respirator, then they will have to be fit tested again.
COVID-19 has not just impacted industry, it has also impacted society and how we use face coverings in different situations, says Richardson.
"There has been a huge influx of different manufacturers," says Richardson. "I don't think that will change any time soon. I think we are going to see more and more companies in this space for a long time.
"I do believe that the use of daily or reusable face masks for the general public is not going to go away any time soon," says Richardson. "It's going to be more of the norm to see Canadians wearing face coverings for any reason for a long time into the future.
"My hope is that most industries which were affected in some way by the pandemic will keep fit testing up to date," she says. Furthermore, "there needs to be more rigour around these workplaces knowing what they have, and workers knowing what they need to wear, and wearing the right product."
This also means employers being prepared with the proper amount of PPE to meet the needs of their workforce.
Dentec
For many companies that already specialize in respiratory protection, the pandemic has been business as usual — with a twist being that demand for respirators has heightened to a dizzying degree.
"[COVID-19] created an unprecedented demand for respirators, not only for health-care workers but also the general population. COVID has changed us forever. We will be using respirator protection in more applications than they have been used in," says Claudio Dente, president of Dentec Safety Specialists Inc.
"I believe, because of COVID, we will see a more widespread use of respirators [post-pandemic] and we will see users wearing them longer and more often," he says.
Dentec Safety Specialists focuses on manufacturing respirators to protect general industry and health care rather than face masks or face coverings that are intended for the general population. Dente says that, in the aforementioned applications, when selecting a respirator, users should look for comfort. "If a mask is not comfortable, the user will not wear it properly, nor can they wear it for extended periods of time as we are experiencing during COVID," says Dente.
Users should make sure they use respirator products that are approved to their provincial OHS regulations for their workplace. One of the long-standing recognized respirator testing authorities is National Institute for Occupational Safety and Health (NIOSH). They are a federal agency in the United States under the branch of the Centers For Disease Control and Prevention (CDC), which tests and certifies respirator protection and makes recommendations on improving workplace safety.
And even though this is their area of expertise, the pandemic has certainly impacted their production.
"While the majority of the marketplace has been looking for disposable respirators, we concentrated on our core business, which is manufacturing reusable respirators focusing on half masks made of various types of rubber including silicone, thermoplastic and elastomeric," says Dente.
He also notes that, as per CDC recommendations, "when protecting against a virus such as COVID-19, you should use a respirator that does not have an exhalation valve in order to prevent the possible transmission of the virus from the health-care provider to the patient."
"As a result," says Dente, "over the last three months, we have made modifications to our reusable half masks and removed the exhalation valve."
Threads
A number of companies such as 3M, Dentec, Honeywell, Moldex, etc. have been in the respiratory protection market for a long time and as such target professionals in industries such as construction or health care. What has changed with the pandemic is that a bevy of other companies have started manufacturing masks.
Since 2020, it seems as if almost all manufacturers have some kind of face covering or mask offering — some better than others.
Xenia Chen, founder of Threads — a company that originally specialized in direct-to-consumer tights — said that her brand made the decision to start making masks early on in the pandemic, in March 2020.
"Our factory is in Italy, which was one of the first countries to be hit hard by the pandemic. Our team noticed that, like Canada, they did not have a culture of mask wearing prior to the pandemic, but had subsequently adopted the practice in order to curb the spread.
"Our factory was already using some of its capacity to manufacture masks. So, they asked us in March if we wanted to use some of Threads' production capacity," says Chen. "We agreed, knowing that there was a global masks shortage and also predicting Canada would soon follow suit with mask-wearing recommendations. We spent the back half of March planning and product testing."
The brand launched Threads Helps on April 4, which is the same day that Dr. Theresa Tam first announced that the use of face masks and coverings could limit the transmission of the virus.
Threads makes masks designed for the general public and non-medical frontline workers. For office workers or those working from home, these kinds of masks may be a solution. The brand sells reusable masks for adults and children.
"The most important thing for us was to make a high-quality and effective reusable mask that was also priced as low as possible, to make it accessible to everyone," she says. "Our first mask, our Standard Mask, was made using polyamide and elastane."
"Since then, we've launched a few others, including our Triple-Layer X-STATIC Mask®, which is made of X-STATIC® silver yarn, one of the most antibacterial and antiviral materials in the world and used by U.S. Special Forces and NASA. Everything we produce is designed with efficacy in mind. We actually performed an experiment to see how much liquid/droplets our mask can hold," says Chen.
In addition, Threads has a one-for-one giving initiative with Margaret's Housing and Community Services, which provides support to women living with mental illness and substance use or homelessness. Threads' customers can opt to purchase a pack of masks for women in need, and the brand will match the donation.
For users looking into non-medical face coverings, what should they be looking out for?
"The two most important things are the tightness of the fabric weave and the fit. It's important that the actual fabric has a tight weave or high thread count. This ensures particles and liquid droplets won't be able to enter through the mask," says Chen.
"Secondly, you need to ensure the fit of your masks is tight around your face, forming a seal above the nose and below the chin," she says. "If there are gaping spaces between the mask and your face, the mask is not going to be as effective for you. Since everyone has a unique face shape, it may take some trial and error to find a mask that is a great fit for you."