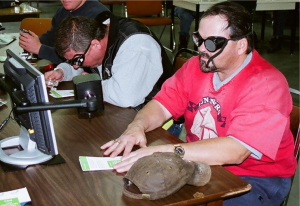 Twelve years ago, Barry Weatherall was working at a plumbing and heating company in Red Deer, Alta. He was healthy and had full use of his vision — until a
chemical explosion at work
left him in the dark, literally.
"I was trying to neutralize sulfuric acid with another chemical called caustic soda bead, and I got bad information from the chemical company. Took off all my protective gear and it blew up in my face," recalls Weatherall. The only thing that kept him from getting killed in that explosion was the dust mask he was wearing at the time.
Weatherall suffered third degree burns on his face, immediately lost his right eye and had to go through 21 surgeries — three of which was to try and save his left eye, but to no avail. He came out of the accident completely blind.
Today, Weatherall tells his story to thousands of workers across Canada in the hope of preventing them from suffering the same fate. He is working with the Canadian National Institute for the Blind (CNIB) as the lead facilitator for its
Industrial Eye Safety Program,
a 90-minute
interactive workshop on eye safety
in the workplace.
At these workshops, Weatherall tells his personal story to the workers. "All I'm trying to do is tell them exactly what can happen and how it will change not just their lives, but their family's lives, their children's lives, friends and people that are around them,"
Weatherall says minutes before his accident he was wearing personal protective equipment, including safety glasses, face mask and gloves. His mistake was taking them off thinking that the chemicals have already been neutralized and there was no longer a risk of explosion. At least, that's what he was told by the chemical company he spoke to earlier when he inquired about the procedure for neutralizing sulfuric acid with caustic soda.
When he went back to check on the chemicals, without putting his PPE back on, that's when his life was changed forever.
Workers are told over and over the importance of wearing their PPE in hazardous work environment, says Weatherall, but the challenge has always been getting them to follow these safety procedures.
"The companies can train people until they're blue in the face, but once the worker is out on the job site by himself, it's up to that worker to take the time to be safe," he says.
It's also the "it-won't-happen-to-me" attitude that's causing some workers to think they'll be fine without their protective equipment and putting them at higher risk of injury, Weatherall says.
According to statistics from CNIB, 90 per cent of eye injuries are preventable. Between 2003 and 2007, WorkSafeBC accepted more than 3,600 disability claims for eye injuries, costing more than $3 million. In Alberta, the number is higher with over 5,000 eye injury claims between 2004 and 2008, and close to $10 million in associated costs.
Weatherall believes the actual number of eye injuries is even higher than what statistics reveal. "A lot of times, people don't always report what they get in their eye or what they do, and the owners of the company will pay their wages because it's cheaper to do it that way, I think, than to claim it through workers' comp."
Different perspective
CNIB's Industrial Eye Safety Program was first launched in British Columbia in 2008.
Brad Waghorn, the program's manager for the B.C/Yukon division, was one of the people that spearheaded this program. For the past 12 years, he has worked with the CNIB as a rehabilitation teacher for the blind and visually impaired. The idea to start an Industrial Eye Safety program came to Waghorn after meeting three young men who have all lost their vision from a workplace accident.
"They went from totally sighted, with high-paying jobs to totally blind, and now they're on WCB for the rest of their lives," Waghorn recalls.
Last year, the program was launched in Alberta and currently, the service is available nationwide. Waghorn says the program gives the workers to a whole new perspective on eye safety.
"All of the facilitators for the workshop, including myself, have vision loss or are totally blind," explains Waghorn, who is partially sighted. "So we spend some time actually talking about our experiences: what it's like to live without our vision anymore, not able to see our loved ones."
The workshop is about an hour-and-a-half long, beginning with some statistics on eye injuries and graphic slides of actual eye injuries, including Barry Weatherall's story.
A big part of the workshop is interactive, wherein workers are made to experience what it's like to lose ones' eyesight.
During the workshop, workers are asked to perform normal day-to-day activities, with one slight modification: doing it while blindfolded. The easiest things like putting on toothpaste on a toothbrush or telling the time, becomes a difficult task once you take away ones' vision, Waghorn says.
"Most of the employees when they come up to me just simply let me know that they've never event thought that if they were to lose their vision . . . how hard it may be re-learn (everything)," he says.
Waghorn believes that one of the reasons the workshop is very successful among organizations is because they approach it on a personal level: showing the workers what they can expect if an accident were to happen, rather than simply telling them they need to put on their PPE for safety.
Since its launch in 2008, several organizations have come onboard to support the CNIB's Industrial Eye Safety program, including the Alberta Association of Optometrists, British Columbia Association of Optometrists, Construction Safety Association of British Columbia, Construction Safety Network of B.C., Worker's Compensation Board of Alberta, WorkSafe Alberta and WorkSafeBC.
Changed attitudes
Waghorn is proud of the fact that none of the companies that have undergone CNIB's eye safety workshop had an eye injury since.
Tanya Ducharme, environmental health and safety manager at brewery firm Labatt, in Creston, B.C., describes the workshop as the "most impactful workshop we have had in a long time."
Some 140 of Labatt's employees attended the eye safety workshop, which got them thinking about how an eye injury would change their lives forever, she says.
It has also changed the way the company is enforcing is eye safety policy. "Our safety committee, has just finished rolling out a plant-wide change to our safety glasses policy," Ducharme says. "Not all of our areas in the plant required the use of safety glasses, but after a review and the workshop, the joint health and safety committee made a recommendation to management to change our policy."
The company is also now pushing for more prescription safety glasses for better worker protection, she adds.
The City of Prince George in B.C. has also noticed some positive attitude towards eye injury prevention among its workers since undergoing the workshop.
"Eye safety is a higher profile now with the staff," says Scott McMillan, the city's occupational health and safety advisor.
"There's been a quiet acceptance of the need to wear safety glasses, where we encountered resistance before."
Even instituting an eye protection policy, particularly in the city's higher-risk shops, was accepted by the workers with very little resistance, says McMillan.