Canadian Automobile Association offers advice for winter driving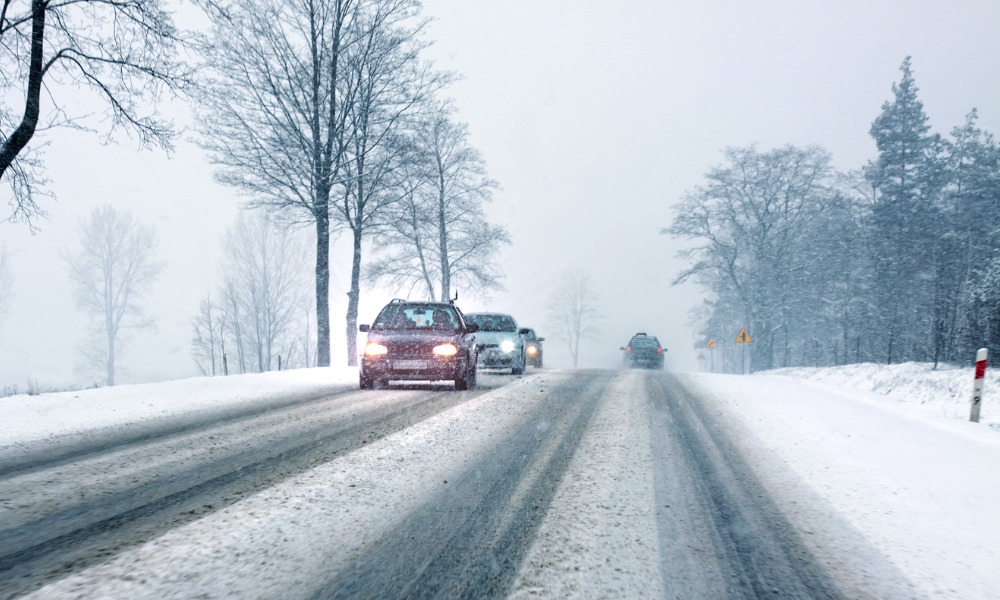 The clocks have fallen back, and winter is upon us. For employers who manage a fleet of vehicles, it's time to make sure they are ready for the snow, ice, and treacherous driving conditions. The Canadian Automobile Association (CAA) has several suggestions to make sure vehicles and drivers are safely prepared for the winter ahead.
Winter Tires
This is typically one of the first safety elements people think about for winter driving. Murielle Pierre is the national manager of public affairs at CAA and says it's important to keep in mind winter tires are more than just snow tires, "they do provide better handling in the snow, they improve driving, and it's just better for your safety as a driver in general, to make sure that you don't wait for the snow to install your winter tires." Cold weather can create ice on roads and highways long before the first snowfall, and winter tires will provide better traction in these conditions.
Mechanical and fluid checks
"Seasonal checking is definitely something that helps avoid breakdowns," says Pierre. She also says it's important to make sure the battery is in good working order along with the brakes system. These simple mechanical checks will help make sure drivers don't end up in precarious situations during the cold winter months. Replenishing vehicle fluids is also important and Pierre puts extra emphasis on wiper fluid, "especially if your windshields are dirty as well as your rear windshield, and it just makes sure that your view is clear."
Lights and visibility
Vision is among one of the most impacted senses in winter. Snowstorms, glare, and dirt can all reduce the ability to see clearly while driving. Pierre says it's crucial to have wipers that are in good working order, "just making sure that it's not broken, there aren't any tears on it, and it's working up to its regular usability." Another component to guarantee drivers can see and be seen is ensuring all lights are shining bright. "Don't be a phantom vehicle," says Pierre, who encourages a simple safety check to make sure break lights, indicators, fog lights and high beams are all mechanically sound.
Emergency kits
There are specific items every vehicle should be carrying all times to get out of a jam. A breakdown on the side of the road in winter could potentially be deadly. While a scraper is among the bare minimum, an emergency kit could be the difference between life and death. An extensive list of items can be found on the CAA website. It includes tools like a flashlight, first-aid kit, shovel, and a warm blanket. But if a driver is stuck for a long period of time, simple foods and drinks like water and granola bars can go a long way. And there's one more thing Pierre suggests, "we always recommend to either have sand or kitty litter, especially for traction." Digging out is something Canadians should always be prepared for.
Driving behaviours
One in five worker deaths are caused by vehicle collision. Managers and safety officers may want to consider having a conversation with their employees, whether they drive a company vehicle for work or just their own personal vehicles for commuting. Simple behaviours can make all the difference to ensure the safety of everyone. Pierre says time management and planning for longer than expected drives is among one of the most crucial of safety tips. "Given that it's always unpredictable, you never know what's going to happen, we always say to just give yourself that extra time in the morning before you leave for work, before you leave to go run errands, before you leave for that appointment." Part of time management means making sure drivers give themselves the time to clear snow off their vehicles, warm them up, and chip away any ice from the windows or windshields. Pierre also suggests drivers check both the traffic and the weather, so that they know what to expect later in the day.
Following these safety tips will help keep drivers safe while using company vehicles and their own personal vehicles used for commuting. Having a conversation with staff and providing helpful reminders can go a long way to keeping employees safe at work, at home, and on the road.