Conducting a risk assessment, developing appropriate written procedure among key requirements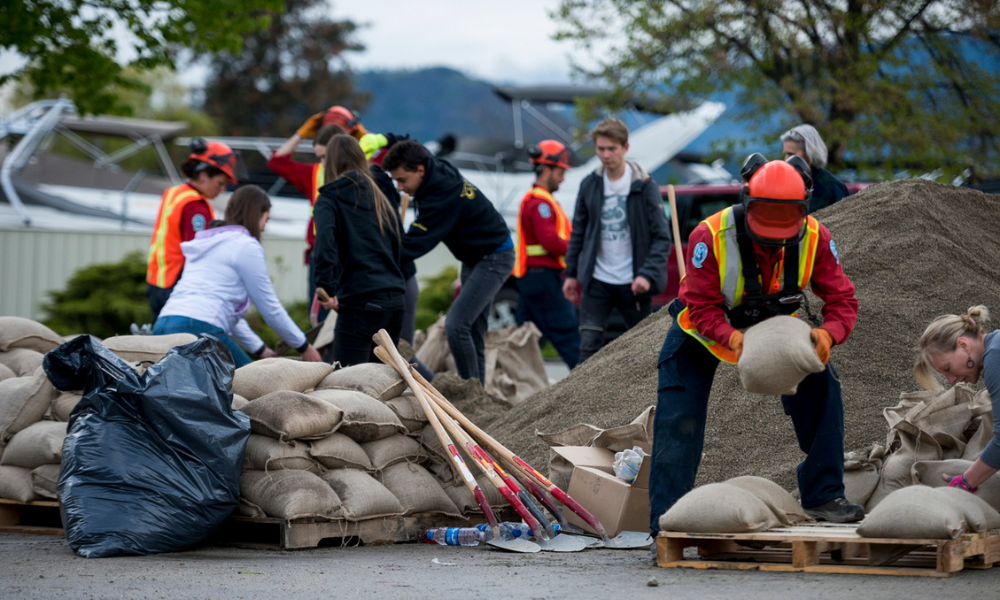 In the wake of the floods in B.C., WorkSafeBC is reminding employers to prepare for emergencies that may be caused by severe weather events.
Employers have obligations to be prepared for emergencies, including planning for evacuation, rescue and re-entry, when safe to do so, according to the agency.
"Emergency situations, such as severe flooding and landslides, can often occur with very little warning. That's why employers need to conduct a risk assessment in any workplace in which a need to rescue or evacuate workers may arise," said Al Johnson, head of prevention services at WorkSafeBC. "The more you are prepared, the better you will be able to act and help ensure the safety of workers during an extreme weather event."
The Occupational Health and Safety Regulation notes that all employers are expected to plan, prepare, and train their employees for all emergencies, according to the agency.
Key requirements include:
conducting a risk assessment to determine the most likely emergency situations in the workplace
engaging workers in the risk assessment
developing appropriate written procedures for evacuation and rescue
providing well-marked means of escape in the event of an emergency
ensuring that emergency procedures consider the safety of disabled workers
conducting drills at least once every year
making sure all workers on site know how to respond to an incident
providing training to employees in emergency procedures and fire prevention
having first aid resources onsite
providing appropriate personal protective equipment for workers doing the rescue or evacuation
ensuring a sufficient number of workers are available to implement rescue procedures.
"Creating an effective emergency response plan is one of the most important things employers can do to protect their workers during a natural disaster, or other emergency situation," said Johnson.
B.C. floods
One person has been confirmed dead while others are reported missing after a mudslide on a B.C. highway that happened on Nov. 16, according to a report from CTV News.
A woman's body was recovered from the scene of the slide on Highway 99 between Pemberton and Lillooet, according to the report, citing a B.C. RCMP statement. The woman's identity was not disclosed, but the RCMP said she resided in the province's Lower Mainland.
At least two people have been reported missing, and other occupied vehicles may have been caught up in the slide, which was located about nine kilometres north of Pemberton, according to the RCMP.
British Columbia has been experiencing heavy rains and flooding months after a wildfire swept through Lytton in B.C., destroyed most of the village and killed two residents on June 30. WorkSafeBC even called on B.C. employers to consider closing shop if workers cannot be protected from the risk of heat stress that month.
On Nov. 16, the City of Abbotsford issued an immediate and urgent notice to all residents to evacuate the Sumas Prairie immediately.
"The province is supporting the City of Abbotsford with any resources it needs. I have also been in contact with Bill Blair, federal Minister of Emergency Preparedness, to request federal assistance on this incident and the flooding situation in general. This includes Canadian Armed Forces ground and air support," said Mike Farnworth, B.C.'s minister of public safety and solicitor general.
"Flood conditions have escalated quickly and pose a significant risk to life. This event is anticipated to be catastrophic."