A close look at food production and worker safety amid COVID-19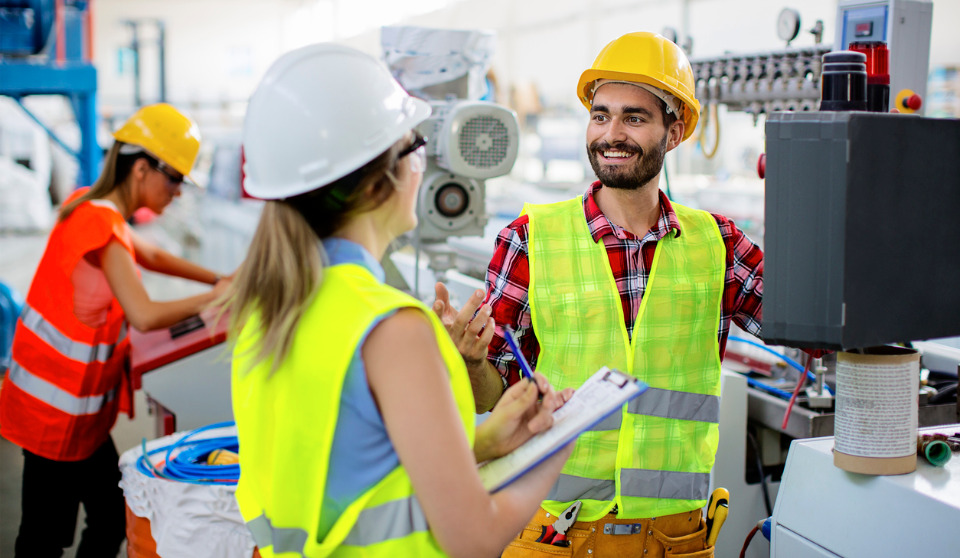 Is your food safe? Before the pandemic, this question may have entailed different answers, and it may have been posed in different circumstances. However, amid COVID-19 and the ongoing pandemic, this question now raises a whole host of new issues.
Under normal circumstances, with current federal and provincial OHS legislation and with strict food production and manufacturing guidelines, workers and the supply chain should be protected.
Tasked with responding to a public health hazard most of us have never seen before, the food production industry was thrown into disarray. Now, a few months into the pandemic, what has changed for Canadian food businesses and their workers? Have conditions improved? And what can be done to globally improve safety?
Migrant workers and farms
When writing this on July 24, the Windsor-Essex region in Ontario has the highest rate of COVID-19 in the province, with 484 cases per 100,000, according to Dr. Wajid Ahmed, the region's medical officer. Ahmed said that the spike in cases is most likely linked to, among other things, outbreaks on local farms.
Indeed, in the last few months, outbreaks on farms and in agricultural settings have been a huge issue in Ontario. And these outbreaks have mainly affected migrant workers.
According to the Migrant Workers Alliance for Change (MWAC), in 2017, migrant workers made up 41.6 per cent of all agricultural workers in Ontario and 30 per cent of the agricultural workers in Quebec, British Columbia and Nova Scotia. Many of these workers come from the Caribbean and Latin America, with many hailing from Mexico.
Every year, 20,000 migrants come to Ontario. Due to current travel restrictions, by the end of June this year, around 8,000 migrants were active on farms. However, various media outlets reported that, at the end of that month, only 750 workers had been tested. Even more worrying, a reported 470 farm workers had tested positive for the virus in the Windsor-Essex region alone, and at least three of that number had died.
At the time, the Ontario Public Service Employees Union (OPSEU) released a statement saying: "This pandemic has shown us how vulnerable these workers are and how little governments have done to protect them. The labour movement needs to be an even stronger voice in calling for better working conditions for these workers who put food on our tables."
Ontario Premier Doug Ford also released a statement in June following the alarming infection reports. "I'll go to the extreme, whatever tool I have, to protect the people of Windsor and the food supply chain, and the farmers and the workers," he said.
Prime Minister Justin Trudeau said that "anyone doing work, let alone essential work as part of our food chain, needs to feel protected; obviously, in the case of these three tragic deaths, that wasn't the case."
Although the federal and provincial governments have rolled out various packages worth millions of dollars to boost agriculture and fish farming, because many workers may not be aware of their rights or may be afraid of being sent back home, they may not feel able to speak up or denounce the allegedly less than optimal, cramped living conditions that could be contributing to the spread of the virus.
"Most of the workers we spoke to knew they would fall sick because of their living and working conditions but could not speak up because doing so means termination, homelessness, loss of income, deportation and not being able to come back in the future," said MWAC campaigns co-ordinator Karen Cocq in statement following a report that the organization released on June 8 regarding complaints made by thousands of migrant workers.
Meat-processing plants
In fact, it is not just migrant workers and farms affected by these mass COVID-19 outbreaks; many meat-processing plants throughout Canada and the U.S. have been affected, too.
In Quebec, in May, 64 employees at Cargill's meat-processing plant in Chambly tested positive for the virus. This amounted to around 13 per cent of the workers at the facility. At the time, a spokesperson for the United Food and Commercial Workers (UFCW) union said that 171 workers were home because they were sick or because they had come into contact with someone showing symptoms.
Another of Cargill's plants in Alberta recorded an even higher number of positive cases: A whopping 908 cases were recorded in early May at its High River facility.
And there are many more outbreaks that have been recorded in recent months, in Alberta, Minnesota and South Dakota to name a few. On April 15, the Smithfield Foods plant in Sioux Falls, S.D. had a cluster of 644 confirmed cases. At the time, it was one of the biggest outbreaks in the U.S. and accounted for 55 per cent of cases in South Dakota.
These outbreaks raise multiple, essential questions: Why are there such outbreaks in food production facilities? What can we do to keep our workers safe? Is the food that we are putting on our tables safe for consumption? Food safety, supply chain integrity and worker safety — all of these issues intersect.
Answering the question of why there are such outbreaks in food production facilities at the moment is difficult. Aforementioned living conditions for migrant workers could be a reason, as suggested by MWAC. It could be due to lack of preparedness in the face of an unprecedented pandemic, and this problem is not endemic to food production by any means; most, if not all, sectors and industries were caught off guard.
Right now, the focus should be on preventing future outbreaks.
Expert recommendations
Ebrahim Noroozi, a food scientist with the Department of Food Science and Agricultural Chemistry at McGill University, covered some of the most asked questions about food safety for COS.
First and foremost, it is important to establish that "the main mode of transmission for COVID-19 is considered to be from person to person, mainly via respiratory droplets that infected people sneeze, cough or exhale," says Noroozi.
He explains that although a recent study showed that the causal agent of the virus was shown to persist for up to 24 hours on cardboard, for example, there is no evidence that contaminated packages, which have been exposed to various environmental conditions and temperatures, transmit the infection.
"Nonetheless, he says, "to address concerns that virus present on the skin might be able to transfer to the respiratory system — for example, by touching the face — persons handling packaging, including consumers, should adhere to the guidance of public health authorities regarding good hygiene practices, including regular and effective hand washing."
This leads us to food production and whether the agri-food industry is taking measures to avoid contamination of the food it produces and/or distributes.
"Strict hygiene rules already govern the production of food, and their implementation is subject to official controls, which all food businesses must apply them," says Noroozi. "The hygiene controls to be implemented by food business operators are designed to prevent the contamination of the food by any pathogens and will, therefore, also aim at preventing contamination of the food by the virus responsible for COVID-19."
He explains that training actions in food businesses on all these requirements are actually mandatory, so people in the food industry should be up to date and know how to work hygienically. Among the good hygiene practices that Noroozi recommends are included:
Cleaning and, where appropriate, disinfection of food-producing facilities and equipment between production lots;
Avoidance of cross-contamination between categories of food and food at different stages of the process (e.g. raw versus cooked food);
Personal hygiene such as washing and disinfecting hands;
Wearing gloves and masks where required;
Use of dedicated hygienic clothes and shoes or staying at home away from work whenever feeling ill.
"Furthermore," he says, "in the present context, food businesses should limit their external contacts to the absolutely necessary; for example, with suppliers or trucks while keeping distance from the drivers."
These recommendations broadly follow previous food hygiene recommendations. And while they should be strictly adhered to, it may also be a possibility that they could be harder to implement, due to current physical distancing guidelines, for example.
Noroozi says that food safety "first and foremost relies on the commitment of all actors of the food chain, from farm to fork, with the primary responsibility lying on food business operators."
And while preventive controls and safeguards are essential, so are inspections.
Food inspections
The Canadian Food Inspection Agency (CFIA) provides streamlined regulations under the Safe Food for Canadians Regulations legislation. The regulations were streamlined in January 2019. To ensure the application of this legislation, the CFIA has put into place a Standard Inspection Procedure (SIP). It explains that this approach has shifted from "prescriptive-based requirements" and is now focused more on "safety outcomes."
Moreover, new updates came into effect on July 15 for the manufactured food sector this year to reinforce safety, and the CFIA states on its website that COVID-19 is its current priority. In response to the pandemic, the CFIA has, over the last few months, implemented various measures. For example, with regard to the delivery of livestock feed labels and shipping documents amid COVID-19, the CFIA now asks that feed and feed ingredient manufacturers electronically transmit labels and other shipping documents for bulk feed and feed ingredients, so as to reduce person-to-person interaction.
As of June, the CFIA is slowly resuming its non-critical inspection services. Aside from investigations, the CFIA also conducts activities such as recalls, export certifications, animal disease investigations and laboratory testing.
Keeping workers safe
One of the most important things right now is keeping food workers safe. As frontline workers, they are tasked with the essential business of keeping food on Canadians' plates. Furthermore, they also deserve to work in a safe and healthy workplace. With reports on multiple outbreaks on farms and meat-processing plants, workers in this sector may be worried, and employers may not be fully aware of the measures they can take to increase workers' safety.
So, how can food business operators keep their workers safe? "Food business operators must train the employees on how to properly use personal protective equipment and remind them on how important it is to follow instructions on personal hygiene and social distancing during breaks at work," says Noroozi,
Nevertheless, what happens if a food business employee is infected with COVID-19?
"Specific protocols have been established within the food-processing industry to safeguard the health of employees," says Noroozi. "These measures come in addition to usual food hygiene and workers safety practices, and they adapt to the possibilities on the ground."
Noroozi says some of these measures include: social or physical distancing while in the workplace; plexi-glass shields for workers when distance cannot realistically be maintained; avoiding contact as much as possible between truck drivers and the food production facility; increased sanitization (including more hand sanitizers available); staggering shifts when possible; and working from home when possible.
Additionally, these measures should include encouraging, if not requiring, workers to stay home if they are infected with the virus or if they present symptoms in line with COVID-19.
"There is every reason to believe that existing sanitation measures are as effective on COVID-19 as on other microbiological risks," says Noroozi. "Furthermore, food businesses should perform additional sanitation measures when appropriate, based on risk, all the more in the case an employee results positive to the virus."
The measures listed above, he says, "combined with the fact that food is not known to be a source of transmission, provide assurance on the safety of food production."
This article originally appeared in the Sep/Oct 2020 issue of COS.