While regulations are in place, Canadian employers lag in implementation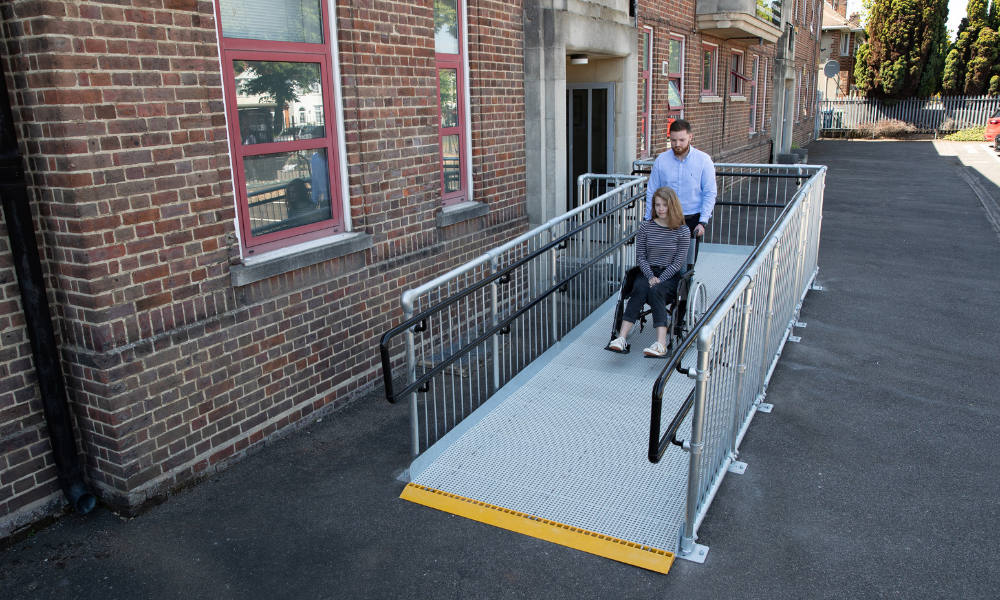 This article is provided by Kee Safety
Approximately 30 per cent of Canadians adults are living with some form of disability. In 2019 the Canadian Government put in place the Accessible Canada Act, setting itself the ambitious goal of becoming a barrier-free society by 2040. Given the reality that many of us will experience disability at some point - either through becoming a caretaker of a relative or individually - implementation of the Government's plan is crucial.
However, in conversation with Kee Safety's strategic solutions manager, Nick Bixcul, it became evident that the requisite safety and accessibility platforms, walkways and railings are woefully inadequate. The COVID-19 pandemic further stalled progress made in the implementation of disability policies.
Rich Donovan conducted an interim legislative review of the progress made in Ontario in executing the Accessibility for Ontarians with Disabilities Act, where he found 77 per cent of people with disabilities reported having a negative experience at their workplace and in public spaces. The same review showed only eight per cent could describe their experience as positive.
Bixcul says, "Making sure areas are accessible to everyone is fundamental. It's a shame that it's taken this long to establish the regulations. Could you imagine during the hiring process of trying to find candidates, to hiring a great candidate, but they can't get into the building? Can you picture not being able to walk into your place of employment, where you're constantly wondering 'Will I fit in here? Am I going to be able to locate the safest entrance and exit?
"At Kee Safety our job is to separate people from hazards. Identifying the hazards, which potentially could be, the access and entry points of a building. We look to ensure that those at least are safe."
Greater momentum needed
According to a 2017 Statistics Canada study, there continues to be lower labour market participation amongst Canadians with disabilities. For systems that are designed to accommodate significant barriers in the workplace, the bar must be set higher. Presently the support falls short, Bixcul finds that further measures need to be in place, ensuring they are responsive to the community's needs and are consulted in the decision-making process.
"We were working with a University throughout COVID-19 to do a safety audit of their facilities and one of the main components of the audit was to ensure they had adequate systems in place. Universities, bastions of higher learning, preach and speak about diversity, yet they still had many issues with accessibility. It's basic human needs like the bathroom. Surprisingly some new buildings on campus still didn't have the required safety walkways and railings."
"With smaller businesses, the barriers include the cost for implementation and firstly discerning who is responsible for implementing these plans? Is it the property management company? A lot of smaller companies do not own the property. Who does the onus lie on?"
Federally regulated businesses are part of Canadians' regular activities, which include banking services, sending mail, and paying bills. While the Accessible Act is in place, in a survey conducted
by Stats Canada in 2021, the key findings revealed that among those who interacted with federal sector organizations in the past two years, 73% of Canadians with disabilities encountered an accessibility barrier.
Moving to a fully inclusive and accessible society would create an estimated value of $337.7 billion in Canada, as noted by a study conducted through Emerald Publishing. While many studies focus on identifying the seemingly enormous total costs, the economic benefits cannot be ignored.
The way forward
Bixcul is optimistic noting, "The Canadian Government is pushing this, which is a big plus. Employers are trying, we do get calls quite frequently trying to assess if we can help businesses in finding what the best options are. There is a bit of an adoption period and requires some understanding of the process."
Looking to rectify the concerning levels of inadequate support, the Canadian Government on June 22, 2023, has also issued the Canada Disability Benefit Act and announced that in parallel to the regulatory process, there are engagement and discussions with provincial and territorial governments.