It sounds basic but correct usage is key to avoiding slew of injuries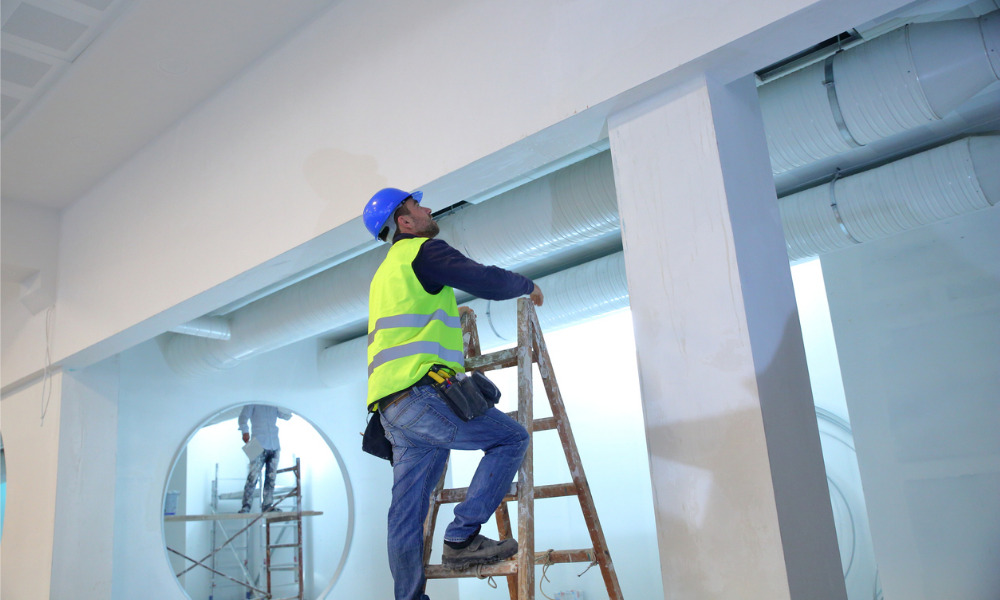 The Canadian Centre for Occupational Health and Safety (CCOHS) estimates that ladders are involved in around 2 per cent of all workplace incidents in industrialized countries. Used in a number of sectors – including construction – proper ladder safety is key to keeping workers safe.
"Any industry that uses stepladders should be concerned with stepladder safety. From retail to construction, if a worker is required to use a stepladder, they should have the instruction and training to use the ladder safely," says Riane Marrs, Occupational Health and Safety Specialist, CCOHS.
Using a stepladder incorrectly can lead to injury through slips and falls from elevation, says Marrs. "In addition, if you are not paying attention to what's overhead, there may be a risk of injury from contact with electricity."
She says that other hazards include overreaching or extending, overloading the ladder, not maintaining 3-points of contact, or wearing improper footwear. "These could contribute to the risk of falling from the ladder."
Marrs explains that using a stepladder correctly means selecting the right ladder for the job, inspecting the ladder and location, and installing the ladder properly. OHS professionals should consider type and load rating. The ladder should be about one metre (or three feet) shorter than the highest point you must reach, and all four feet should be on a flat, firm, solid surface, the spreaders locked in place, and close to the work.
"Before using a ladder, you should assess the task to see if it can be completed without the use of a ladder, or not at heights," says Marrs. "In addition, frequently accessed items or other activities that require the frequent use of a stepladder should be evaluated for alternatives, such as bringing the items lower or installing a permanent access solution."
In the case that a worker would need to use a stepladder, they should be encouraged to check the area to make sure that they have a good, stable location to work from, "inspect the ladder for racks, loose or corroded rivets, defective braces, or other conditions that may be unsafe."
And when it comes to using the stepladder, Marrs says that good practices include facing the ladder and using 3-points of contact when climbing and descending the ladder – this means the worker's hands must be free when climbing to hold onto the ladder. "Workers should also always keep their body centred between the side rails as overreaching or leaning to the side may cause the ladder to become off balance."
And lastly, Marrs says that after using a stepladder, make sure that workers have a clear path to its storage location and store it properly to prevent any damage. They should also request assistance if required.