Geroline president Ryan DeCaire explains how industries and companies can improve their ice cleat policy to optimize worker safety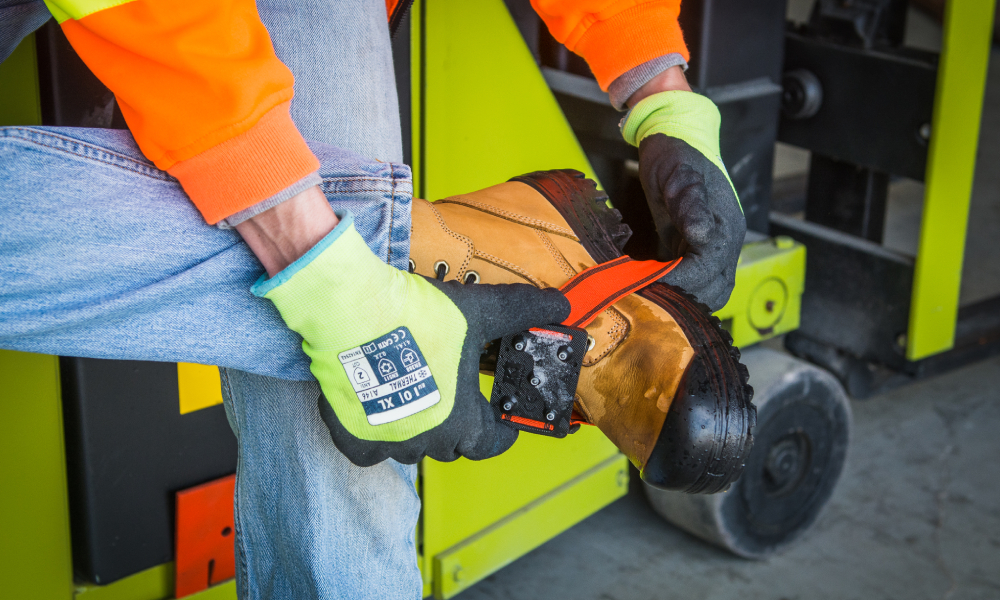 In May, we received a question from a forward-thinking safety professional who was grappling with persuading his team to buy in to the company's ice cleat policy (it may even sound familiar to you):
"Hello,
I was wondering if someone could help me. Have any industries or companies shared with you their cleat policy? We have too many people that want to argue the 'grey area' about when to wear their cleats and when not to. Any help would be awesome!"
As a thought leader in winter traction, we frequently hear about struggles with the grey area around ice cleat policy. Here are a few anecdotes:

"We mandate ice cleats, but somehow they're always 'forgotten'" in the truck when a slip-and-fall injury occurs"
"We use the full-foot type, but the floors inside kept getting damaged, so we spent $12,000 on benches last year so people could put them on and take them off when they walk in and out of the plant"
Here is the black and white of it: Winter slips and falls are a problem that persists in nearly every industry from construction to mining to couriers to home-care providers. To address this pervasive issue, the grey area around ice cleat policy needs to be coloured in with thoughtful benchmarking and a proactive approach.
At Geroline, we entered the conversation by asking more than 10,000 end users across North America to tell us about their ice cleat policies. Our aim was to determine best practices for the purpose of helping safety professionals tackle this grey area. With this data in hand, safety professionals can implement policy that merges prevention, perception and products to protect their teams. The following is a summary of our questions and findings:
Do you have an ice cleat policy that mandates winter traction aids on the job? If so, when are your teams required to wear ice cleats — i.e. temperature, weather conditions, time of year, etc?
Encouragingly, more than 80% of respondents already have an ice cleat policy in place. Among respondents with an existing ice cleat policy, 85% mandate the use of ice cleats while only 15% recommend, but do not require, ice cleats. The grey area was often exposed on this question with responses such as "winter cleats are to be worn when conditions warrant their use" or "ice cleats are required whenever our employees are in an area that cannot be cleared of icy conditions."
We found that best practices varied by geography. For example, across much of Alberta, snow and ice are virtually guaranteed from early fall until mid-spring. Accordingly, a safety leader at Tornado Global Hydrovac requires all outdoor workers on site to wear their ice cleats during specific months of the year, irrespective of the weather conditions:
"We use the K1 models. Workers put them on and leave them on after the first icy conditions of the fall season. The ice cleats are rotated downward as needed until April 1. If icy conditions return after April 1, workers need to put them back onto their boots for another two weeks.
With the proper equipment, this approach to policy is effective for every industry and every geography. Still, some regions have winter conditions that can vary considerably throughout the season. When developing ice cleat policy for highly variable winter conditions, a slightly different approach may still be effective. Jesse at Shell Catalysts and Technologies told us about "Cleat Days":
"Yes, we require either ice cleats or approved shoes for ice wear. We declare 'Cleat Day' on certain winter days, usually when there is fresh snow or accumulation is not cleared from most walkways. Cleats, like all PPE, are the last line of defence. Included in this policy is the practice of reporting areas that need snow/ice removal (we have machinery on site) and we also provide shovels and salt so that employees can help resolve slick areas themselves."
Another approach that builds on this policy comes from Scott at Husky Energy who publishes measurable guidelines to determine when ice cleats must be worn in variable winter conditions:
"When the ground temperature is less than 0 degrees Celsius, security will activate the ice cleat sign on the safety bulletin board. If the temperature is increasing, security will check the ground temperature at pre-determined locations. If the ground temperatures in all locations are greater than 0 degrees Celsius, the ice cleat sign will be deactivated."
Each of these policies tackles the grey area by taking prevailing weather conditions into account and leaving little room for interpretation in the field when conditions require winter traction.
How do you balance efficiency and safety when your team is transitioning outdoors to indoors while wearing ice cleats?
When considering this dilemma for ice cleat policy, we found three primary concerns: (i) preventing indoor slip and fall incidents caused by the metal studs sliding on tile or concrete, (ii) ensuring that ice cleats are always attached to footwear when the employee is actually outside and (iii) making ice cleats as user-friendly as possible. The most common solution that we found to address these concerns is mandating or recommending mid-sole ice cleats. An emerging approach to winter traction, mid-sole ice cleats are placed in the arch of the foot and secured with a one-size-fits-all adjustable strap. When outdoors, the industrial quality studs are engaged to provide traction on ice and snow. When the employee transitions indoors, the studs can be disengaged by rotating the cleats to the top of the foot. This functionality allows the cleats to be left on footwear for the entire winter season. The mid-sole ice cleat tackles the grey area by making traction easily accessible when it's needed without creating additional hazards or standing in the way of getting a job done.
Jean at Hydro Ottawa touted the convenience of the mid-sole design:
"The mid-sole ice cleats are very convenient. I ask our staff to put them on their work boots and leave them on during the winter months; very easy to flip to top of boot when entering indoors."
Similarly, Ron at BMWC Constructors highlighted the specific benefits of the K1 Series Mid-Sole Ice Cleats:
"This was a big problem until we found the K1 Mid-Sole. Being able to rotate the spikes when transitioning made it easier on the employees and prevented the loss of many pairs of ice cleats."
Who on your team is subject to your ice cleat policy?
Fifty per cent of respondents require everyone on site to wear ice cleats when their policy is in effect, including those who work mostly indoors throughout the day. The remaining 50% of respondents only require employees who often work outdoors to adhere to ice cleat policy. While employees who regularly work outdoors must always be equipped with ice cleats, tackling the grey area requires a broader approach. An outsized number of slip and fall incidents occur among employees who are only intermittently or infrequently walking on ice and snow. Common examples of concern include (i) the walk from the parking lot to the front door of the office and (ii) walking between buildings on corporate or academic campuses. To tackle the grey area, absolutely everyone on site needs to be aware of slip and fall hazards and must be equipped with ice cleats that are easy to use.
Scott at Westlake Chemical eliminated the grey area by making sure everyone on his team was protected:
"Anyone that enters the site must wear ice cleats. Employees, contractors, deliveries, security, everyone."
Ian at Aluma Safway ensured that his ice cleat policy included areas on site where employees may let their guard down:
"Ice cleats are required for anyone walking outside when conditions warrant their use — from the parking lot to the lunch trailers included."
How do you monitor compliance with your ice cleat policy?
Compliance with ice cleat policy is both a challenge and one of the greatest contributors to the grey area around ice cleat policy. Reponses to this question varied considerably.
All respondents use regular spot checks and audits to monitor and manage compliance. The safety leader at Tornado Global Hydrovacs uses the Hi-Vis straps on his team's cleats to help supervisors monitor compliance:
"Bright orange straps on the K1 Mid-Sole make them quite visible."
While nearly all respondents use some type of warning and education system to handle near-miss incidents, 45% of respondents use disciplinary action for non-compliance with ice cleat policy. Like any program, ice cleat policy is most effective when it moves beyond the threat of discipline and becomes part of the on-site culture. When employees hold each other accountable, we have the greatest chance of eradicating the grey area and keeping teams safe.
Ian at Aluma Safway relies both on supervision from managers and a culture of accountability:
"Supervisors and health and safety advisors continually monitor PPE compliance. We also promote 'buddies keeper' culture and encourage people to 'see something, say something' to their fellow workers."
In conclusion, each of these industry leaders are tackling the grey area, managing risks and reducing injuries by developing effective policy through prevention, perception and products. To learn more about the K1 Series Ice Cleats used by these safety professionals and their teams, visit www.k1series.com to request a sample.