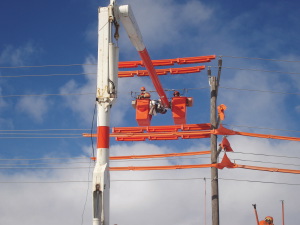 The Infrastructure Health and Safety Association (IHSA) has launched its new Working at Heights
fall prevention
training program, which addresses the
basic fall prevention information
to help workers work safely in areas where they may be exposed to fall hazards.
The formal launching was held Thursday at the IHSA's Skills Development Centre training facility in Mississauga, with
Ontario Labour Minister Peter Fonseca
as the guest speaker.
"This full-day Working at Heights training program will help workers recognize the hazards and prevent injuries," Fonseca said. "I believe that this program has the potential to become the 'gold standard' for basic fall-prevention training in this province."
The IHSA serves the aggregates, construction, electrical, natural gas, ready-mix concrete, transportation and utilities industries in Ontario. Last year alone, more than 2,300 workers in these industries were injured due to falls, the IHSA said.
"This is tragic, especially when falls are a preventable hazard," said Al Beattie, IHSA's interim president and CEO. "The Working at Heights program is part of IHSA's efforts to eliminate falls in the workplace. It is a state-of-the-art program that came from many hours of hard work by fall prevention and training specialists."
Early this year, Fonseca asked the health and safety system — to which the IHSA belongs — to explore the best ways to prevent falls among workers. A working group was established and found that there is a lack of consistency across the province when it comes to fall prevention training.
"It is not uncommon for two workers — possibly even from the same workplace — to receive very different fall prevention training," according to the IHSA. Lack of hands-on training to supplement the classroom training was also another issue.
Following this review, the IHSA led the development of a draft standard for fall prevention training in Ontario. To meet this standard, IHSA developed the program, Working at Heights — Fundamentals of Fall Prevention.
The program is a one-day, in-class training course. The curriculum covers: common fall hazards; various methods of fall protection and types of equipment; working with ladders, scaffolds, elevating work platforms and suspended access equipment; and, related laws and regulations.
IHSA points out that while the training program is a good starting point, hands-on training is still essential. Following the in-class sessions offered by the Working at Heights training program, employers must train workers on the specific hazards and types of equipment they will face on the job.
The first training session will be held on October 28 and sessions will continue throughout the fall and winter, the IHSA said.
(Photo courtesy: Infrastructure Health and Safety Association)