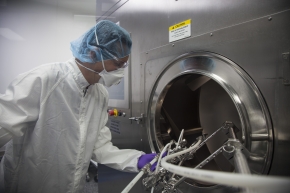 At the root of the value system and safety program at GSK's Mississauga, Ont., manufacturing plant are its 455 employees, who are energized, engaged and empowered to promote a safe and healthy workplace. A new hands-on workshop for all site employees brought some of these values to life by simulating a factory, says Ruth Mello, EHS site lead.
"We made a model plant — a cookie factory — out of Play-Doh," she says. "The challenge was to make 'cookies' according to strict specifications but with a zero accident mindset."
This meant making sure that, at each step in the process, workers were aiming for zero near misses, incidents and product defects. Before moving on to a new step, participants would discuss ways for reducing potential hazards. GSK's Mississauga plant found that this interactive learning experience translated well for a pharmaceutical environment that produces millions of tablets, capsules, ointments and creams.


WATCH THE EXCLUSIVE VIDEO HERE
Relevant EHS requirements are a part of equipment sourcing at GSK Mississauga. This has resulted in vendors improving safety on new equipment at very early stages. It includes specifications such as machine guarding, ergonomics and noise. During equipment commissioning, the engineering team runs a series of tests to ensure safety features work as designed, and the EHS team approves all commissioning documents.
Living Safety is the GSK approach to drive and embed a strong safety culture. It defines the behaviours the plant wants employees to follow and the additional behaviours that are expected from management to underpin the desired safety culture.
"We measure our maturity level on our living safety culture ladder through a series of two-hour workshops, specifically to go over workers' views of safety behaviours at the site," says Mello. "The results are used to identify weaknesses and strengths with respect to the culture ladder and develop improvement plans to continue to improve."
One of GSK Mississauga's ongoing successes is the Zero Accident Promotion (ZAP) program, which recognizes site employees for identifying and correcting near misses, hazards and behaviours. A key performance indicator, the program expects everyone to formally identify and close a minimum of five ZAPs per year — a goal that has been surpassed every year so far. An electronic system for reporting potential causes, impact and types of hazards allows the data to be trended and helps GSK focus on areas for improvement.
"Our ZAP program has increased worker engagement and accountability in safety, drives safety behaviours, eliminates hazards and controls risks before they become incidents and ensures everyone goes home safely every day," says production compliance specialist, Mohabir Raghunath.
Departments also conduct ongoing EHS self-inspections to ensure controls are in place and in use. This amounts to more than 200 audits per year, and 50 to 60 risk assessments annually.
"While we all know that it's not just about the numbers, they do help to quantify everyone's engagement — and to prove that we all take safety very seriously," says Mello.
Employee health and wellness is very important at GSK Mississauga, which boasts a 24-hour, fully equipped fitness centre with a basketball/volleyball court. A variety of class, such as Zumba and cycling, are available at no cost. GSK also has a full-time occupational health nurse on site and offers on-site health surveillance, such as vision tests, audiometric testing and pulmonary function tests.
A quiet room is available for meditation, prayer or short naps throughout the day, and massage therapy is available on site twice a week for employees.