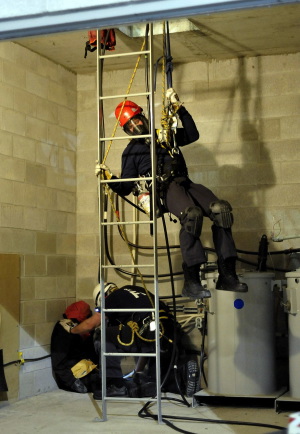 The Canadian Standards Association (CSA) unveiled its new
CSA Z1006 standard
that aims to reduce injuries and fatalities associated with
confined spaces
at a press conference held on March 31st at the Toronto Fire Services Special Operations Training Centre.
"This new CSA standard is the first of its kind in Canada. It provides a comprehensive national standard for defining confined space in workplaces, and provides guidelines to managers, workers and rescuers for identifying and avoiding potential risks," says Suzanne Kiraly, president of CSA standards.
Every year, millions of workers enter confined spaces as part of their job. These can be found in almost all industries: grain silos, hydro vaults, underground tunnels, shipping compartments, pump stations and chemical tanks. Workers entering them face the risk of entrapment, asphyxiation, engulfment, electric shock, toxic exposure and other dangers.
National statistics on confined space fatalities and injuries aren't readily available, as they're typically identified and tracked in each province based on the cause (asphyxia, electroshock, etc) rather than the workplace environment. British Columbia alone recorded 18 deaths related to confined space entry between 1989 and 2004; of these, five died attempting to rescue the original victims.
"Almost 85 per cent of these confined space accidents are preventable," says Kiraly.
A key issue is that the definition of confined space and the regulations in place to reduce the risks and train workers vary across provinces and industries. "There are different distributions of confined space across industries, and each has its own unique challenges. But confined space isn't consistently defined in OHSA codes across provinces," she says.
CSA Z1006 is a voluntary standard that defines best practices and was developed with input from industry sectors such as energy, mining and others, she adds. "Although it's not a mandatory regulation, it's a tool for government to reference in developing its legislation."
The standard is pending approval as a national standard of Canada. It focuses on the characteristics of the confined space and the ability of a worker or rescuer to enter and exit the space without injury, illness or death. Hazard identification and risk assessment by a trained worker are required to determine the appropriate controls needed to address the specific hazards of the space, guidance on roles required for safe entry, and training requirements for workers and rescue teams.
Failure to recognize a workspace as a confined space and train workers about the hazards has led to many tragedies. "In an incident in B.C. last year, two workers died of asphyxiation in a mushroom farm accident because they weren't trained to deal with the risks," says Jim Armstrong, vice-president of client services at the Industrial Accident Prevention Association (IAPA) based in Mississauga, Ont.
These accidents can lead to fatalities not just for workers, but for first responders. Firefighters and other would-be rescuers account for over 60 per cent of fatalities in confined space accidents, says Doug Silver, division chief at the Toronto Fire Services.
"Often the fellow worker who makes the emergency call doesn't identify it as a confined space accident because it hasn't been defined as one," says Silver.
This can make a life-and-death difference in the way firefighters respond to the incident, he explains. "Confined space rescues are complex and require knowledge of hazardous materials combined with specialized rescue techniques."
To deal with dangerous rescues, Toronto has five 'heavy rescue' units strategically located in various parts of the city. These units are trained in special operations and have the right equipment to deal with a range of confined space hazards, ranging from hazmat gear to rope rescues of victims trapped underground.
But if the accident isn't identified as a confined space accident, it can lead to delays in deploying these specialized units. "First responders are walking into an incident where they don't know what to expect and may not be properly equipped to deal with it."
However, Toronto has standards and regulations in place to educate industry about the hazards of confined spaces, he says. In addition, the firefighting service provides comprehensive training programs to deal with them. As a consequence, the largest city in Canada has a relatively low number of incidents.
"We've only had about 20 confined space rescues out of the 2,300 incidents we respond to every year. So based on our experience, standards do work to reduce them," says Silver.