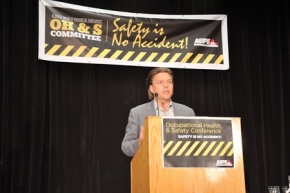 Alberta occupational health and safety inspectors conducted a month-long blitz focused on young workers' safety and the report looks promising. According to a ministry report, results indicate employers' commitment to the safety of their young workers.
Results of a month-long inspection campaign focused on young workers — aged 15-24 — indicate a commitment to workplace health and safety by employers and their staff.
Unlike the two previous focused inspection campaigns on commercial construction and powered mobile equipment including forklifts, there were no stop-work or stop-use orders issued. This means that of the 118 initial inspections, there was no indication of imminent danger.
However, 181 orders were issued, the ministry said. Three-quarters of these related to inadequate first aid training, emergency preparedness, dealing with harmful substances and hazardous material, or a lack of proper hazard assessments. Thirty-six of the inspections resulted in no observed violations.
"These results are a step in the right direction," said Thomas Lukaszuk, Minister of Employment and Immigration, when comparing data with previous focused inspection campaigns. "However, as a former teacher I would hesitate to issue a passing grade just yet. There is still work to do as these numbers clearly indicate."
The results of the blitz are contained in the document,
Occupational Health and Safety Focused Inspection Project: Young Workers.
Young workers represent about 17 per cent of Alberta's workforce. From 2006 to 2010, there were 27,166 lost-time claims from workers in Alberta aged 15 to 24, accounting for almost 18 per cent of lost-time claims from all workers. There were also 37 fatalities in this age category over the same time frame. By major industry sector, the wholesale and retail sector had the largest number of young worker injuries, followed by the construction and construction trade services sector.
More information on this data is available at
Alberta Employment and Immigration.
In addition to conducting worksite inspections for occupational health and safety infractions, officers also spoke with staff about any employment standards issues they may have, including being paid properly and on time. There were no issues identified.
The next inspection campaign will focus on residential construction later this summer. Occupational health and safety focused inspection projects are designed to raise the profile of known workplace hazards, promote a sustained increase in employers achieving compliance, and enforce legislated standards.