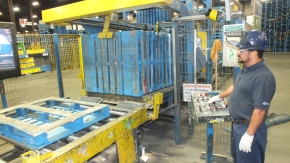 CHEP's behavioural safety program was launched in the late 1980s and is still the cornerstone of its safety program to this day. The program is used to identify and correct key behaviours that have been identified as attributing factors in unsafe acts.
Each of the company's nine sites is expected to complete behaviour observations on each shift with the data collected and reported to the joint health and safety committee and national management.
"It's mainly an employee-driven auditing program which audits the behaviour for compliance but also from a positive reinforcement perspective," says Jamie Dillabaugh, director of operations for CHEP Canada in Mississauga, Ont.


WATCH THE EXCLUSIVE VIDEO HERE
Employee auditors go through soft skills training to make sure they are sensitive to how they give corrections, and are chosen for their area of expertise. For example, a knowledgeable repair operator is auditing repair processes, a forklift operator is auditing forklift usage, and so on. The auditors monitor the high-risk jobs.
"These are where the rubber hits the road in terms of our safety program. If someone is going to get hurt, he is going to get hurt in these areas," says Dillabaugh.
During their observations, auditors film workers doing their jobs so senior management and the safety committees can later analyze the basic muscle physiology ergonomics and tool usage. This helps to continually improve the working conditions and body and equipment mechanics.
Safety concerns can be easily communicated by all employees through CHEP's mobile platforms, which allow for the submission of near misses, incidents and risk assessments via smartphones or tablets by any employee, regardless of location.
Near misses are a key focus at CHEP. All of its 500 employees are encouraged to report at least two near misses per month.
"It's just to get them used to observing the workplace and making sure they are looking for situations that could be problematic," says Francine Charette, director of human resources.
Members of the leadership team are also getting involved. Each director or vice-president has been paired with a service centre as the point person for its near misses. The service centre manager and appointed member of the leadership team have a monthly call to review the near misses.
"It really shows the commitment of the senior team with the facility," says Dillabaugh. "They want to make sure the plant manager has support."
Every month there is a new safety theme at CHEP, based on the elements in its safety management system (SMS). The theme is communicated to employees through the joint health and safety committee and safety reps as well as postings in the lunchroom, emails, toolbox meetings, verbal communication from plant management and written notes from the senior management team.
"The SMS has 15 different elements… and that is a lot of information for people to learn. So we bit it off into chunks and we take an element or two every month and train and share the information amongst all the plants and revise our program constantly," says Dillabaugh. "It's a living, breathing program."
Once per year, each plant is fully audited for compliance to the safety management system.
CHEP also has some fun initiatives to get workers engaged in safety, such as a quarterly safety quiz where employees can win prizes, end of year celebrations for no incidents and a safety week with contests, activities and awards.