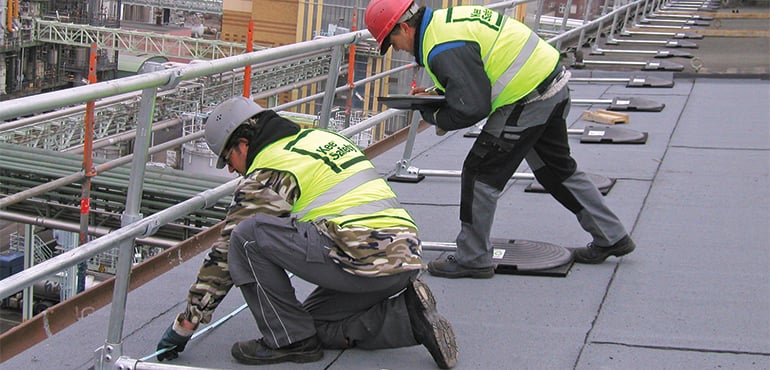 Rooftop Fall Protection: The Top 3 Hazards on Your Roof
Although OH&S regulations can be overwhelming, Kee Safety can assist you with a rooftop assessment and integrated solution to mitigate your risk.
The Hierarchy of Fall Protection is the gold-standard of safety procedures. An expert inspects the roof site for potential fall hazards and then offers a complete, comprehensive system solution with recommendations that descend the four levels of the hierarchy—from simple, sensible approaches that eliminate risks—to lifesaving personal protection systems.
Collective Systems require no additional training to use. Work Restraint and Fall Arrest Systems both require a high level of user competency, training, and additional inspection to be used effectively.
How to Assess Risk on the Rooftop
Only a fall protection expert should perform a critical analysis on your rooftop to identify the hazards where your workers are exposed to the greatest risk. This ensures that the most dangerous areas are protected immediately with state-of-the-art systems and OH&S-compliant answers.
A prioritized approach is based on the critical danger exposure and how frequently each hazard is accessed by your workers. This article is a basic approach. Your roof must be reviewed by a Rooftop Safety Audit expert because each site is unique, and your specific roof may require different solutions.
Identifying Danger Zones
1. Roof Access
When climbing onto the rooftop to perform maintenance tasks and when exiting the work zone, there is a high potential to slip or fall. Providing safe egress and ingress for workers is critical.
Access points are the most frequented hazard on any roof. Workers are exposed to this risk when they enter and exit to perform tasks. If your workers are required to access the roof 8 times per year, they are exposed to the access hazard 16 times. All ladders and hatches should be secured with a self-closing gate and safety-compliant railing.
2. Holes in the Roof: Skylights
Skylights present a danger for any individual on the rooftop. Skylights are considered to be the equivalent of a hole in the roof. Every skylight, floor opening, and hole must be guarded by a standard skylight screen or a fixed standard railing on all exposed sides.
Openings are often overlooked, but extremely critical to protect. A worker traversing the middle of the roof has a false sense of security when working far from the roof edge. If workers are carrying equipment, or focused on the job at hand, it is easy to misstep and fall through an opening. More people fall through skylights than over the edge of the roof, which is why Kee Safety evaluates all rooftop openings as a serious risk concern.
3. Unprotected Edges
When access to the entire roof is required, the safest, most comprehensive solution is a perimeter railing system that surrounds and protects all roof edges.
The edge of the roof is the most visible hazard, and typically the hazard most people want to protect first. Proximity to the roof edge is a significant factor in identifying the probability of an accident occurring. OH&S Code states that if a worker can be exposed to a fall, then he or she must be protected. Frequently, a worker's purpose for accessing the roof is to service a piece of equipment. Is the equipment too close to an unprotected edge on your roof?
Also Consider Rooftop Obstacles
Rooftop safety includes providing a safe and efficient path across the rooftop to reach drains, HVAC units or other equipment that requires maintenance. Hazards include obstructed routes and changes in roof level where slips, trips and falls are likely.
Understanding the path your workers take across the roof is necessary for a complete fall protection assessment. Obstacles on the roof force workers to climb over or step around the obstruction, often placing workers at risk by walking too close to the roof edge.
About Kee Safety
Kee Safety is the leading expert and global manufacturer of safety and fall protection systems. We are fully committed to Separating People from Hazards. Established in Canada in 1956, Kee Safety, Ltd. supplies fall protection systems that exceed safety standards, provides world-class customer service, and leads the industry in new product development.
Article Summary:
Fall protection compliance begins with a complete rooftop assessment. Understand how experts "audit" the roof to assess risk and recognize all the hazards that exist there. By eliminating hazards and protecting the entire roof, you will minimize risk to your people and to your company.