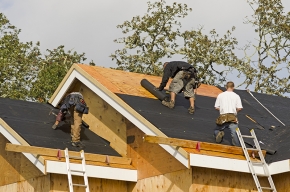 Ontario is targeting residential roofing at existing homes this summer in a bid to keep workers safe on the job and homeowners informed on the risks of hiring contractors who operate "under the table" in cash deals.
The initiative includes after hours and weekend visits by Ministry of Labour inspectors to residential sites where roofs are being repaired or replaced. The inspectors are handing out information sheets to homeowners.

As well, for the second year in a row, an online campaign was conducted by the ministry leading up to the busy residential roofing season to raise homeowners' awareness of the underground economy and worker safety.

Workers performing re-shingling work on residential homes are at serious risk of injuries and death due to the industry's low rate of compliance with Ontario's workplace health and safety laws.

Multi-storey, re-roofing replacement and repairs are particularly at risk, especially at older existing homes where small roofing contractors are often hired to do the work.

The Ministry of Labour is partnering with the Ministries of Finance and Government and Consumer Services on the initiative to combat the underground economy and protect consumers.

The overall goal is to improve worker safety and stem the loss of government revenue. The campaign also seeks to make homeowners aware of their personal risks of receiving poor workmanship by paying cash for roofing jobs without a written contract.

The residential roofing initiative is part of a larger initiative that includes raising workplace awareness of new mandatory Working at Heights training requirements and a Construction Health and Safety Action Plan.