Company wins gold in utilities and electrical category of Canada's Safest Employers awards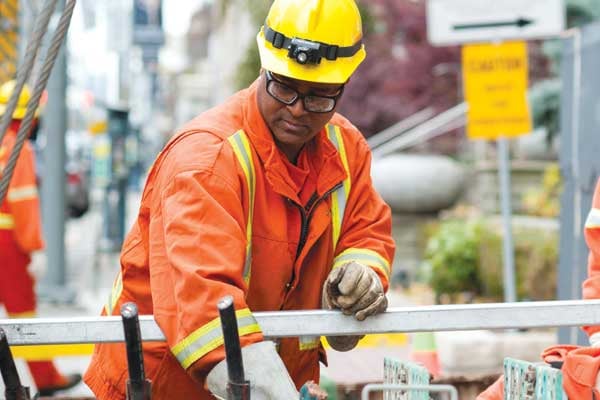 Keeping 1,440 employees safe around the clock in a workplace that spans 630 square kilometres takes an unrelenting commitment to safety. Toronto Hydro, which serves Canada's largest city, distributes about 19 per cent of the electricity consumed in Ontario to 768,000 customers. Crews must work safely on power lines carrying up to 27,000 volts; climb into bucket trucks and onto aerial platforms; scale ladders and poles; and squeeze into confined spaces. Their work environment changes every day with weather, traffic and other variables.
"Our employees are busiest when weather conditions are at their worst," says Phil Genoway, the company's manager, health and safety. "During storms that pose significant safety hazards, they need to rise to the occasion and overcome the risks while the public runs for shelter."
According to Genoway, planning is a critical component in keeping safety top of mind with employees who are dealing with constant workplace fluctuations. Plans must foresee challenges that are not always obvious. For example, Sam Sadeghi, director, design and construction (customer connection) and his 130-person team can plan only one week in advance because the work depends on developers' and contractors' schedules.
"On Fridays, our supervisors, project co-ordinators and other stakeholders create a plan for the following week," he says. "On Monday mornings when it's published, supervisors review it with crew leaders who are encouraged to express their top safety concerns."
When one crew leader pointed out that traffic at a site around a busy downtown intersection would create safety issues for workers, supervisors took action.
"We immediately brought in a traffic control service provider to set up cones and barriers in advance of our arrival at the site," says Sadeghi.
These helped divert the flow of cars, bicycles, streetcars and pedestrians away from the work location.
The occupational health and safety team also develops monthly improvement plans for operations departments that are based on detailed analyses of their performance. Plans contain leading indicators for improvement such as inspection quality, investigation quality and work site risk assessment effectiveness.
"This gives us good statistics and helps take some of the administrative load off our supervisors so they can spend more time in the field," says Sadeghi.
While Toronto Hydro's state-of-the-art technology is an indispensable tool in managing EHS, in-person meetings, training sessions and communications remain vital to its safety culture. For example, ad-hoc huddles are necessary for good on-site communications among crews. Taking this a step farther, the OHS team is formalizing "daily huddles" led by crew leaders across the company. This involves short meetings every morning (in addition to the daily work site risk assessment) to discuss safety concerns from the previous 24 hours, learn from them and look ahead.
Genoway reports that at the corporate level, an annual Safety Refresher Event helps refocus, re-energize and re-motivate employees. At this year's series of half-day sessions, one interactive module gave participants experience in developing an emergency plan. He attributes much of the event's success to the involvement of the joint health and safety committee in planning and development.
These, and myriad other initiatives, have led to impressive safety results. The company's total recordable injury frequency rate has dropped by 75 per cent since 2009; its lost-time injury frequency rate is 82 per cent lower than the Canadian Electricity Association average; and Workplace Safety and Insurance Board claims have fallen by 40 per cent since 2014.
Genoway reiterates that a major contributor to this success is starting with plans that "map out what you intend to do and how you are going to do it, then making sure you follow and execute." He emphasizes that employee engagement is the key to any successful safety program — and that support and resources from Toronto Hydro's senior leadership have made it all possible.