Work site inspections, good communication crucial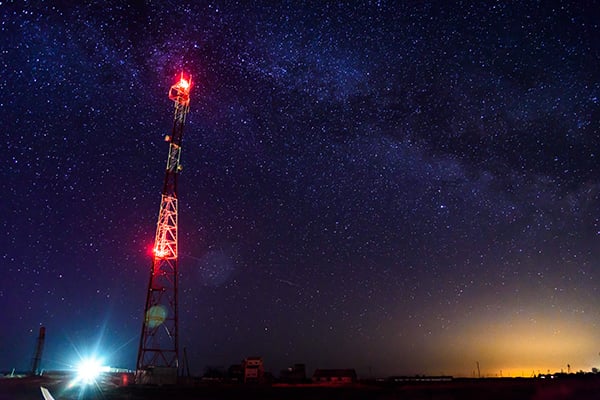 Tyler Morris is a tower climber at engineering consulting firm WSP Canada in Edmonton. He regularly climbs towers as high as 810 feet to conduct general maintenance inspections and post-work inspections for clients. Despite working at such extreme heights, he says he feels safe on the job.
"By nature it's obviously dangerous working at heights and stuff like that but if you just follow your training and be adamant about safety, it's not that dangerous at all," he says.
WSP Canada has not had any serious injuries or fatalities since opening its doors one decade ago. It has 10 telecommunications offices across Canada with 200 employees.
Most of the work Morris does is during the day. But sometimes clients don't want to turn down power during peak traffic hours — such as the large broadcasting companies — so Morris and his colleagues need to work at night.
Climbing at night requires extra diligence. The hazards associated with nighttime work prompted the National Association of Tower Erectors (NATE) to release a video on night climbing as part of its Climber Connection campaign in October.
"We wanted to educate the broader industry on yes this is required at times in our industry and you have to double down on vigilance and safety," says Todd Schlekeway, executive director of NATE, based in Waterdown, S.D., which has 20 member companies in Canada. "You may have a client who needs some work done or you may need to troubleshoot an antenna on a tower that's part of a network that went down… It's kind of a necessary evil."
Any company with tower climbers on staff — whether it be for installation, maintenance or inspection — must ensure they are well equipped to handle jobs at night, even if they may be infrequent.
There are about 1,200 tower climbers in Canada working on communications towers and antennas ranging from 200 to 2,000 feet, according to the Structure, Tower and Antenna Council (STAC) in Ottawa. There have been two recorded fatal tower accidents in Canada over the past 10 years and none since 2013, the council says.
Tracey O'Krane, WSP's Western Canada HSE manager, says the telecommunications industry across Canada prides itself on workplace safety, and WSP's clients request the company's safety records, protocols and procedures. WSP's clients include major telecommunications and cable companies, public utilities, governments and airports.
But not all tower climbing companies have a culture of safety. Ron Morrison, program director at Raven Rescue in Smithers, B.C., has seen extremely unsafe towers that workers have been climbing for years.
"They have had no training, they have no fall protection plan, the towers themselves that they are climbing are treacherous," he says. "In the telecommunications industry, in particular, there are a lot of folks out there who haven't done the homework."
There is especially a lot of homework that needs to be done before any night work is conducted. A comprehensive night work plan has to be in place, says Schlekeway.
"Are you going to have portable lighting? Where are the obstructions? Are there high-voltage lines that you may not be able to see at night? It really boils down, at the end of the day, to the front-end of planning and risk mitigation," he says. "There's no substitute for the pre-planning phase and anticipating how you are going to be able to mitigate all the risks associated with working at night."
The best practice is for the crew to check out the tower and surrounding area during the day. This is a mandatory requirement at WSP.
"You can see everything and you get a better feel for the site and we can incorporate that into our field-level risk assessment and our project risk assessment. You're not going in blind," says Morris, who is also a member of the contractor qualifications committee at STAC.
During the daylight, a physical inspection of the tower should be conducted to ensure the structure is safe to climb, says Morrison. Since falls from height is the main concern, the tower's safety climb system — often a ladder with a cable — and all anchor tie-off points need to be inspected.
NATE is advocating for drones to conduct these inspections. Schlekeway says the photos and imagery that unmanned aerial systems (drones) can capture can play a huge role in monitoring a tower site before the work is done and in planning the job.
Drones can also limit the physical burden on workers.
"They can reduce the number of times tower techs have to go up and down the tower on any given day," he says. "They can mitigate risk and, therefore, in theory, mitigate the repetitive stress that climbing entails. You may have to do it a few less times per day."
Before a night project is started — or any project for that matter — the weather must be considered. Ice, snow, high wind and lightening can all produce unsafe climbing conditions.
"If we're working throughout the day and into the evening, as the temperature changes, we might start to see changes on the surface of the structure. If the structure was wet, our conditions can become very slippery, making our descent much more difficult," says Morrison. "A drop in temperature can also negatively effect the mental well-being and physical capability of the climber."
WSP workers check the forecast before setting out for a night climb. While on the job, workers on the ground are checking and making sure no bad weather is coming, says O'Krane. Workers on the tower are also equipped with wind metres.
"A lot of times you can't see a storm coming at night, so we want to make sure they are safe from that," she says.
Before the climbing begins, workers must inspect their fall protection equipment — harness, lanyard and anchors — to make sure it's in good working order. They should look for tears, cuts and torn stitching. All personal protective equipment (PPE) needs to be inspected before each use — not weekly or monthly — and employers should provide a checklist to guide the process, says Schlekeway. Climbers will have such PPE as eyewear, gloves, safety boots and a hard hat.
A tailgate meeting must be held before the job begins to discuss specific hazards and relay any important safety messages.
Only experienced workers should conduct night climbs, says Morrison.
"It's going to require a greater mastery of what you're doing, a greater familiarity with climbing and anchoring and that process in general, and that situational awareness on a tower," he says. "It's that experience to be able to anticipate things before you see them because you are just going to need that type of a background to be able to work safely in that environment."
A typical tower climbing team is made up of two or three individuals. For night work, WSP increases its crew by one or two people to enhance safety, says O'Krane.
Towers need to be well lit with portable lighting devices or spotlights for night work.
Additionally, a considerable area around the tower needs to remain lit at all times — that's probably the most crucial thing, says O'Krane.
"In the event that someone falls into their harness and needs to be rescued off the tower, it's important for the ground area as well to be very well lit, then we know if we are bringing them down that we aren't going to put them anywhere where there's obstructions or fences or trees or anything like that," she says.
Lights should be attached to hazards and to equipment that is being hoisted, says NATE.
Workers should wear headlamps so they can complete the task in front of them, hands-free. Many workers also wear glow sticks to remain visible while they are on the tower.
"Working at high-risk environments at night, glow sticks are invaluable," says Morrison. "We use them to light up our technicians, our rescuers and to illuminate hazards. We typically utilize a colour-coding system so we know who is who when they are out there in the dark."
It's important that tools are secured, because dropping anything from heights can put others in danger.
Fatigue is a major concern in tower climbing due to the repetitive stress of going up and down a tower multiple times per day — and fatigue can be exacerbated at night.
"A lot of accidents that could occur in our industry do so when fatigue sets in and when that worker forgets to tie-off or something slips their mind. And all the more, it's important when you're the foreman that you're monitoring your workers to see how they're holding up," says Schlekeway.
During toolbox talks, supervisors at WSP make sure their workers are physically and mentally fit for the job prior to climbing, says O'Krane. They make sure they've had enough sleep, ate before they came to work and are well hydrated, for example. If a supervisor sees signs of fatigue in one of his guys, he will ask the worker to get off the tower and take a break, says Morris.
"We want to meet our time requirements but it's not a race. Safety first. If he's looking tired, fatigued, get him off the tower, maybe get him some food and water and if he's feeling good later, maybe he can go (up). Or maybe he doesn't climb for the rest of the day."
If a night climb is going to happen, it should be with a fresh set of climbers, not with those who have been on the job all day, says Morrison. The work hours should not stretch beyond a regular duty cycle.
Pacing is also really important at night, says O'Krane.
"Being that fatigue definitely plays a major role in nighttime work, we tell our guys 'Don't expend yourself before the job is done.'"
She also tells her supervisors to allot more time for the crew to complete a job at night because everything takes a bit more time. Crews should also be reminded not to rush.
One benefit of working at night may be reduced exposure to radio frequency (RF) radiation. At night, a company may be able to reduce power or de-energize the tower so it can manage the risk, says Morrison. It's also a good idea for workers to wear RF monitors. This is especially true at night when it is easy to lose that sensation of how close you are climbing to potential hazards, he adds. RF power is a "tremendous hazard" and all tower climbers should be trained in RF hazard awareness, says Schlekeway.
Many towers are in remote areas across Canada and workers are more vulnerable when completing jobs in these areas. In the event of an emergency, workers need to be very familiar with the surrounding area and should be able to locate the nearest fire department and hospital, says Schlekeway.
Wildlife is another consideration when night climbing in remote locations, says O'Krane, because animals such as coyotes, wolves and bears are more out and about. All WSP tower climbers and ground personnel are required to complete an internal wildlife course so they know how to proceed should a situation arise.
Communication is crucial
Good communication is even more important for tower climbers at night because their vision is diminished. If workers normally rely on hand signals, they will likely not be able to do so during a night climb. Workers might be close enough to yell back and forth, but radio communication will likely be the best bet.
"The guys on the tower and the ground crew have two-way radios and they maintain constant communication with each other," says O'Krane.
The problem with radios is they don't always work, so whistle signals can be a good backup plan, says Morrison.
"You need to make sure you have that existing language. If I blow three whistle blasts, you need to know what that means," he says, adding this should be reviewed in the tailgate meeting, especially if there are workers from multiple agencies on site.
The ground personnel at WSP always have a cellphone with them for use in an emergency. In situations where the location is so remote that there is no cell service, the ground shelter will have a landline or the worker will bring a satellite phone with him, says O'Krane.
A solid rescue plan is something all tower crews need to have in place in the event a worker falls from height or has a medical emergency while on the tower. The rescue plan may require additional considerations for night work.
"If you have a mutual aid agreement with a fire department, for example, are they capable and prepared to do a rescue at night?" asks Morrison. "Do they have the resources they need? If they don't have the appropriate lighting and the right equipment to respond at night… we are in a bit of a pickle."
As a best practice, crews should be trained themselves to perform a rescue, so they don't need to wait for the fire department or an off-site rescue crew to arrive. No less than two crew members should be trained in rescue, says NATE.
"Rescue is hard but it's vital that crews are trained… It's really critical in our industry," Schlekeway says.
All jurisdictions across Canada require tower climbers to have fall protection training and certification, which includes a section on rescue.
Rescue refresher training should occur annually, but it is recommended companies practice rescue scenarios with their tower technicians more frequently, says Schlekeway.
Workers should also have first aid and CPR training.
Morris' training isn't the only reason he feels safe climbing enormous towers on a daily basis; he is surrounded by co-workers who make safety a priority.
"I have never been a part of a job where people are not obeying the industry standards with regards to safety," he says. "Across the board, everyone is concerned about their safety."
Amanda Silliker is the editor of Canadian Occupational Safety magazine.
This article appeared in the April/May 2017 issue of COS.