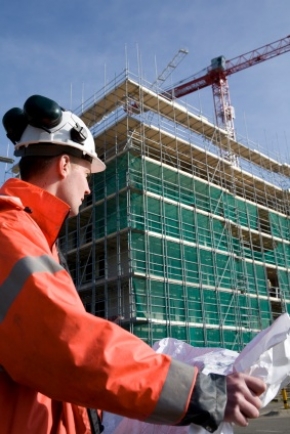 Ontario's construction industry boasts North America's best safety record in several categories and one of the best in the world. Sadly, key contributors to that success have been some of the province's worst occupational tragedies.
The year 2010 marked the 50th anniversary of Toronto's Hogg's Hollow disaster. Five Italian construction workers building a water main tunnel were trapped 30 metres below ground and suffocated when their equipment caught fire. A Royal Commission on labour safety brought to the forefront how grossly mistreated immigrant workers were at the time. The Commission — and union demands for action — sparked improvements to workplace safety laws and eventually led to the Ontario Health and Safety Act.

Since the 1960s, Canada's construction sector has achieved many safety milestones, helped along by changes that benefited all industries — more comprehensive legislation, stricter enforcement, more sophisticated personal protective equipment, and more widespread safety awareness and buy-in among workers and employers. In Ontario, the lost-time injury rate per 100,000 workers decreased from 13 in 1965 to nine in 1980. It rose slightly in the mid-80s, but sharply declined from 1988 to approximately 1.6.

But then it seemed as if the construction industry has taken one step forward, two steps back when another tragedy struck on Christmas Eve 2009: the collapse of a platform at a Kipling Ave. apartment building in Toronto. Four workers fell 13 storeys to their deaths — once again prompting a serious overhaul of safety laws.

Tony Dean, Ontario's former cabinet secretary, led a year-long review of the province's occupational health and safety system. The Ministry of Labour conducted a series of inspection blitzes on construction sites and found issues of fall hazards, lack of properly trained staff or supervisors, and broken or inadequate equipment.

The Dean panel review led to 46 recommendations, including mandatory safety training for every Ontario construction worker and a new prevention office reporting directly to the labour minister.

Better way
While disasters have a history of leading to positive change, today's more proactive health and safety authorities seem to have found better ways to improve safety.

"It's a big system approach," says Enzo Garritano, vice-president, technical services for Ontario's Infrastructure Health and Safety Association (IHSA), on what has caused the decrease in construction injuries and fatalities. "It's a combination of things, including increased awareness of requirements, enforcement and training in the right areas, including supervisory and health and safety representative training," he says.

While construction remains a hands-on job in many cases, advances in equipment have eliminated certain hazards.

"In the past, heavy form work for buildings was put up piece by piece," Garritano says. "Now we're using larger components like fly forms that are used over and over again, or wall forms that are transferrable by machine and don't have to be dismantled and then put back together." Even in the low-rise forming sector, he says, the work is still physical but forms are lighter now, with many moved by crane.

Tools have also evolved. "Nailing with a hammer was replaced by an air nailer attached by hose to a compressor; that relieved the burden from the shoulder and elbow but was hard on the wrist and forearm. Now we have lighter, battery- or gas-powered nailers that are significantly better than the old ones."

He describes legislative improvements that have made their way into most Canadian jurisdictions in one form or another, such as training and competency requirements for workers doing certain work, like equipment operation or handling electrical services.

Additionally, there are requirements for written programs, assessments and plans for confined space entry; planning a work site in a way that minimizes the need for vehicles to reverse; requirements for respiratory protection or high-visibility clothing, and more. Also, there is now a ban on asbestos, a lethal hazard that still shows up at repair, renovation or demolition sites, but is not used in today's construction materials.

---

Green challenge
Despite improvements, however, the top hazards remain the same: falls, being struck by materials and musculoskeletal disorders. In Alberta, a recent blitz of residential construction sites found fall protection was the number one area of non-compliance. Number two was slip/fall hazards at the entrances to residential construction sites, such as rough, uneven ground and icy or muddy surfaces. These are on par with the national trend, but then so is the decreasing incident rate.

"Our lost-time injury has been dropping for the last 10 years," says Gary Wagar, executive director at Alberta Construction Safety Association. He says there are better fall protection plans in place, properly sloped excavations, and people doing hazard assessments and carrying "little check cards on sites all over Alberta."

With change come new challenges — as the sector is finding with "green construction" practices. While green energy solutions such as solar panels on roofs are exciting and long-awaited news on the eco front, there are few established safety practices in place, and no standards as to where to put the solar panels or how to make it safe to do work, such as roof repair, near the panel.

The IHSA works with both labour and management groups across all trades and has assigned a working group to look into the risks of working with and around solar panels. Garritano points out that everyone, not only the OHS community, involved in green construction will have their role to play in developing solutions, including panel manufacturers, people who rent out their rooftops and those who install the panels.

"As we understand how these things can be done more efficiently," he says, "the health and safety issues surrounding them will improve."

A safer future
Since Wagar started his construction safety career in the early 90s, he says the biggest change has been the Certificate of Recognition (COR). Pioneered in Alberta in 1991, it is a program whereby employers can earn WCB rebates based on their safety performance. It has since been adopted in many jurisdictions and is now being piloted in Ontario. Out west, it has become the standard to the point where any company wanting to bid on a construction job is required to have a COR.

"Buyers are now demanding safety on their sites," Wagar says. "It wasn't like that 20 years ago." Lost-time injury numbers for 2010 in Alberta were 0.97 for COR-holders and 2.26 for non-COR-holders. The latter tend to be smaller companies.

Alberta recently introduced the Small Employer Certificate of Recognition (SECOR) to meet the application and training needs of small employers, while considering their resource limitations.
Ongoing challenges especially prevalent in the construction sector are the underground economy, and the difficulty in training and protecting workers who are not registered.

What next? A more unified, systematic approach to prevention, says Garritano.

"We now have to think on the health and safety management side of things," he says. "I think the industry has matured in terms of the low-hanging fruit being picked. And now we're dealing with things that will change culture, attitudes, policies and programs that are aimed at the internal responsibility system. We'd like to see everybody pushing in the same direction rather than rely on the more historical approach of, 'Hey, put on that hard hat.'"