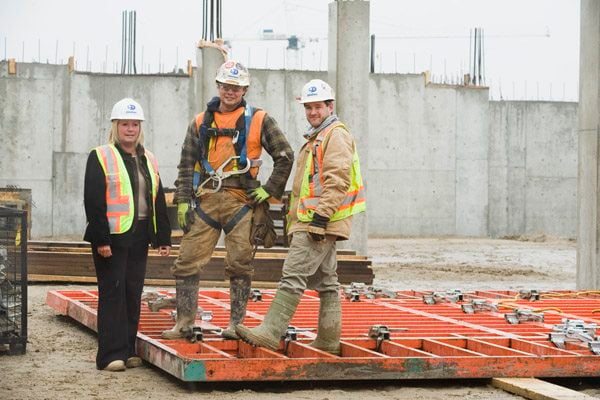 Safety incentive programs or the practice of recognizing employees for safe work behaviours have been the subject of debate that boils down to two opposing views: one that says safety incentives motivate people into working safely, and another which argues safety rewards encourage non-reporting of incidents, rendering the program ineffective.
It is widely accepted that recognizing safe work practices among workers encourages people to consistently do the right thing. Too much emphasis on the prize rather than the spirit of the program, however, seems to be the bone of contention on the issue.
An employee working towards a big bonus for good safety performance at the end of the year, for example, might hesitate to report an injury or near-miss incident for fear of losing out on the financial reward.
One company that seems to have found a middle ground on this debate is Mississauga, Ont.-based EllisDon Corporation. Their philosophy: instant gratification.
[Video: COS goes on location to EllisDon's job site in Woodstock, Ont.]
When it comes to safety of its workers and recognizing safety performance, EllisDon is a big company that celebrates even the smallest things.
"We do a lot of instant recognition and we have found that that's a good way to positively reinforce good behaviour," says Kari Lynn Harris, vice-president of health and safety at EllisDon.
"So if we see somebody doing something above and beyond, or even just something like, 'Hey, you're wearing your fall protection equipment, you've got the scaffolding set up the way you're supposed to. Good job, thanks!'"
The instant recognition of a job well done could come in the form of a hardhat sticker or deco, a ball cap, t-shirt or a jacket. It can even be as simple as a pat in the back reminding the worker that he or she is doing a great job. When a worker realizes that his efforts are appreciated, even the smallest gestures can have the biggest effect, says Harris.
Like many safety professionals, Harris has seen the downside of giving away big-ticket items or big financial rewards as a safety incentive.
She explains: "If you're working towards a big prize – and I have seen companies give cars away – or there are big things that you work towards over X number of months or a year, it has in the past, certainly from my perspective, driven information underground so therefore incidents may not be properly reported. And consequently, they are not being investigated properly, people are not learning from those incidents and then you get all the negative run-off issues because of that."
Smaller tokens with safety messages given when a positive behaviour is exhibited are the kind of safety incentives that have worked for EllisDon, says Harris. A big reason for that is the culture that exists throughout the company.
Business of people
For nearly 60 years, EllisDon Corporation has been in the construction business. With a workforce that grew from four employees to 2,200 scattered across the globe today, the company believes it's as much in the business of people as it is in construction.
Because the construction industry is an inherently dangerous workplace, EllisDon's safety management approach goes far beyond just safety recognition. The company currently employs 54 health and safety professionals dedicated solely to ensuring that safety programs are effectively working across the organization, from the regional level down to the individual jobsites, Harris explains.
The company's health and safety philosophy is rooted in two important elements –leadership buy-in and employee engagement – and based on an internal responsibility system that essentially says everybody plays a part in ensuring safety in the workplace, says Harris.
"I have always said that it's easy working in safety for EllisDon because I've come from various backgrounds and this is the first construction company that I have worked for. The big difference for me is seeing such buy-in from top down. Our president, our senior managers will not compromise safety 100 per cent of the time," explains Harris, who has worked for EllisDon for 13 years.
For two consecutive years (2008, 2009), EllisDon has occupied the top spot in the annual 50 Best Employers in Canada study by Hewitt Associates and the Globe and Mail Report on Business magazine. A big part of this study is feedback from employees on what they think about their employer.
---
How do workers view EllisDon as an employer?
"Safety is first. Right from the top of the company straight down, safety is a priority. There are no shortcuts," says Kelly MacDermid, site superintendent at EllisDon's Woodstock, Ontario jobsite, where the company is building the future 350,000-sq.ft., three-storey Woodstock General Hospital.
"You can lose the spirit of the job if something tragic happens…so really, it's very important. That's a strong thing. We look to our (senior) people for leadership and really make sure that it's a safe place for the workers as well as us," MacDermid says.
Nick Hosking, who also works at the Woodstock site as carpenter foreman, says the positive feedback from the EllisDon leadership never fails to lift workers' morale.
"They really take safety very seriously. They are always on top of things. We're informed everyday, give you task cards, so we basically give all the guys the information they need to work safely and we always have all the necessary safety equipment here," Hosking says.
Being best employer isn't the only area where EllisDon has been making its mark. The company's safety performance is also a source of company pride.
"This past year our corporate frequency, which is across international operation, is at 0.7 (lost-time injury rate). And just to put that into perspective, the industry average is two per cent. So you can see that we are significantly better than what the industry average is. We have achieved that milestone logging over 3.5 million man-hours," Harris notes.
In its Ontario operations alone, EllisDon has achieved zero lost-time injury in the last two years, she adds.
These kinds of achievement and many other "safety milestones" are recognized and celebrated by the company through site barbeques, Harris says. Recognizing the workers for a job well done and done safely, doesn't only come from the supervisors, but comes all the way from the helm. Geoff Smith, the company's CEO and president has always gone out of his way to publicly acknowledge employees' health and safety efforts by way of memos or messages through the company portal, says Harris.
Backbone of culture
Training is the backbone of EllisDon's safety culture. Each employee goes through stringent safety training sessions before being deployed to a jobsite. Training gives EllisDon the opportunity to present the big picture to its employees. It's not just about telling them how to use a fall protection system or personal protective equipment properly. It's equally important to tell them why they need to use these devices, says Harris.
"Most people will learn the behaviour if they know why you're asking them to do what you need them to do. If they really truly understand and you've given them the proper tools for training, very seldom do we see people who are non-compliant," she says.
The culture shift doesn't happen overnight. Harris says it has taken a few years for the workers to get to that high level of safety consciousness.
For some workers, it took a serious injury before finally realizing the value of working safely. Hosking, the carpenter foreman at the Woodstock site, is one of those who have lived and learned.
Hosking was about 18 years old when he started working at EllisDon. It was also around that time when he suffered a serious injury on the job.
"I had an injury in 2003 where I broke my leg. I basically took a shortcut and fell off a wall form and fell on a pile of steel," recalls Hosking. He learned a big lesson from that experience: "You have to take the necessary precautions, take the time to do it right. Don't take shortcuts and always be thinking about what you're doing." He never had any lost-time injury since.
Just by the nature of the job, the construction industry already has its unique set of safety challenges and risks. Add new and young workers to the mix, and the safety manager's hands get even more full.
"When all new workers come on there are certain ways of notifying various areas of this new employee coming on. So there is a very rigorous new employee orientation program that they are expected to go through," explains Harris.
The transient nature of the construction industry's workforce also presents some safety challenges that EllisDon continuously tries to overcome.
"From a production standpoint, quite often you could be getting a group of workers that may not have the proper training for the role that you have brought them on, so we have to be prepared and we have to be proactive in ensuring, before that group goes out to do the task, that we have given them the proper skills or prevented them or stopped them or not allowed the work to continue on until they're comfortable with the fact that they are properly trained or certified or whatever it is they need to do that work safely," says Harris.
The EllisDon safety executive adds, however, that the industry is "getting better," partly because regulatory changes have paved the way for raising awareness of workplace safety. It has also made it easier for companies to enforce safe work practices.
---
Extended safety
In any given jobsite, EllisDon applies the same precautions and site preparations to ensure a safe work environment for its workers: hazard analysis, pre-job safety analysis, putting in place procedures for all medium- to high-risk work, making sure that the information is readily shared with the workers who are performing the task.
At the beginning of each workday, workers are given a task card that details the job they will be doing on a given day, including safety issues that might come up in the course of doing the work and more importantly, the safety measures they need to take to do the job safely, as well as all the necessary safety equipment they would need on the job.
Jon Quehl, a site engineer at EllisDon, has worked for the company for 6 years and has never been injured on the job. He says all the safety training he took has been paying off.
"Just be aware of your surroundings and what you are going to be doing for the day and prepare yourself in the morning before you go out. Grab the tools that you need to do your job and use the personal protective equipment that's provided to you," advises Quehl.
It's typical in a big construction project for a builder to hire subcontractors to perform specific tasks within the project. Bringing in subcontractors, with their own set of workers, can sometimes pose safety challenges.
EllisDon ensures that any subcontractor they bring onboard to any project meets the company's safety standards. Prior to mobilizing a subcontractor to a job site, EllisDon requires several documents to prove a subcontractors' commitment to safety, according to Julian Mihnea, project manager at the EllisDon Woodstock General Hospital jobsite.
These documents include: an updated signed copy of the company's health and safety policy; proof of current WSIB registration of constructors and employers engaged in construction, and project-specific written safety work procedure.
"This is something we are requesting for every subcontractor and it forces him to think about the job, safety-wise, before he actually mobilizes on site," Mihnea says.
Mihnea believes that enabling their subcontractors to raise their safety standards to a higher level can have a ripple effect to the safety of the industry as a whole. "Once the management from the other companies realizes that this is the way to go, they will implement it on other projects too because it just makes sense."