Public needs to realize their curbside is collectors' workplace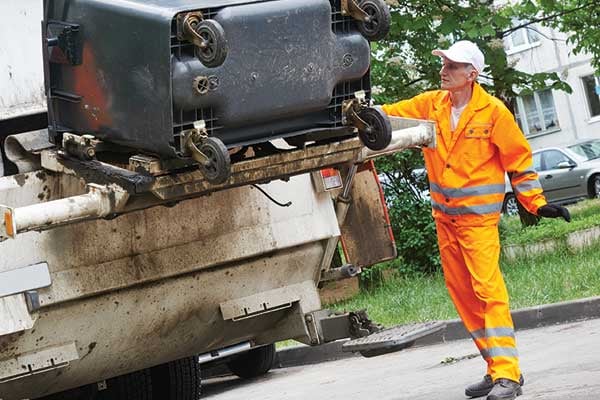 On April 22, 2010, Robert Gagnon, a garbage truck driver with Investissement N&N McGraw in New Brunswick, left his truck to collect garbage on the opposite side of the road. He was hit by a half-ton truck and was thrown 150 feet into the ditch. He died instantly.
Since 2003, Gagnon and three other waste collection workers have died from workplace injuries in New Brunswick — in an industry of about only 350 employees. Additionally, waste collection workers are three times more likely to be hurt on the job than the average worker in the province, according to WorkSafeNB.
"That's pretty alarming," says Tim Petersen, acting president and CEO of WorkSafeNB. "It's not a large industry… but we've seen significant frequency of injury and often very severe."
Waste collection is a much more dangerous job than most people realize, and health and safety managers need to be helping these workers stay safe on the road. According to Statistics Canada, 30,200 individuals across the country fall into the "public works maintenance equipment operators and related workers" category, which includes waste collection workers.
One current issue waste collectors are facing is needles. Needles that are disposed of in a garbage bag can expose workers to bio hazards. In November 2016, two waste collectors in the Region of Durham in Ontario were stuck by used hypodermic needles.
"This is a serious issue that affects the safety of not only workers, but also their families by potentially exposing them to diseases such as hepatitis or HIV," said Craig Bartlett, manager of waste operations at the region, at the time of the incident. "We urge residents to safely dispose of used hypodermic needles by returning them to a local pharmacy, free of charge."
Objects that can cut skin and come in contact with bodily fluids, such as needles, syringes, EpiPens or lancets (also known as sharps) should never be disposed of in the garbage or recycling bin.
A while back, a waste collection worker for Emterra Group, based in Surrey, B.C., picked up a whole bag of syringes that brushed along his leg, resulting in numerous slashes. As a result of that incident, the company put new protocols in place, including wearing long pants and using proper lifting techniques to avoid scraping the bags along the body, says Perry Boudreau, corporate director of health and safety at Emterra, which has 1,100 workers. If the worker believes the bag is unsafe, he is told to tag it, leave it at the curb and the company will make the appropriate authorities aware. Proper gloves should be worn to reduce needle pricks.
Emterra waste collection workers must complete a blood-borne pathogen course and the company offers hepatitis vaccinations to its employees.
Hazardous waste can be dangerous to waste collectors because it can be corrosive, flammable, poisonous or reactive. Items such bleach, batteries, kerosene, compact fluorescent light bulbs, gasoline, pool chemicals and propane tanks and cylinders should be taken to a hazardous waste depot, not put in the garbage, according to WorkSafeNB.
If improper items are put into the trash, this can cause a fire in the truck and put the waste collectors at risk.
"Their truck catches on fire and they want to be firemen. They want to protect the truck. 'Oh my God, my truck.' It's garbage for heaven's sake. It's a piece of equipment. So we have a very serious training for our fire brigade (a designated person on each site) and the use of fire extinguishers," says Deborah Fraser, national health and safety director at GFL Environmental, which has 7,000 employees and is headquartered in Vaughan, Ont.
Waste collectors at GFL receive practical training where they are taught how to properly use a fire extinguisher, how to inspect it and when to call 911.
When it comes to road safety, Petersen says the "single most important thing" is for waste collectors to not cross the street. Procedures should be in place so that the pickup of garbage is on the same side of the road as the truck.
The public needs to realize their curbside and roadways are the workplaces of waste collectors, says Petersen, and they need to approach slowly and carefully when they see a garbage truck.
"The trucks will make numerous stops along a particular route and you get people in behind that can't see what's around them, they get impatient, honk their horn and they can get fairly close (to the truck)," says Boudreau.
In Boudreau's analysis of truck drivers across industries, he has found those who are the most likely to be involved in a road accident are the ones who have been on the job for six months or less. The next most accident-prone group is individuals with 25 years or more of experience who have never had an accident before.
"They think, 'I have been doing this for 30 years. You weren't even born yet and I was driving. What do you think you're going to tell me?'" says Boudreau.
Boudreau recalls an incident two years ago where a garbage truck rolled over. The driver had been working for 30 years without an accident or ticket and was "safe as can be." When Boudreau was interviewing the driver, he said, "I never thought this would ever happen to me. Two seconds and I was over. It didn't even cross my mind." But no one is immune, Boudreau says.
Lifting is another major hazard for waste collection workers. The average weight of a garbage bag is 16.5 pounds, with a maximum weight measured up to 86 pounds; however, this varies considerably, according to the Centre of Research Expertise for the Prevention of Musculoskeletal Disorders (CRE-MSD) at the University of Waterloo in Ontario. Heavy loads increase the risk of injury. The average worker does nine lifts per minute, with an average of two bags per lift, the centre found.
Workers often toss the bags into the hopper instead of walking all the way to the truck, which can result in repetitive strain injury. Muscle strain — whether it be back, shoulder, hips, elbows or wrists — is the number 1 type of injury at Emterra, says Boudreau.
"When you're picking up anywhere from 1,000 to 1,500 houses a day, it can put a lot of wear and tear on your body if you're not picking these bags up properly or if they're too heavy," he says.
A high lifting frequency can also lead to fatigue.
Workers at Emterra are told not to lift a bag that they are struggling to lift, which is often more than 50 pounds. They can ask the garbage truck driver to help them lift it, or they can tag it and leave it on the curb to be picked up later.
Employers need to offer training for proper lifting techniques and provide a mechanical aid when possible, says Petersen. Some municipalities have bins, rather than bags, so workers can wheel the bin to the truck, which then lifts and empties the bin. Many trucks have a mechanical arm that reaches out to the curb to pick up the bin on its own.
The number 1 hazard Fraser sees at GFL is slips, trips and falls. Workers are often not maintaining three points of contact when entering and leaving the truck, as they are trained to do.
"They do this every day, over and over, 100 or 200 times a day, so what do you think they do? They are jumping in and jumping out," she says. "And they slip out of the truck and that's what's breaking and spraining and straining their ankles, their legs, because of that swift motion."
The workers who are the loaders are often hanging off the back of the truck and if that truck does not come to a complete stop, that worker is not supposed to jump on or off. Despite constant communication, tailgate meetings and training, violations do occur — something Fraser does not take lightly. After an extensive investigation and a root cause analysis, if it has been determined that a worker chose to make an unsafe decision that caused an incident, he will be disciplined.
"I have a very, very strict disciplinary policy: It's called 'at fault management'… If the evidence shows you were trained and you knew better, you will be disciplined," says Fraser. "When I first did it, a lot of people thought it was very harsh."
Weather poses a major risk for waste collection workers because they have to go out every day — rain, shine or snow. In the summer, heat stress in an issue; in the winter, cold stress is a concern. Driving conditions can change throughout a day, such as sun blinding the driver or rain making the roads slick. According to Boudreau, workers need to know what to do in all types of weather: Take breaks if they are overheated; wear appropriate rain gear; watch their footing on ice; and be aware of items blowing around in high winds.
Even if the weather seems fine one day, remnants of poor weather the night or day before can cause problems.
"Our trucks are driving on the street and what looks to them as a regular routine might not be because yesterday it was pouring rain; it's pulling the wires down. They come around the corner where they have been clearing that area every week for three years and all of a sudden they have clipped the electrical wires and they're down," says Fraser.
In an effort to protect waste collection workers from all these hazards, WorkSafeNB launched a dedicated two-year safety campaign in 2015 aimed at both employers and the public. To assist employers, the agency prepared discussion papers containing industry analyses, pre-use inspection checklists for machinery and equipment, employer orientation checklists and a safe waste collection guidebook for workers.
The campaign also included focused compliance activities. To start, inspectors visited waste collection companies and looked for new employee orientation programs.
"If you're stepping into a job that's been identified as a higher risk job, we're assuming that you may not have much experience in that field or know what the hazards of the job are, so a well-constructed orientation and training program that speaks specifically to what are the key hazards is critically important," says Petersen.
Inspectors also focused on mobile equipment and employers' facilities.
WorkSafeNB recommended that as part of the tendering process, "significant consideration" be given to the bidding companies' safety policies and procedures when deciding who should be awarded the contract, says Petersen. Historically, the tendering process often focused on the lowest bid without regard to safety, which sometimes steered service providers to compromise safety to remain cost-competitive.
MENTAL HEALTH
Aside from the typical hazards waste collection workers encounter, they also have to be trained on how to handle workplace violence and harassment. In June, a homeowner threatened to hurt one of Boudreau's truck drivers in B.C.
"We do have issues with clients getting angry at them for either not picking up their garbage or not placing their totes back where they are supposed to be," he says. "There's road rage as well… It certainly is part and parcel."
All workers receive violence and harassment training. They are required to notify Emterra right away if they are subjected to such behaviour, so the company can notify the municipality. Then, Emterra conducts an investigation and deals with the homeowners involved.
Waste collectors encounter a lot of stress to get the job done on time. Trucks need to be off the road by a certain time and landfills are only open for so long, but unforeseeable factors such as bad weather, traffic delays or truck breakdowns can make it difficult to meet the deadline.
GFL's entire corporate safety team was trained in first-aid mental health awareness two years ago — but it was a bit of a tough sell.
"Everybody was like, 'Are you serious? We're going to be psychiatrists? What are you doing?'" says Fraser. "Physical is already a big issue and you know it's hard to get them to understand and now, all of a sudden, I'm talking about mental, so it's like, 'holy crap.'"
Now, Fraser and her safety team talk to the workforce a lot about mental health. They make sure workers know about all the resources at their disposal, such as the employee assistance program, and understand what to do if they are having a mental health problem.
"You should feel safe to come to your supervisor or HR or the safety team and say, 'Listen, I'm not OK today,' and feel safe that you are not going to be reprimanded. No one is going to look at you and say, 'What kind of weirdo is this?'" says Fraser. "If you have a mental health situation going on, that's impacting your work. Both of those tie together."
PUBLIC AWARENESS
Since the vast majority of risks that waste collectors face come from the public and what they put in their garbage bags, educating the public on what they can do to keep these workers safe is very important.
"I don't think there's any consideration for the guys in the garbage truck," says Fraser. "I don't think they see them as something they need to worry about. As far as the public is concerned, in my eyes, they are picking up the garbage: Get it done and have a nice day."
Part of the WorkSafeNB campaign was targeted towards public education. For example, they learned about the importance of not overloading bags and ensuring bins face towards the street. One ad for the campaign was a garbage collector holding his child with the quote underneath: "Your garbage isn't the only thing I pick up."
"That kind of drives it home. As homeowners, we have to understand that and that makes it very real. These workers are moms and dads," says Petersen. "We want to make it a mindset so that you as a homeowner, when you're packing your garbage up, you don't even have to think about it. You know you're not throwing broken glass in there… You just know what to do."
Municipalities regularly inform residents what they should and should not put in the garbage. Waste companies also get involved. For example, GFL rents out community centers and sets up in parking lots to hold educational fairs for the public. It's important to remind them that not only are the men and women who pick up the garbage affected, but so are all the workers in the waste pipeline, such as landfill workers, recycling facility sorters and truck maintenance workers.
But at the end of the day, the employer can only do so much to affect the public's behaviour.
"We don't have a lot of control over what the public does, although we can identify any immediate and long-term hazards and put some controls in place. For us it's training our workers to recognize the risks and hazards and act appropriately," says Boudreau. "That's what we have control of out there."
Health and safety managers can also do their part to ensure the workers who pick up the garbage at their workplaces are safe. Waste containers must be in good condition and should be in easy-to-access locations. They should not be too heavy or unevenly distributed because that can cause awkward movements and potential injuries, says Petersen. And any items that are improperly disposed of can pose a risk to the cleaning staff.
As they self-supervise for most of their shift, waste collection workers have to take personal responsibility for their safety, says Boudreau.
"It's no different than driving. When you're driving a car, the only person you control is yourself. You have to put your skills and your ability and your training to work in order to avoid a collision, and it's no different for these guys out there," he says. "We need to hammer home and we do emphasize to them that ultimately, they choose to be safe or not."
Fraser says people need to get out of the mentality that safety professionals are the ones keeping them safe — because they're not.
"Our job is to teach and train you to be accountable; that means every level," she says. "Safety is not a part-time job. Safety's a part of everyday operations and if you are not doing your job safely, then you're doing a half-ass job. You are not doing it to your potential. That means we're paying you to do half a job."
Boudreau believes workers need to take safety beyond the walls of the workplace; otherwise it's very hard to change beliefs and habits.
"Safety is about when you wake up in the morning, you start the process in your mind on what the day's going to be like, where you're going to travel, what the weather's going to be like, am I dressed appropriately? This is before you even get to work, and then when you get to work, doing things right," he says.
The numbers are still coming in on the WorkSafeNB waste collection safety campaign, but it was very well received by the industry and it continues to raise awareness of the hazards waste collectors face. In fact, the campaign won first place in the external communications campaign category of the American Association of State Compensation Insurance Funds' 2017 Communications Awards. So, it looks like the two-year campaign — which would have ended in September — won't be tossed to the curb quite yet.
"It's very active on our website and we'll continue working with our waste collection industry partners to help improve safety in this sector next year and beyond," says Petersen. "Hopefully this all translates into fewer injuries."
Amanda Silliker is the editor of Canadian Occupational Safety.
Your house, their workplace
Here's what you can do at home today to keep your garbage man safe.
•Lighten the load. Always ensure each bag can be easily lifted with one hand.
•Box your glass. Put broken glass in a box and clearly label the contain "broken glass" or "sharp objects."
•Be careful. Take extra care when you see a garbage truck on the street. Approach slowly and carefully, watching for collectors.
•Properly dispose of hazardous waste. Hazardous waste, such as bleach and pool chemicals, can be reactive or corrosive. Never put this in your garbage.
•Ensure garbage is accessible. Always place bags and bins on level ground and as close to the street as possible.
•Keep needles away. Never put needles or other medical waste in your garbage or recycling bins. Contact your pharmacy for proper disposal instructions.
•Leave room in the bag or bin. Don't overfill garbage bags. Leave enough free space at the top so the bag is easy to grab. Never overstuff bins.
•Ensure yard waste is easy to handle. If using bags for leaves, wait until the organic mater is dry before bagging it.