Regulator withholding findings from public, says it doesn't want to jeopardize RCMP investigation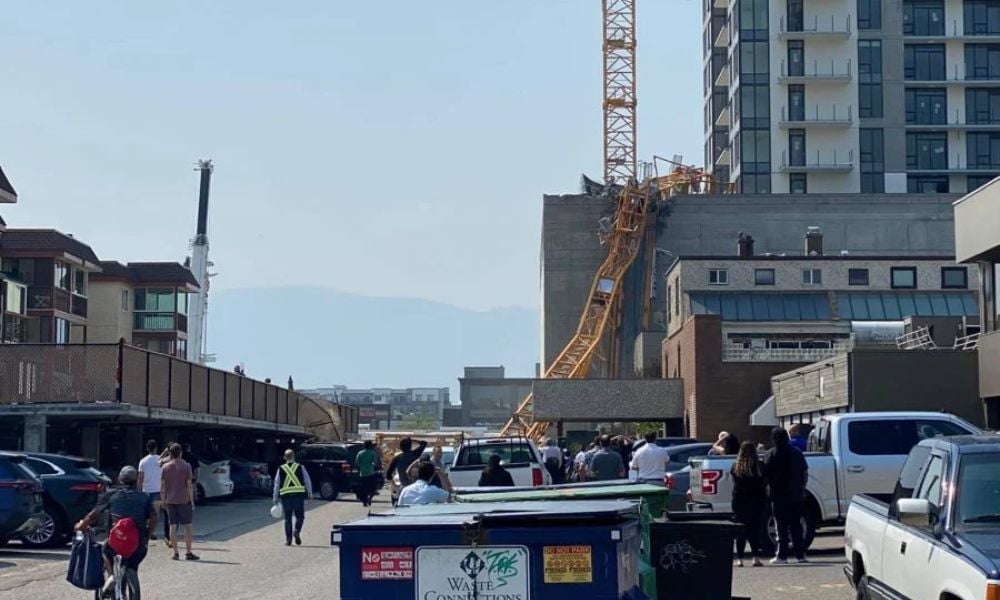 WorkSafeBC has provided an update on its investigation into the tragic crane collapse that occurred in downtown Kelowna on July 12, 2021, claiming the lives of five workers. While the criminal investigation conducted by the RCMP is ongoing, WorkSafeBC has completed its incident investigation report, and it is not releasing it publicly.
WorkSafeBC says in consultation with the RCMP, it has decided not to release the report publicly to avoid jeopardizing the ongoing criminal investigation. The report can be made available to the RCMP via a judicial authorization.
In a press release, WorkSafeBC says it has been working with subject-matter experts and engineers over the last 22 months to identify the cause of the incident and any contributing factors. The primary purpose of the investigation has been to prevent similar incidents from happening in the future.
Despite not releasing the investigation report publicly, WorkSafeBC says it has continued to incorporate key learnings about tower crane assembly, disassembly, or repositioning into its ongoing crane safety initiatives.
Kelowna RCMP Serious Crime Unit is actively investigating the crane collapse and is working through thousands of pieces of evidence and seized documentation while consulting with their partners nationally. The criminal investigation is independent and separate from the regulatory investigation conducted by WorkSafeBC, focusing only on determining if any criminal elements are present.
According to WorkSafeBC, "the criminal investigation into this incident is extensive and complex, and as such, it is anticipated that this investigation will remain ongoing for an extended period." When police determine criminality in a case, they compile a report and forward this information to the BC Prosecution Service for charge consideration.
The Kelowna RCMP and WorkSafeBC "express our thoughts and empathy for those who have been impacted by the crane collapse… including the families, friends, colleagues, and members of the public who want answers about this tragic incident that claimed the lives of five workers."
WorkSafeBC assures the public that they are committed to investigating the incident thoroughly.