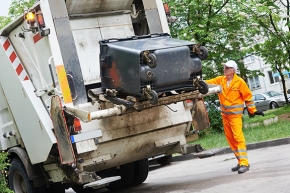 WorkSafeNB has announced a two-year initiative designed to improve safety culture and reduce the frequency and severity of injuries for workers in the waste collection industry.
Waste collection workers are three times more likely to be hurt on the job as the average New Brunswick worker. Since 2003, four waste collection workers have died from workplace injuries.

"As we have done with other high-risk industries, WorkSafeNB is focusing its efforts to help workers in waste collection," said Gerard Adams, president and CEO of WorkSafeNB. "Waste collectors face risks daily. They have a difficult job. We are working with employers and workers to ensure they have the resources and support needed to reduce these risks."

The Safe Waste Collection initiative has several components: increased education; focused compliance activities; recommendations to require safety policies and procedures in the tendering process; and public awareness and engagement.

Starting in September, WorkSafeNB consultants will meet waste collection employers one-on-one throughout the province to help them improve their health and safety practices.

"Every company will receive a visit," Adams said.

Following this, health and safety officers will focus their efforts on new employee orientation and training. In spring 2016, WorkSafeNB will begin inspections of mobile equipment and facilities of employers in the industry.


WorkSafeNB will also recommend that safety policies and procedures be required when awarding contracts.

"Like the construction industry, we want safety to be a priority in the bidding process," he said.

In spring 2016, a public awareness campaign will remind homeowners that safety is everyone's responsibility. Homeowners can help in many ways. For example, they can ensure their garbage is within recommended weight limits and is free from sharp objects. They can also ensure the end of their driveway is free from tripping hazards.

"Your curbside is their workplace," Adams said.

WorkSafeNB consulted New Brunswick private waste collection companies, municipalities, regional service commissions and other industry stakeholders for feedback on its planned strategy.