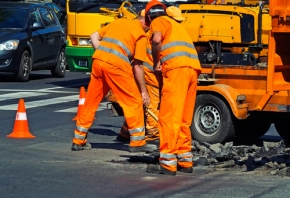 WorkSafeNB is calling on all drivers to take extra precautions in road construction zones in light of a recent Saskatchewan court case.
In early August, a Saskatchewan judge heard that Ashley Dawn Richards, of Lakeside, N.B., was thrown about the width of a football field when she was struck and killed by an SUV in a highway construction zone during her first day on the job in August 2012. A RCMP accident reconstructionist testified the vehicle was travelling between 82 and 99 kilometres per hour when it struck Richards. The posted speed limit was kilometres per hour.

In 2007, a New Brunswick highway maintenance worker was killed and two others were injured when a transport truck struck them while they were working on the Trans-Canada Highway in Moncton, N.B.

That incident prompted the New Brunswick government to double the fines for speeding in construction zones. The minimum fine now for speeding in a construction zone is $480.

The Saskatchewan judge has reserved his decision until October.

"New Brunswickers shouldn't wait to learn a lesson from this tragedy," said WorkSafeNB. "We all play a role in making the road construction zone a safer place."

Employers are required under the Occupational Health and Safety Act to take every reasonable precaution to ensure the health and safety of their workers. WorkSafeNB regularly inspects road construction zones and issues stop-work orders when the safety of road construction workers is at risk.

Meanwhile, the New Brunswick Department of Transportation and Infrastructure requires the use of a manual it developed in 2009, called the Work Area Traffic Control Manual, which sets out a uniform set of traffic control guidelines for work done on provincial roads.
Motorists also play a role.

"Our goal is to keep workers safe," said Gerard Adams, president and CEO of WorkSafeNB. "For their safety and the safety of motorists, we ask drivers to slow down, respect the posted speed signs and watch for workers or equipment. Construction crews are working to make the highways safer for you. When you slow down, you make the workplace safer for them."