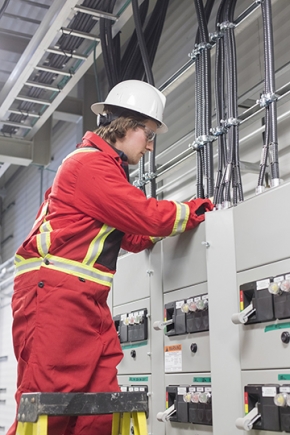 Every young person who starts work at Airdrie, Alta.-based Techmation Electric & Controls is part of the mentorship, or "green hand," program. Tasks they can perform are limited, and they work closely with more experienced workers.
"It's a like a buddy system," says Dan Hathaway, HSE manager. "Until they can show competency in a task, they are under direct supervision of someone who is competent."
Evan Topolnisky, instrumentation superintendent, who was 19 when he started at Techmation five years ago, says he has felt safe since his first day on the job.
"Safety is their number 1 priority. I wasn't worried when I came to work for Techmation that safety would be a concern, and I don't think it ever has been at any point," he says.
WATCH EXCLUSIVE VIDEO HERE
The mentorship program is one reason why he felt so comfortable. Topolnisky was paired with a journeyman who had more than 21 years of experience in the industry.
"I worked one-on-one with him for three months when I started. It made me feel very comfortable, being with someone so experienced," he says.
Young workers also take part in an employee performance and review system, a quarterly review of employees in which managers and workers together assess the worker's performance. For areas where someone is struggling, they devise a plan to help the young worker improve.
Hathaway says they focus a lot on young worker competence because they believe safety training and competence are very different things. A person who has taken a course in how to run a forklift is still not necessarily competent in the task.
"So, we categorized daily tasks into different competency levels. Young workers are assigned a certain competency level and that level identifies the tasks they're allowed to complete," he says. "As they progress through their apprenticeship, we re-evaluate their competency, have them do more tasks. So it's a gradual, step-by-step system designed to bring young workers into the workforce."
The company's focus on competency helps engage young workers in developing their own and co-workers' skills, Topolnisky says. It recently introduced a one-to-10 rating system: someone deemed competent rates the young worker. If the worker falls between one and six, it means the person needs a little more work in that skill. If rated between seven and 10, the worker is deemed competent and can train other people.
"It gets young people involved and gives them tools and knowledge to do their job," he says.
Almost 30 per cent of Techmation's staff of about 1,000 are age 25 or younger. Most new hires come from high school and the company sends them to trades colleges. For the first three years of their four-year program, students attend school full-time for two months; in the fourth year, for three months. The rest of the year, they're training on the job at Techmation.
To help ensure workers are doing only those tasks they are competent in, new and young workers are visually identified, Hathaway says. Those new to the construction industry wear green hard hats; those who've had experience in the industry but are new to Techmation wear "green hand" stickers on their hats.
Techmation has a great deal of respect for its young workers and is always encouraging their participation in workplace safety.
"With their limited experience and unique perspective to the work they are participating in, we can learn new ideas and identify areas for improvement," says Hathaway.
A rewards program motivates young workers. By demonstrating excellence — in safety or quality of work — they can receive anything from a gift card to being nominated for the safety leadership award.
The e-learning orientation incorporates components for the benefit young workers, such as the right to refuse dangerous work, safety is everyone's responsibility and workers must report an injury or illness to their supervisor immediately. And young workers know managers will support them if they report unsafe practices, says Topolnisky.
Hathaway says they work hard to protect young workers because many managers are themselves young, and they know how young workers can be exposed to workplace hazards.
"They've been there. They went through. They're going to make sure they look out for the guys below them just as the managers before them looked out for them," he says.