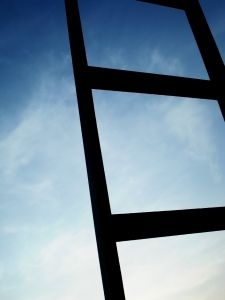 The COS Fall Prevention Tip Contest has come to an end and we would like to congratulate our winner,
Alex Ethier
, for providing his best fall prevention safety tip. Ethier has been awarded for his insight with a new ExoFit NEX Harness, courtesy of Capital Safety Inc., which we hope will help to continue his safety practices in the workplace.
To continue to provide knowledge of safety to our readers, we have compiled our most qualified entries from our
Fall Protection Safety Tip
contest, including our winner's, to help you and fellow employees stay safe in the workplace.
Our first entry comes from
Man-Kay Koon
of Fairchild TV. Koon's advice may seem simple enough, but can go a long way in avoiding work-related injuries.
"Never stand or work at heights unless it is unavoidable. Exercise adequate safety measures if needed to do so."
Rick Dean
from Guelph Tool Inc. believes that a keen eye on your work area will help prevent a dangerous fall.
"My best Safety Tip is, assess your work place to make sure any area of your workplace has accessible anchoring points. You never know when an employee has to work at heights to repair, modify, install, etc. equipment or structures. This will also apply to Outside Contractors performing work for you."
Pacific BioEnergy's safety chargehand
Todd Hinton
has a wide array of things to say when dealing with fall prevention.
"I really think that one of the best tips for the prevention of a fall would be paying attention to all the large AND small details of the task at hand. Most of the time, if you fall, you wont get a 'second chance.' Be really sure of the integrity of what you are tying off to, and do it properly. Be sure to fully inspect your equipment beforehand. Have contingency plans in place for rescue should it be needed. Make sure you are mentally ready for the job. Plan the job from start to finish, and do all you can to identify and rectify every possible hazard. Every job is different. Many things can effect the job, you, your equipment, and the workplace such as the weather, time of day or environment. Continued skill maintenance is also very important. Every year, there seems to be better equipment and safer processes brought to light. Keep up on what is new and be innovative to develop them yourself. Wear your personal protective gear properly, and take good care of it when it is not needed. And above all, don't fall into the trap of the routine jobs. Complacency kills."
Andrew Cooper
from Safety Forge Consulting believes fixing a common mistake among harnesses can save lives.
"This will sound pretty basic but it's vitally important. There have been quite a few tragic deaths recently and one of the common themes I'm hearing is that even though the safety lines and harnesses are being used and worn, the harness isn't connected to the anchor point or lifeline via a lanyard. A full-body harness is not a fashion accessory. Make sure it's fitted properly, inspected before each use and connected to the lifeline and/or anchor — your life depends on it!"
Weston Solution's
Doug Perrault
wrote this in:

"Use the buddy system to ensure proper fit of harness to avoid slip out."
Craig Journeay
tells us that a little level-headed thinking can keep you safe when off the ground.
"Simple: Behave in the same manner at height as you would like your brother, sister, wife, husband etc. to behave when working at height. Ask yourself: Would you want them to take the risk? If the answer is no, then why would you?"

Mike Black
, certified rope rescue technician and confined space rescue technician, tells us that a rescue plan is crucial in saving lives in the event of a fall.
"I have performed rescue and recovery operations involving both high-angle environments and confined spaces. My best advice to give any company who requires their workers to use fall protection equipment, is to have a rescue plan in place in the event a fall should occur. It is the law. Employers are required to develop a rescue plan, and ensure that rescuers and equipment are "readily available". "Readily available" — (in) two minutes."?
Our final entry comes from the winner of the contest,
Alex Ethier
. Ethier's winning advice is straightforward and simple. Responsible thinking is a sure-fire way to prevent falls in the workplace.

"When determining whether or not fall protection equipment is required, try to imagine that the person being sent up is a five-year-old child. Would you send them up without some sort of fall protection? If not, then you shouldn't go up without it either."
Thanks to all participants for sending us their tips on fall protection. Preventing injuries in the work place is in everybody's interest. Hopefully these dependable tips will help you and your associates keep safe. No one wants to lose an employee, co-worker or loved one over a fall-related injury or death.