Four mindfulness and relaxation apps to push users in the right direction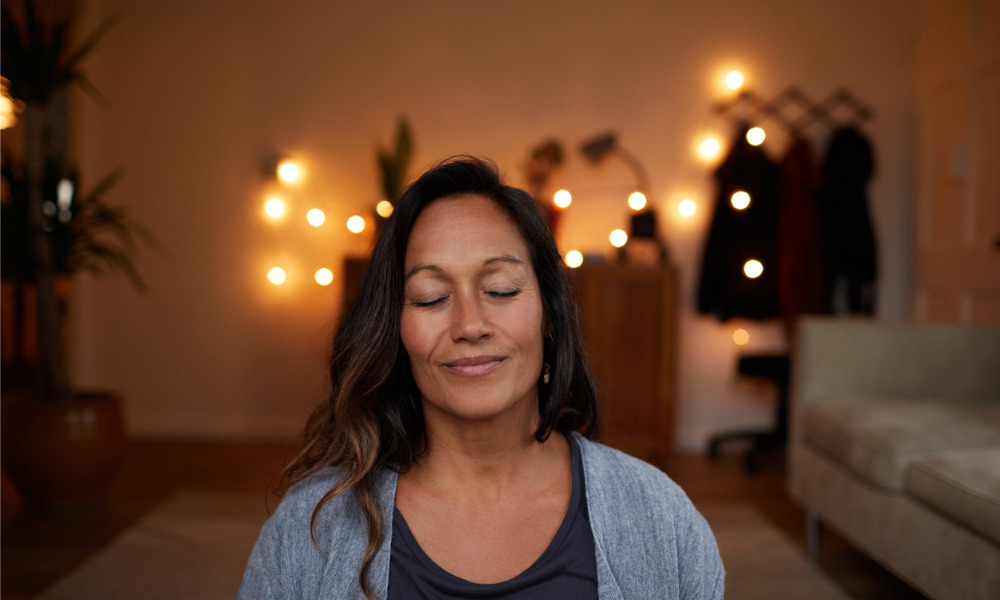 It is widely appreciated that, for a number of reasons, spending too much time on ones phone is a bad thing. This is the case not just for phones, but other blue light-emitting screens such as tablets or laptops.
However, for these wellness apps, spending time on your phone may not be such a bad idea.
With the pandemic, Canadians are more and more vulnerable to a number of mental health issues: anxiety, panic attacks, depression, burn-out, etc. These issues have steadily been on the rise since the start of the pandemic last year.
READ MORE: How to manage workplace stress in the midst of COVID-19
It can be hard to seek help, for many Canadians mental health care such as therapy or medication may be hard to access for financial or geographical reasons, or other factors.
Luckily for us, one of the advantages of living in 2021 is that there's a tech solution for almost everything! Though they are not a quick fix, mobile apps can be part of the solution – or the very least a small step in the right direction.
Gaining in traction, mental health-focused mobile apps are relatively inexpensive (or, in some cases, free), practical, and offer a high level of privacy (unless someone randomly decides to snoop through your phone).
One major advantage that these apps offer is that users can select how much time they wish to spend on activities, they could be shorter or longer. This allows for the user to do these activities at their own convenience, during a break at work for example.
Here are four apps to get started.
(Please note: The focus of this list will be apps that focus on wellness and self-care – they certainly won't cure mental health issues, but they can offer a number of resources and relaxation techniques to push the user in the right direction).
READ MORE: 5 Key things to know about mental health in the workplace
1. Headspace. Headspace is one of the most popular wellness apps out there, and recently partnered with Netflix to release Headspace Guide to Meditation, a series about – you've guessed it – meditation.
Much of the app's content is reserved for paying subscribers. Nevertheless, Headspace offers its users a free 14 day trial before fully committing to Headspace Plus (its premium offering). Headspace has a lot of varied content and some free content for those wishing to try out the app without committing.
The app offers a lot of resources such as meditation and relaxation videos, soundscapes (noises and music to help the user relax and sleep), etc.
Probably the most "trendy" of the bunch, Headspace has a sleek and colourful design. The app is available for both iOS and Android.
2. Happify. Similarly to the other apps in this list, Happify offers small, fun activities to help improve mindfulness by doing meditation, breathing exercises or expressing gratitude.
The app offers different "tracks" for users to engage in. These tracks cover mindfulness & meditation and health & wellbeing but also relationships, work & money and personal growth. Each track lasts for a few days or weeks and has a number of associated activities for the user to do each day.
Users can select whether to make their profile private or public and be part of the Happify community to engage with and support others. Happify has a portion of its content reserved for its premium users, but there is still a decent amount of content available for free.
Available for iOS and Android.
READ MORE: 20 warning signs of compassion fatigue
3. Calm. The Calm mobile app is one of the most used wellness apps on the market.
In the same vein as Headspace, a lot of the content on the app is reserved for premium users (if you are interested but hesitating to commit, Calm offers a seven day free trial).
There is nevertheless enough content freely available for users to enjoy the app, with the offering mainly focused on sleep and meditation. Calm offers its users loads of "sleep stories", calming music, soundscapes and guided meditations (most of which are for premium users).
The app is well-designed and easy to use, and available for both iOS and Android.
4. Moodfit. The Moodfit app (not to be confused with Mindfit, another similar app) is well-rounded and offers a holistic view of mental health, taking into account the user's mood as well as lifestyle activities such as sleep, exercise and nutrition.
The user can set daily goals such as keeping a gratitude journal (i.e. listing things that you are grateful for), keeping track of their moods, tracking sleep patterns, a nutrition diary, a CBT* Thought Record tool, etc. It's entirely up to the user what they want to get from the app. By keeping track, users can look for patterns and insights into their moods and activities.
Moodfit provides a number of tools for the user to help with their daily goals – whatever those may be. The app is free and is available for iOS and Android. Moodfit was voted Best Overall Mental Health App of 2020 by Verywell Mind.
*Cognitive Behavioural Therapy, a talking therapy which helps those who practice is to better manage their problems by changing the way they think and behave (according to the NHS).