'We even had an astronaut using our rules': a deep dive into safety with industry expert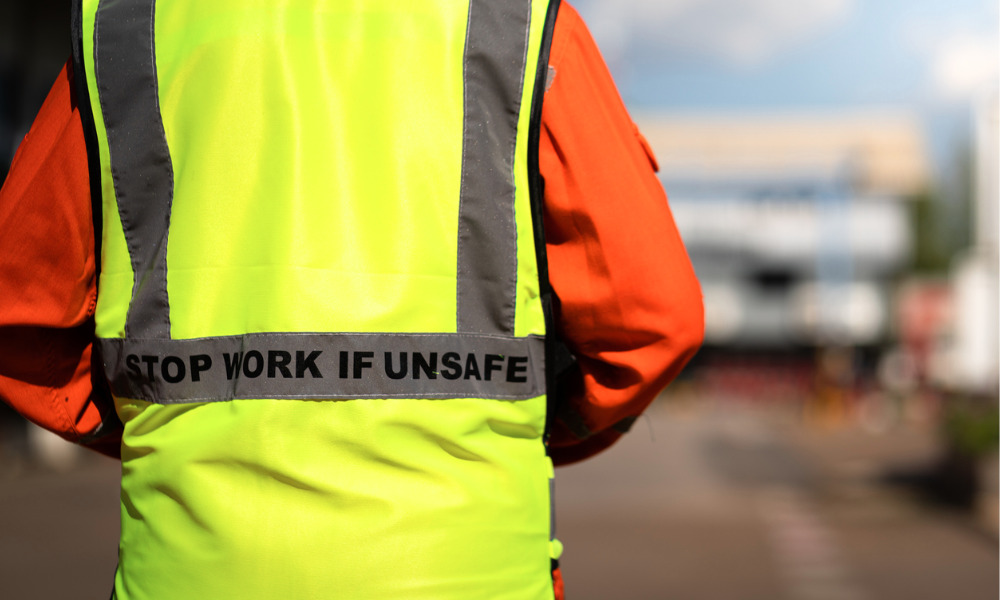 "Of course, it is theoretically and statistically not possible to have zero workplace accidents," reflects Bernd Treichel, member of the International Organizing Committee of the World Congress on Safety and Health at Work and manager of the Vision Zero strategy, "but we try to look at it from a different angle. And that is: everyone who actually comes home safely at the end of a working day has actually accomplished that vision of zero accidents."
It's a far-reaching and bold proposition – but one that is a signature ideal of Vision Zero, a transformational approach to workplace safety spearheaded by Treichel at Geneva's International Social Security Association.
"Vision Zero is actually an idea that emerged in Scandinavia on road safety," he explains. "That was in the eighties and nineties where the possibility of having zero road accidents was raised. And from there it was slowly but surely translated and integrated into the world of work."
The initiative was the main focus of 'Vision Zero in Motion', Treichel's presentation at the aforementioned XXII World Congress, which this year is hosted by Toronto under the theme of "Prevention in the connected age". Organizers made the decision in January to switch to a virtual platform to allow professionals from across the globe to convene across time zones and take stock of where the industry is and where it's heading.
Vision Zero's 'seven golden rules' captivated the room on Monday. So – what are these rules exactly?
"Number one is to take leadership," Treichel elaborates. "Number two is risk assessment: identify the hazards and risks."
"Number three is the definition of targets you want to reach, either as a company or as a country. You can say, well, we have so many occupational accidents each year. We want to reduce it by, let's say, 20 percent or 30 percent or even to zero. And it has been the case that companies have actually reached that goal – including companies who had maybe 30 fatal accidents a year in the mining sector. Now they have zero."
"Number four is to be well organized, to have a safe and healthy systemic approach. Number five is machine safety, encompassing all the equipment of the workplace. Number six is qualification – ensuring that employees are trained and knowledgeable in the area of safety and health at work."
"Finally, number seven is participation. Everybody needs to be actively involved in making sure that the workplace is a safe place. We believe that if you follow these rules, you will have a better safety and health performance."
"We also have fourteen measuring points based on these seven golden rules – fourteen indicators that can help you to predict your future safety and health performance or tell you where you currently stand. You can then eventually compare yourself with another company - if that other company is willing to share data - and it will show you your weak spots."
"Another option is to look at the frequency of events, accidents and absences at work and to see if there is a systematic and consistent approach to these indicators. That's called the frequency estimation."
"And then basically the most advanced measure is the quantitative measurement. That's mainly for bigger companies who have much more data at hand."
And if an organization is eager to adopt the rules and indicators outlined above, how can they go about partnering with Vision Zero? The answer, Treichel outlines, is refreshingly simple.
"You can visit our website and join as a partner or as a company. And we have no strings attached. It is just an expression of commitment. And there are now over fifteen thousand organizations who have done that."
"We have a thousand trainers that can help you if you want to really make changes at the workplace and you don't know how. We have a lot of training manuals for them and we have an accredited training program set up together with our partner, the institution of Occupational Safety and Health in the U.K."
"I think the charm of it is that – if you are a smaller or mid-sized company or enterprise and you don't have so much time at hand to deal with these things - you can just use a simple checklist approach and you already get an indication whether you are on the right track or not."
And – as Treichel explains – the premise of Vision Zero is applicable to workplace scenarios that are far beyond the norm.
"We had an astronaut from NASA who actually used these seven golden rules," he reveals. "He took me through the rules. He said: let's take rule number one, leadership. When we launch, leadership is absolutely important. And then the next one: risk assessment. We check that everything is OK. And then he took us through the next three rules, all implemented before the launch."
"In a way, the rules are nothing new. It's just that we simplified them and found a way to create more emotion around them. There must have been at least a hundred Vision Zero events in the first two or three years all over the globe – all aimed at spreading the word that a world without occupational accidents is possible."