5,366 flight attendants surveyed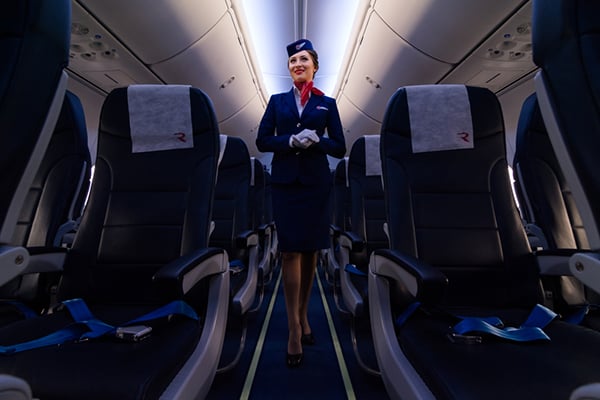 (Reuters Health) - U.S. flight attendants may be more likely than other Americans to develop several types of cancer including tumors of the breast, uterus, cervix, thyroid and skin, new research suggests.
"This study is the first to show higher prevalences of all cancers studied, and significantly higher prevalences of non-melanoma skin cancer compared to a similarly matched U.S. sample population," said lead study author Eileen McNeely of the Harvard T.H. Chan School of Public Health in Boston.
Researchers asked 5,366 flight attendants and 2,729 other adults with similar socioeconomic backgrounds whether they had ever been diagnosed with cancer.
Compared to the other adults, flight attendants were 51 percent more likely to develop breast cancer. They also had more than double the risk of melanoma and more than quadruple the odds of being diagnosed with other forms of skin cancer.
"Non-melanoma skin cancer among women increased with more years on the job, suggesting a work-related association," McNeely said by email.
While these results confirm earlier research linking work as a flight attendant to an increased risk of certain cancers - especially breast and skin malignancies - the study wasn't designed to prove whether or how the job might directly cause tumours.
Researchers also couldn't say whether tumors developed before or after participants started working as flight attendants. And the study didn't examine cancer survival rates, only diagnoses.
Scientists have long suspected that flight attendants' cancer risk might be affected by their exposure to naturally occurring radiation at high altitudes, shift work, time zone changes that disrupt sleep cycles, and poor cabin air quality, researchers note in Environmental Health.
Flight attendants, however, are less likely than the general population to die of all causes except plane crashes, said Rob Griffiths, program director of occupational and aviation medicine at the University of Otago Wellington in New Zealand.
"They are comparatively healthy and wealthy, and more likely to seek medical care than the general population," Griffiths, who wasn't involved in the study, said by email. "So cancer detection incidence is higher and mortality is lower, because they participate in screening programs and get treated faster."
A separate study in April involving nearly 6,100 U.S. flight attendants found no meaningful link between cosmic radiation or circadian rhythm disruption and several cancers.
The lead author of that study, Dr. Lynne Pinkerton of the National Institute for Occupational Safety and Health in Cincinnati, Ohio, didn't rule out the possibility that altitude-related radiation exposure or disrupted sleep cycles might be connected to cancer.
But she noted that higher rates of breast cancer among female flight attendants might be due to the fact that they had fewer children and gave birth for the first time later in life than other women.
"Having fewer children and having children later in life are known risk factors for breast cancer," Pinkerton, who wasn't involved in the current study, said by email.
Sun exposure, a leading risk factor for skin cancers, might also be higher for flight attendants because they might spend time in the sun on layovers, noted Dr. Alessandra Buja, of the University of Padova in Italy, in an email.
Buja, who wasn't involved in the study, added that the connection between flight attendant work and cancer rates in the study "may reflect the effect of flight attendant work exposure," but it could also be explained by "reproductive factors or sun exposure and only indirectly associated with this work."