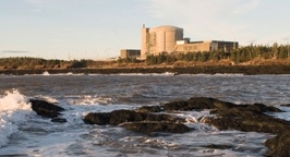 Crown-owned NB Power in New Brunswick has disclosed it has detected low levels of radioactivity related to Japan's nuclear crisis at the company's Point Lepreau nuclear power plant. NB Power officials maintain, however, that the radiation levels detected are not concerning.

POINT LEPREAU, N.B. — Low levels of radioactivity drifting from Japan have been detected on the monitoring systems of New Brunswick's Point Lepreau nuclear power plant.

But the province's Crown-owned utility, NB Power, says the public isn't at risk.

NB Power spokeswoman Kathleen Duguay confirms that monitoring stations have picked up minute traces of Iodine-131 — byproducts of the reactions within nuclear power plants.

She says these signature isotopes do not occur naturally in the environment.

"We anticipated getting something here from Japan and Iodine-131 is not something we would see in our area," she said. "We analyse everything, so we know that this form of detection is related to the Japan incident."

Duguay says the levels detected "do not pose a health risk to our employees or to the public." She says the level of radiation measured equates to 0.0005 per cent of the safe annual limit set by the Canadian Nuclear Safety Commission.

Japan is struggling to contain radioactive emissions from its Fukushima Daiichi nuclear power plant, which started overheating after an earthquake and tsunami on March 14 knocked out power to the plant.

While New Brunswick isn't an earthquake-prone zone, Duguay said NB Power has assembled a team of station experts to re-examine the plant's state of readiness.