Trimming marijuana leaves, working around grow lamps and extracting oils take a hit on workers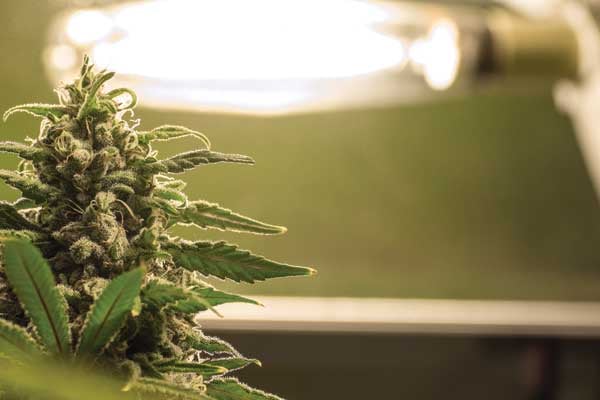 Health and safety professionals across Canada are concerned about the legalization of recreational marijuana and its impact on the workplace — especially when it comes to safety-sensitive positions. But something that has been largely ignored is the health and safety of workers within the soon-to-be legal cannabis industry. Deloitte has predicted that legalized recreational marijuana could be a $22.6 billion industry in Canada, taking into account the retail market, growers, product makers, testing labs and security.
Unfortunately, when an industry is on the rise, the significant influx of new workers means occupational incidents — injuries, fatalities or both — rise as well. For example, Alberta experienced its highest number of workplace fatalities on record in 2013, clocking in at 188, during a time when the provincial economy was at its peak.
To avoid this trend, cannabis companies — especially those involved in growing and harvesting operations — need to prioritize OHS now.
"The number of people that they need to hire is just insane and trying to keep up with making sure each orientation is done thoroughly is something that they really have to focus on because once they are oriented to the health and safety practices, it's full speed ahead," says Wendy Bennett, executive director of AgSafe, British Columbia's agriculture safety association, in Langley, B.C.
According to an estimate by Cannabis at Work, Canada could add 150,000 jobs in the industry over the next couple of years alone.
Organigram, a licensed medical and recreational marijuana producer, has 300 employees — 250 of which were hired in this past year — and the plan is to double its workforce by 2020.
The company has a very in-depth orientation program that every worker must go through. New staff also receive their WHMIS training before they hit the floor, and no one uses any equipment until they are properly trained on it, says Jim Patterson, safety and security manager, at the Moncton, N.B.-based company.
But some new cannabis companies may not know what they are getting into, since recreational marijuana will be a newly legal industry.
"(Previously) there were a few companies that had licenses to produce it, but now with the legalization coming into effect (on Oct. 17), I would expect there are many, many more companies that are getting into this business. For the most part, they may not be aware of their health and safety obligations under the law," says Dan Curts, lead application development specialist, personal safety division, at 3M in London, Ont.
Cannabis growers need to have a handle on a wide range of workplace hazards, from biological risks to security concerns.
Although uncommon, allergic reactions associated with occupational exposure to cannabis have been reported. Some workers have experienced asthma, hives, itchy skin and swollen or puffy eyes after working with the plant. According to the National Institute for Occupational Safety and Health (NIOSH) in Washington, D.C., THC and cannabinol (two of the 100-plus cannabinoids identified in cannabis) have been found to be "extreme sensitizers." Exposure may not initially cause any issues, but it can lead to progressively strong and abnormal responses over time.
If someone is sensitive to the plant, they may need specific personal protective equipment (PPE), such as a powered air purifying respirator, rather than the standard N95 mask, says Curts. Alternatively, they may need to leave the job altogether.
Organigram evaluates workers in the interview process, during orientation and through the probation period for any sensitivities to the terpenes (the odour) from the flower. Although very rare, the company handles each terpene sensitivity on a case-by-case basis. It will try to place the employee in another work area, but accommodation is not always possible, says Jeff Purcell, vice-president of operations at Organigram.
Another biological hazard that can arise from working directly with plants, including the cannabis plant, is mould, which can cause nasal congestion, coughing and wheezing and throat, eye and skin irritation. Since marijuana production requires increased levels of humidity — sometimes as high as 70 per cent — mould can grow easily if not properly addressed.
In general, moisture and dampness controls as well as local and general exhaust ventilation can control the growth of mould.
PESTICIDES
Marijuana cultivation operations may be using pesticides within their facilities. Some pesticides have been associated with dermal and respiratory toxicity for the workers who apply them, says the Guide to Worker Safety and Health in the Marijuana Industry published January 2017 by the Colorado Department of Public Health & Environment. Those who mix, load or apply agricultural pesticides, clean or repair pesticide application equipment or assist with the application of pesticides are at risk of exposure.
"Pesticides and herbicides are designed to kill. They kill either a pest that they don't want or a weed or some other growing material that they don't want," says Curts. "You have to ensure, particularly during the application — usually it's a spray application — that the workers who are also susceptible to some of the active ingredients in the herbicides and pesticides are protected."
Employers should conduct a risk assessment and consider the following: How the herbicides and pesticides are being applied and at what concentration; what the active ingredients are; how these factors might impair or impact workers; and what controls are being put in place, says Curts.
At Organigram, any worker who is handling the pesticides has to go off-site to receive specific training and accreditation from a third-party.
"It's mandated by provincial law that our workers are trained and accredited by the province to handle Health Canada-approved pesticides. It's a matter of health and safety and it's important that our staff are trained properly to handle any and all chemicals used within our production facility," Purcell says.
Depending on the type of growing operation, pesticides may not be used at all. Greenhouses, for example, have a highly controlled environment and will be very different from other warehouse or outdoor operations, says Bennett.
"They have very strict bio security so the introduction of anything that goes into a facility has to pass through a real stringent set of standards to be able to get into where the growing operation is happening," she says.
A 2017 survey titled Work and Well-Being in the Colorado Cannabis Industry found 66 per cent of workers never had symptoms after handling pesticides, but 18 per cent reported skin irritation, 14 per cent headaches and dizziness and 13 per cent eye irritation. Colorado and Washington were the first U.S. states to legalize marijuana in 2012.
Cannabis workers may be exposed to excessive ultraviolet (UV) rays from grow lamps. While employees' duration exposure is usually quite short, the lights give off a fair amount of ultraviolet rays, including UVC, so proper PPE is important, especially eye protection. UVC is absorbed by the atmosphere, so it does not reach the Earth's surface, but it is found in man-made items, such as mercury lamps and welding torches.
"Because of what we use in our rooms to grow, (UVC) is in our rooms. We have special safety sunglasses that we use that are rated for all three: UVA, UVB and UVC," says Patterson.
If workers have any exposed skin on their face, employers should have a sunscreen process in place to block the UV rays from workers, says Bennett.
ERGONOMICS
Proper ergonomics is important for workers in the marijuana industry. Roles such as trimming marijuana leaves or manual cultivation activities may present the following ergonomic issues: Awkward postures, including squatting or hunching; twisting the wrists and other joints to perform tasks; high hand forces; repetitive motions or prolonged activities; and heavy, frequent or awkward lifting.
"They stand in one place and they cut and they trim and it's with really small scissors, or they're bending over, depending on how they have the plants," says Bennett. "They need to be really aware of ergonomic positions and the potential musculoskeletal injuries that can happen."
The Colorado survey found 54 per cent of cannabis workers said they experienced back pain every day for at least one week or more in the past year. More than one-quarter (28 per cent) said they had discomfort in their hands, wrists or fingers (such as pain, burning, stiffness, numbness or tingling), and 23 per cent identified knee pain.
For ergonomic issues of all kinds, job rotation is the number 1 way to mitigate the hazard, says Bennett. Workers should rotate their roles, such as switching between base trimming at ground level and de-leafing at chest level, as well as rotating their postures, such as changing from left to right hand or from sitting to standing.
The recent expansion at Organigram resulted in many changes that improved ergonomics for workers, including reducing manual tasks through increasing automation and redesigning the growing room so there is a lot less bending and reaching, says Purcell.
Other changes include larger harvest rooms that have space for stools, so workers don't need to be on their feet all day, and floor mats that not only make the floor less slick but also take the shock out of workers' knees and backs, says Patterson. Employees were very involved in the selection of the new floor mats.
"They are the best people to talk to because they are the ones doing it day in and day out," he says. "Any time you involve the employees and they have some kind of say in the decisions that you are making that affect them, they feel good about it."
Like many industries, slips, trips and falls is a top workers' compensation claim in the marijuana industry. When AgSafe analyzes injury information, it often finds that an injury could have been prevented if a worker had only taken two seconds to pick something up and put it away, says Bennett.
"There's cords and there's hoses and there's potential leaves falling off plants. And when people are trimming, they can drop stuff. It's stuff that people need to be aware of all the time," she says.
Some growing operations have workers working at heights, so fall protection is a concern. At Organigram, 66 per cent of the plants are grown above workers' heads, which means there are scissor lifts in every room.
"That's probably our greatest challenge. We have probably 45 scissor lifts here," says Patterson, who is a certified fall arrest and lift truck trainer. "We have a pretty intense fall protection program, as far as using the harnesses to start with and then we also have systems put in place to train people and kind of give them a beginner's license on the lift and final sign-off before they are allowed to operate on their own."
Due to the changing production environment where plants are harvested and then new ones planted, work at height may not initially be an issue, but this hazard might present itself over time.
"The first few weeks they will only be 6 inches to 8 inches high. Well, nobody will be at elevation. But after three or four months it could be 20 feet high or perhaps even higher, so now you have a different risk than you had three months ago," Curts says.
As with other hot houses, growing cannabis requires heat and humidity — great for plants, not so great for workers. Working in these environments means employers need to have heat stress on their radar. According to AgSafe, some cannabis growers in B.C. have put the following procedures in place to protect workers from heat stress:
• On-site supervisors consistently monitor workers for signs of heat stress.
• Dehumidifiers, shaded areas and water misting machines are used for heat relief.
• Workers are advised to wear light clothing under their protective Tyvek suits.
• Workers are educated about the signs and symptoms of heat exhaustion and how to help co-workers recover.
Employers should also make sure to give workers lots of breaks, ensure they stay hydrated and limit the time they are working in heat, says Curts.
"(The controls) are not hard to implement, they just have to be thought about in the risk assessment," he says.
EXTRACTION
Extraction is one of the top hazards in the cannabis industry. Due to the high heat and high-pressure machinery being used, there is a large explosion and fire hazard when extracting oils from the marijuana plant.
Employers involved in extraction activities must ensure they are adhering to local fire codes, not overloading electrical circuits, using appropriate chemicals and following the safety data sheets, says Bennett. According to the Colorado survey, 39 per cent of respondents said their businesses had cannabinoid extraction facilities.
It's also important to ensure that only trained employees are performing extraction processes and that they are trained on electrical safety, compressed gas and fire protection standards.
"That's like any other oil extraction of materials from plants, so vegetable oil, margarine. These types of operations in legalized (cannabis) situations shouldn't be any more difficult to control than they would be for any food industries where they are extracting oils from plant products," says Curts.
Extraction should be done in a room dedicated to the extraction process that meets fire code regulations including required suppression, gas detection and ventilation systems.
Extraction using butane is the most cost-effective method, but it is the most dangerous.
Dry ice is also commonly used for extraction processes, which converts directly to carbon dioxide (CO2) gas and can be hazardous to workers if not handled properly. It's important for all operations using CO2 to have monitoring devices that will sound an alarm if the levels of the gas are too high. Negative health effects associated with carbon dioxide include headache, dizziness, rapid breathing and an increased heart rate that can lead to unconsciousness and death, according to the guide published by the Colorado Department of Public Health & Environment. CO2 may also used in growing operations to increase plant growth.
A variety of PPE is needed for workers in cannabis growing operations. Safety glasses and goggles should be used to protect the eyes from liquid chemical splash, dust or flying debris and UV light exposure.
Appropriate gloves should be used to protect workers from contact with compounds that could irritate, sensitize, puncture or cut the skin. Hearing protection may be needed for areas where industrial machinery is running. An N95 respirator will likely be required. Safety footwear may also be required. The body will need to be covered by impervious coveralls, a Tyvex suit or smock.
Bennett sums it up the best: "They're going to need to cover everything," she says.
SECURITY MEASURES
Security is an important consideration when the product you manufacture is a highly sought-after drug. The medical marijuana industry is regulated by Health Canada which dictates the required security measures — including a staggering number of cameras.
"You can't cut a bud and stuff it in your pocket," says Bennett.
When 100,000 clone marijuana plants were brought from Canopy Growth Corporation in Smith Falls, Ont., to Langley, B.C.-based BC Tweed earlier this year, they flew overnight, landed at 3 a.m. and were transported to the company by armoured car with police escort, says Bennett.
"It was millions and millions and millions of dollars value. I know at that particular greenhouse they had to set up significant perimeter fencing and there's a two-part ID protocol to get access," she says. "It's quite something."
Organigram has a 24-7 security crew and everything is electronically swiped, says Patterson. The security system monitors who is in growing rooms at any given time. A worker's last known location can be found quickly through the computer system, which is also handy in the event of an evacuation.
"We could instantly tell first responders that somebody is in the building where they are located," says Purcell.
The expansion at Organigram is well underway in preparing for recreational marijuana legalization. Not only does it provide additional space for production, but it also comes with some perks for employees.
"There's a larger cafeteria and larger locker rooms and a common lounge area for employees, so whether it's on break or on lunch they can truly relax and unwind — or enjoy a game of foosball," says Purcell. "At the end of the day, as much fun as we make it, it is a job and we take it very seriously, so it's nice to provide some additional outlets for people."
To keep safety top of mind, the company recently unveiled a safety mascot developed by workers themselves: A smiling marijuana bud called Safety Buddy. T-shirts will be printed with the logo and distributed to workers, and Safety Buddy will also be appearing on various posters and safety materials.
"We're taking that innovative employee engagement and really taking advantage of that and making safety more than just a policy but making it something that's real and tangible and a bit fun," says Purcell. "The employees really latched on to that concept and I think it's going to take our safety program to even new heights."
The company is also hiring another safety co-ordinator to make sure there's enough resources on the safety team as the company — and the industry overall — grows at an unprecedented pace.
"We understand the industry is new and we want to make sure we are doing our part to support the industry in a positive and proactive manner," Purcell says. "We happen to be in the cannabis business, but safety is safety and we treat it as such no matter the industry."
---
SIDEBAR
Budtenders
Occupational health and safety needs to be considered for workers who are on the retail side of the cannabis business. All workers involved in the selling of cannabis should keep the following tips in mind:
•Check ID: Making sure all people in the dispensary are of legal age is a foundation to selling cannabis compliantly. Workers should spend time with the identification and the person to ensure it is all legit. The repercussions of missing this step could lead to fines, jail time, suspension or revocation of license.
*Know the customer: Working in retail settings gives an opportunity to meet all sorts of delightful and devious people. Employees must always be aware of their surroundings. Managers should create policies to limit the number of people in the shop in a way that allows the team to always maintain control of the premises. If a customer is escalating a situation and workers feel unsafe, they should inform their manager, call security or notify law enforcement.
*Keep it clean: Employees must be attentive to frequent, thorough handwashing and monitor the cleanliness of the shop and temperature control where appropriate.
•Keep it safe: The dispensary will have security protocols, high grade locks and cameras. These features are designed to keep the employees, the consumers and the product safe. Make sure workers follow security procedures to the letter.
Source: Maureen McNamara, founder, Cannabis Trainers
This article originally appeared in the August/September 2018 issue of COS.