'As we continue on this path, our productivity levels are actually going down'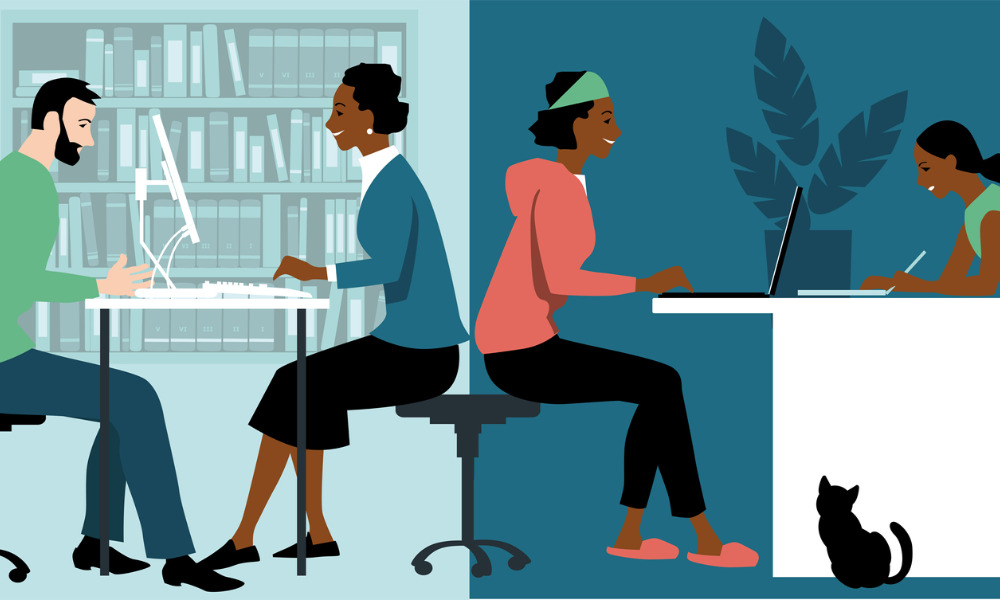 Of all of the new ways of working in the post-COVID era, the hybrid model — which mixes both on-site and remote working — seems to the one most employers and employees are happy with.
But one expert in wellbeing says employers should reconsider this becoming the default approach.
"Earlier on, we were seeing a rise in levels of productivity. I think that there probably was some novelty in getting to work from home and having that newfound freedom and autonomy," says Laura Putnam, CEO of Motion Infusion.
"But now, what we're starting to see is that, as we continue on this path… our productivity levels are actually going down."
While many a study has detailed how workers have benefited from being able to work at home, these benefits are not going to last, says Laura Putnam, CEO of Motion Infusion.
"There's this sense that we, as human beings, rise up to… the moment. And so this is what happened, actually, with the pandemic."
Commitment dropping?
One thing she points to is workers' engagement levels.
"At the outset of the pandemic, our levels of engagement went up, which is kind of surprising. But then — following the murder of George Floyd and as we continued in the pandemic — rates of engagement went down to historic lows. So, they went from historic highs to historic lows."
For one company that has benefitted tremendously from the new reality, hybrid has worked out and it sees that as the way forward.
"In our future-of-work model, our employees get to choose their preferred work style. Given the outstanding success of remote work, we're not pressing for office re-openings. Instead, we're gradually integrating it as a part of our hybrid model. We're continuing to learn and adjust as building a great program to bring teams and employees together is incredibly important," says Matthew Saxon, chief people officer of Zoom, whose sales soared 326 per cent to $2.6 billion in 2020.
Saxon says leaders want to create an environment that enables productivity, increases team collaboration and helps contribute to a strong company culture. For some organizations, that means hybrid or fully remote work. For others, those goals can be achieved only through in-person work.
"It's crucial to test and learn what works for each company and their employees and, from there, adapting where it's needed," he says.
"Listening to our employees is a top priority that leads to mutual trust between our leaders and employers. Talking with our employees on potential plans and the complexities of decisions, and then listening to their feedback is one way we develop this deeper trust. Ensuring clear transparency with return-to-office policies and hearing what employees prefer must be top-of-mind."
Fighting back
But the old guard remains enamoured of the old ways and will keep clawing back to the way it was, according to a new report.
Predictions 2023: Future of Work, written by Forrester, found that four in 10 hybrid working companies will try to undo anywhere work and fail — with 49 per cent of leaders expected to dramatically alter their return-to-office approach this year.
Why? Well, it all comes down to economic panic and inflationary fears.
Employers are having a knee-jerk reaction to the ongoing talent shortage and inadvertently returning to old habits, says J.P. Gownder, principal analyst at Forrester.
"Many employers haven't been too quick to try to undo remote work; a good two-thirds of companies have loosened up their policies compared with pre-COVID," he says.
"However, as economic performance and company results struggle, some leaders fall back on old lessons learned over long careers.
"The data says that employees are more productive at home, on average, so hybrid or anywhere-first approaches will actually increase productivity. However, old-school leaders like to see people in front of them, which often does not drive productivity, while in other cases there are legitimate reasons for employees to spend at least some time in the office."
'Return is expensive'
For those employers who insist on forcing employees to return to the mothership, it will cost them, found a new survey.
Employers will have to dish out more cash if they want their workers to return to the workplace full-time: workers would agree to this in exchange for a 26.93-per-cent increase in salary, finds the survey of more than 300 adults, conducted in September.
"The result is a warning to employers: think twice about forcing employees to return to the office full-time," says Stefani Balinsky, editor-in-chief at Hardbacon.
"The return is expensive to you and to your employees."