Salary disclosure helps gender pay equality because of 'higher scrutiny'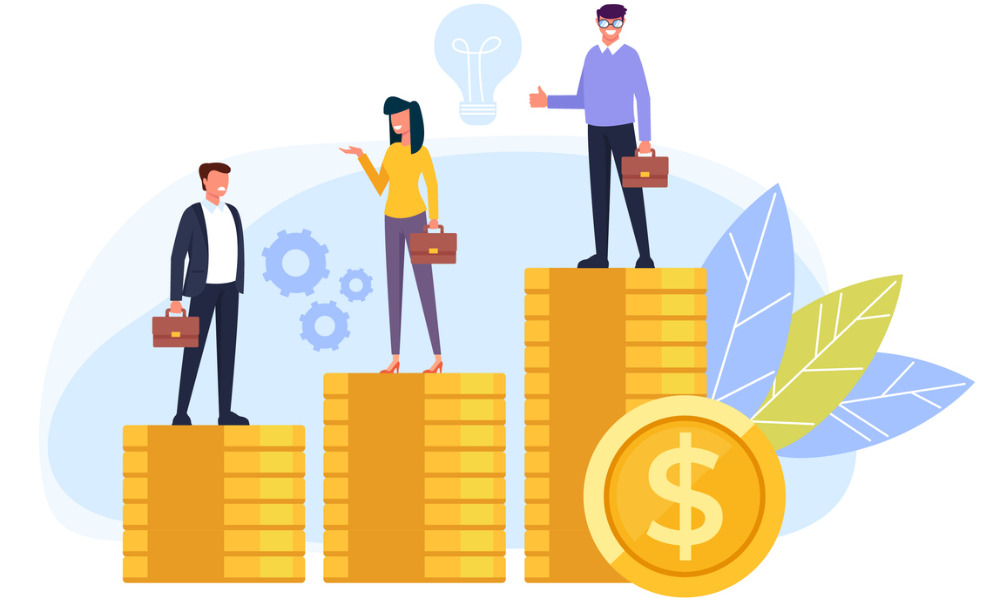 Female employees have long been paid inequitably but there seems to be simple way to fix this. According to a new study done by the University of California San Diego's School of Global Policy and Strategy, when pay transparency is enacted in an organization, women are paid much more equally relative to their male colleagues.
Salary disclosure not only improved accountability but it also improved gender pay equality when implemented.
That's because many organizations "anticipate higher scrutiny" and "respond more aggressively to improve gender pay equality, both in terms of the magnitude and type of response," says the authors of the study published in Strategic Management.
The research looked at publicly available data on the compensation of 32,000 university employees working at 1,400 academic departments over a 24-year timeline, and showed a four-per-cent increase in salaries for females versus those in other provinces.
By using academic job categories to measure the result of the transparency, it was relatively easy because most roles in post-secondary institutions are similar and this makes it easy to calculate, says one of the researchers, Elizabeth Lyons, associate professor at UC San Diego in La Jolla, Calif.
"In some organizations, you might see someone's salary but you might think, 'I don't know what that means for me because their job is just so totally different than what I would do,' but within academia, jobs are pretty comparable."
Solutions are here
These results show that by making salaries and compensation more transparent, pay equity might be achieved more quickly, according to another expert.
"Clearly, there's something to pay transparency as a powerful tool to promote a reduction and hopefully an end to any gender pay gap," says Andrea Gunraj, vice-president of public engagement at The Canadian Women's Foundation (CWF).
"The idea that pay transparency as a tool that an institution can put into place — a relatively straightforward tool, in some senses — can powerfully reduce gender pay gaps in those circumstances, it does feel like something every organization should be doing in 2023."
Fair Work Act
In Australia, a new law aims to make this happen more widely.
Changes to the Fair Work Legislation Amendment (Secure Jobs, Better Pay) Act 2022 will lift the lid on the secrecy of employee salaries and allow for more transparent conversations with employers.
The act amends the Fair Work Act 2009 and enables employees to discuss their pay and terms and conditions of employment that affect pay outcomes.
The changes "have the effect of prohibiting inclusion of pay secrecy clauses in employment contracts," says Jo Alilovic, owner of 3D HR Legal.
"Further, employees will have a workplace right to be able to disclose their rate of pay or ask others about their rate of pay."
The changes mean that employers won't be allowed to have big discrepancies in pay for no valid reason, and shed light on how much employers value certain employees over others, according to Peta Slocombe, CEO of Performance Story.
"It will impact what employers pay employees. Particularly where there is a high level of disparity between employees performing the same role. Employees will either leave, become more disgruntled or resentful if they are aware that others are doing the same role for higher pay. There is little less motivating than feeling you are not valued, which can also create dissention between employees."
But what exactly is pay equity?
"In general, it's about the right to get equal pay for work of equivalent value, but not only that, it is based on gender comparison," says Lucie Guimond, partner at Ogletree Deakins.
"It's the right of workers who sit in a typical female job to receive pay which is equal to that of a person who sits in a typical male job."
How to do it
When working towards this end goal, a number of steps have to be undertaken, she says.
"The first one is to identify job categories and the gender predominant. Second step is to choose a methodology and the job evaluation tool. Then comes the evaluation of the job, the estimation of the pay gap, and the calculation of pay equity adjustments. Of course, at the end, pay equity adjustments have to be paid out and the laws also require postings to be made."
In calculating the gap in salaries, and what compensation means, there are a few ways of going about this exercise.
"The pay gap can be estimated by either using global or individual comparison methods. So individual for individual or group against group of individuals, and of course, calculating salary adjustments accordingly. The total compensation is much more than base salary. It's much more than direct compensation. It includes benefits, it includes value of workflows, personal protection equipment — it includes many things," says Guimond.