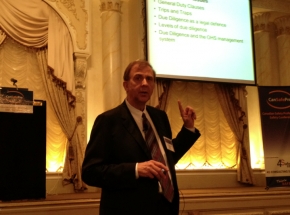 Even to the most seasoned health and safety expert, complying with the due diligence clause of the Occupational Health and Safety Act may not be as simple as keeping your documentations intact.

This is what Peter Strahlendorf, associate professor in the School of Occupational and Public Health at Ryerson University, told attendees of the Canadian Safety Professionals Safety Conference, held in Mississauga last week.
"Due diligence is one of those ideas that is simple on its surface… but it's layered, it's rich, it's textured," Strahlendorf said, referring to the complexities involved in complying with the due diligence requirements in occupational health and safety.

Due diligence comes in two forms, he said: as a general duty and as a legal defence. "You need to address both, understand them separately and think about how they fit together."

Confused yet? Well, don't be. The Ryerson University professor has outlined some important reminders to help you stay in compliance with due diligence.

1. Your own documents may incriminate you.
Documentation is evidence of due diligence; it's not due diligence in and of itself. Documentation can help you prove your case, but if not done properly, it may end up incriminating you. For example, if your health and safety policy prescribes PPE training is conducted twice a year, and the last time you've trained your workers was two years ago, you may be shooting yourself on the foot. "If you can't do it, don't say you're going to do it. If you say you're going to do it, then watch yourself and ensure that you do it," Strahlendorf said.

2. Informal, inconsistent practices are not procedures.
An unwritten, informal practice — no matter how brilliant — can't save you from prosecution when it comes to that. What the judge would want to see is informal best practices translated into formal, written procedures, the associate professor said.

3. General due diligence is not specific due diligence.
Having an established occupational health and safety management system, doesn't necessarily mean you have this due diligence thing covered. Often, the courts will require you to prove due diligence, related to the specific incident. Employers need to show proper due diligence on a specific offence. For example, if the charge is about failure to ensure that workers are using proper personal protective equipment, the employer must show specific due diligence on PPE training for workers.

4. Some knew about the hazard and didn't say anything.
Employers must create an environment that encourages and ensures that employees are telling their employers about hazards in the workplace. "If you have [an employee] who knows [about a hazard] and is not telling, it could still be knowledge of the employer," Strahlendorf said. Create opportunities to squeeze information out of people. Even a well-developed OHS system could still be brought down by one person's knowledge — knowledge that was not made known to the employer.

5. No loose ends.
Whether it's your own employees or your contractors and their employees, employers must always verify that work that needs to be done has been done. Simply hiring a "competent person" is not enough to prove due diligence. You have to have methods and systems in place to verify that they did the job that they're supposed to do.