More than a dozen individuals and companies honoured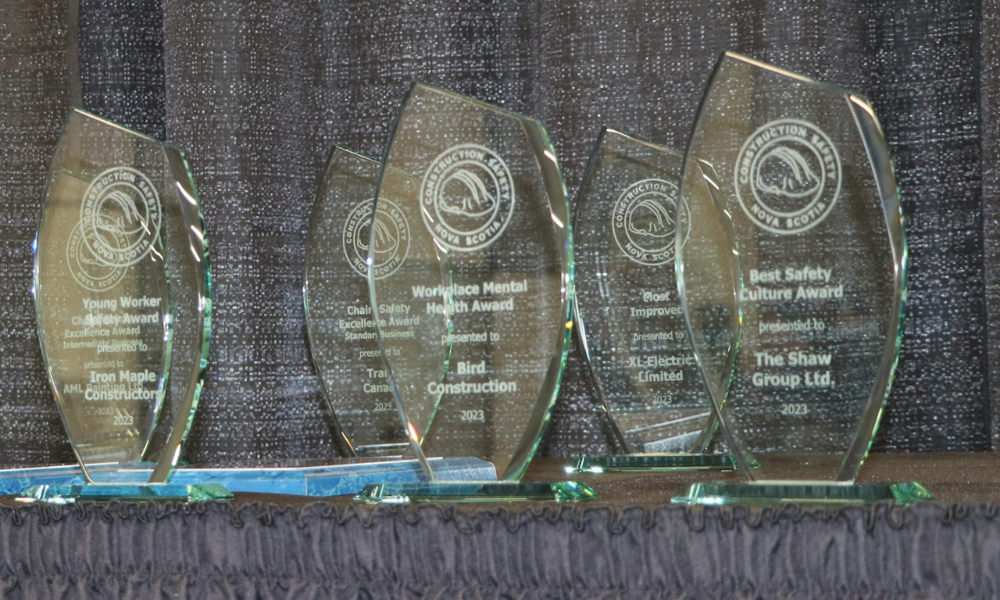 Construction Safety Nova Scotia handed out awards to 15 companies and individuals who have demonstrated a commitment to occupational health and safety in Nova Scotia's construction industry.
"Every year, we really look forward to handing out these awards at our AGM. It's not often we get to recognize the incredible work that folks in our sector are doing to keep construction workers safe, and we are happy to provide that opportunity," says MJ MacDonald, CEO of CSNS. "These companies should be looked upon by others as shinning examples of doing safety right."
The Safety Champion Award went to Debbie Greencorn, who is the accounts payable supervisor and joint occupational health and safety committee co-chair at the Town of New Glasgow. She helped the town obtain its COR® certification.
The Women and Safety Leadership Award was given to Cheyenne Coulton, health and safety advisor at Pomerleau. "Coulton is a role model for women who aim to navigate a successful career in a male-dominated field. She has strong communication and conflict resolution skills; tackles challenges with a positive approach; and is able to influence the entire team and all contractors to work safely," reads a press release from CSNS.
The Shaw Group Ltd. received the Best Safety Culture award. It developed a corporate safety strategy team made up of senior leaders. "All senior leaders conduct 'Leadership Safety Walks' at sites other than their own for inspections and conversations with employees. Workers are highly engaged with the company receiving over 8,000 hazard IDs from employees in 2022."
A full list of winners can be found here.
Canada's Safest Employers Awards, which recognize the top companies and individuals demonstrating excellence in safety across the county will be handed out in October.