One firm failed to secure all openings to prevent the release of asbestos fibres into other work areas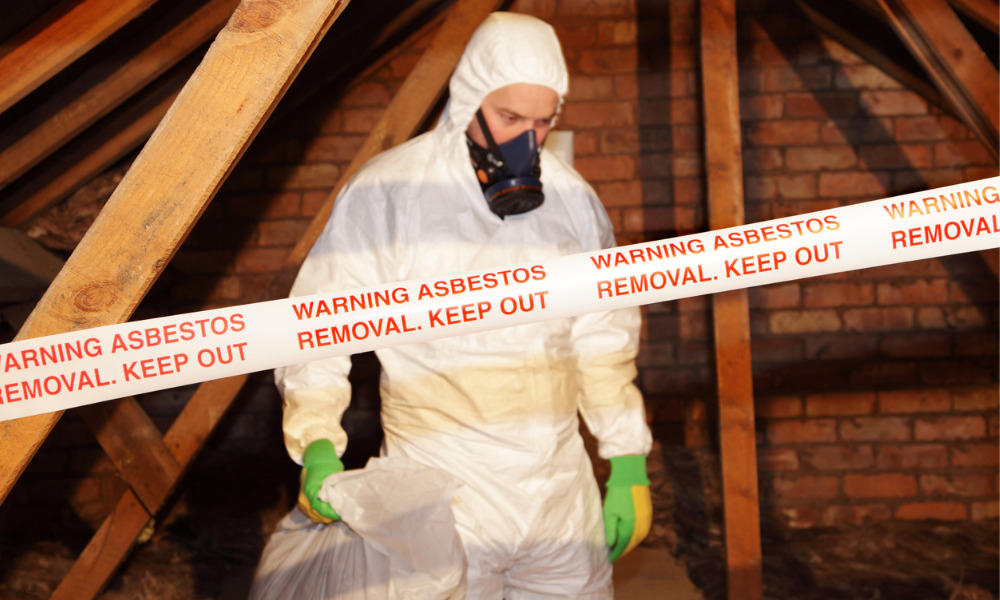 WorkSafeBC has charged two employers in the province over violations related to asbestos in the workplace.
HLC Holdings Inc. – also known as HLC Hazmat & Demolition – was fined $2,500 for violations it committed while conducting pre-renovation asbestos abatement at a house.
After inspection, WorkSafeBC found breaches in the containment of the material. WorkSafeBC also observed plaster, a confirmed asbestos-containing material (ACM), in multiple locations.
The firm also failed to safely contain or remove all hazardous materials, a repeated violation. Also, HLC Holdings failed to secure all openings to prevent the release of asbestos fibres into other work areas. These were both high-risk violations, said WorkSafeBC.
Meanwhile, Akaal Enviro Corp. was also fined $2,500 for failing to comply with a WorkSafeBC order.
"WorkSafeBC issued an order to this firm to provide hazardous waste disposal records for 13 of its asbestos abatement worksites. After multiple follow-up communications, the firm had not provided the records," according to the agency.
Previously, WorkSafeBC also charged three employers in British Columbia for violations relating to asbestos-containing materials. Three other employers were convicted earlier this year for similar violations.
Containment
Employers must have an asbestos control program when handling, removing or disturbing asbestos-containing materials (ACM), or when the presence of ACM is suspected or confirmed in the workplace, according to the Canadian Centre for Occupational Health and Safety (CCOHS). And asbestos containment is an essential part of the program.
"The goal is to prevent or minimize the release of airborne asbestos fibres. The employer must make sure that the control plan is developed and implemented according to the requirements for their local government regulations," said CCOHS.
Buildings built before 1990 have many products which may contain asbestos, it said.
Failure to contain asbestos can be harmful to workers. People are more likely to experience asbestos-related disorders if they:
are exposed to high concentrations of asbestos,
are exposed for longer periods of time, and/or
are exposed to asbestos more frequently
"Asbestos fibres are easily inhaled and carried into the lower regions of the lung where they can cause fibrotic lung disease (asbestosis) and changes in the lining of the chest cavity (pleura). These diseases can lead to reduced respiratory function and death," according to CCOHS.
Long-term inhalation of asbestos fibres also increases the risk of lung cancer and mesothelioma. Also, enlargement of the heart can occur as an indirect effect from the increased resistance of blood flow through the lungs, according to the agency.