Previous announcement from Canada Border Services Agency 'provided in error'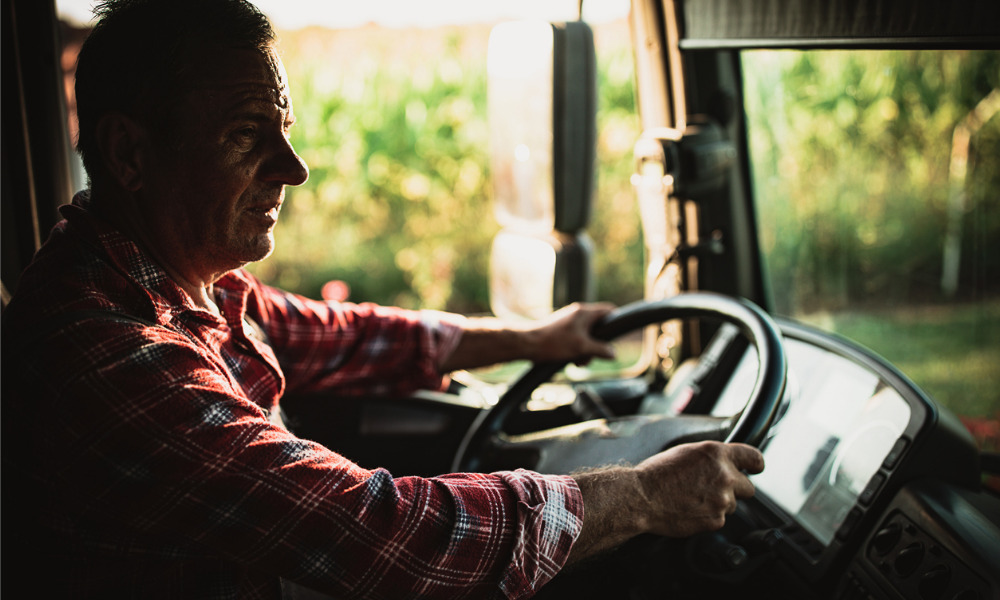 All truck drivers crossing into Canada from the U.S. will have to be vaccinated against COVID-19 after all.
The federal government has announced that the vaccination policy announced in November 2021 will be in effect starting this Saturday, Jan. 15.
"Let us be clear: This has not changed," according to a statement issued by Omar Alghabra, minister of transport, and Marco Mendicino, minister of public safety.
The announcement came a day after a spokesperson for the Canada Border Services Agency said the federal government would allow unvaccinated Canadian drivers to pass the border.
"The information shared yesterday was provided in error. Our teams have been in touch with industry representatives to ensure they have the correct information," according to the statement.
Qualifications
The ministers noted that a Canadian truck driver who is not fully vaccinated can't be denied entry into Canada, because "Canadian citizens, persons registered as Indians under the Indian Act and permanent residents may enter Canada by right".
However, unvaccinated Canadian truck drivers entering Canada will need to meet requirements for pre-entry, arrival and Day 8 testing, as well as quarantine requirements.
"The final decision regarding entry and quarantine is made by a government representative at the port of entry, based on the information presented to them at the time," they said.
To qualify as a fully vaccinated traveller and to enter Canada, foreign national truck drivers must:

have received at least two doses of a vaccine accepted for travel, a mix of two accepted vaccines

or at least one dose of the Janssen/Johnson & Johnson vaccine

have received their second dose at least 14 full days before they enter Canada

For example: if a driver received their second dose anytime on Saturday, January 1, then Sunday, January 16 would be the first day that they would meet the 14-day condition.

Have submitted all required COVID-19 information into ArriveCAN.
In May 2021, Saskatchewan and North Dakota signed a Memorandum of Understanding to vaccinate essential workers who are transporting goods across the United States and Canadian border. Two months later, the North Dakota Department of Health has extended the Drayton pop-up vaccination clinic to accommodate Canadian traffic under the Essential Worker Cross-Border Vaccination Initiative.
Unvaccinated or partially vaccinated foreign national truck drivers, coming to Canada from the US by land, will be directed back to the United States, according to the ministers.
Criticism
The latest announcement was met with criticism from some stakeholders.
"We now have a reversal on a reversal that has resulted in greater uncertainty for many in the industry and an industry that has been working around the clock since the beginning of the pandemic, uninterrupted," said Conservative transport critic Melissa Lantsman, according to a report from CTV News.
Also, there continues to be people who are against the vaccination mandate for truckers, including Bridgitte Belton, an unvaccinated truck driver, according to a CBC report. Belton said she and her husband, who is also a trucker, will not be getting vaccinated even though they may face financial trouble when the mandate kicks in.
"I lose my truck. I lose my house. I lose my car. I basically will have absolutely nothing left," she told CBC News. "I won't comply. I will not get the shot in the arm. Who am I really protecting? I'm protecting somebody that lives in long term care. I don't go there … I live in my truck. When I go home, I go home to my husband, who's also a truck driver."
Even before the latest announcement, cross-border trucking organizations have said that requiring drivers to be vaccinated against COVID-19 would sideline thousands of drivers.
"What we really have here in the next seven to nine days is the need for Ottawa and Washington to both agree to remove their foreign national requirements," said Stephen Laskowski, head of the Canadian Trucking Alliance on CTV News Channel, noting that his organization is in favour of vaccinations for its drivers.
"It's not a question of if this mandate should be put in place, it's a question of when. So let's work together in a collegial manner on both sides of the border, let's understand that the supply chain is in a fragile state, and let's pick a date to impose such measures when the supply chain is in a stronger condition than it is today," he said.