Employers should not forego the importance of a risk assessment and control measures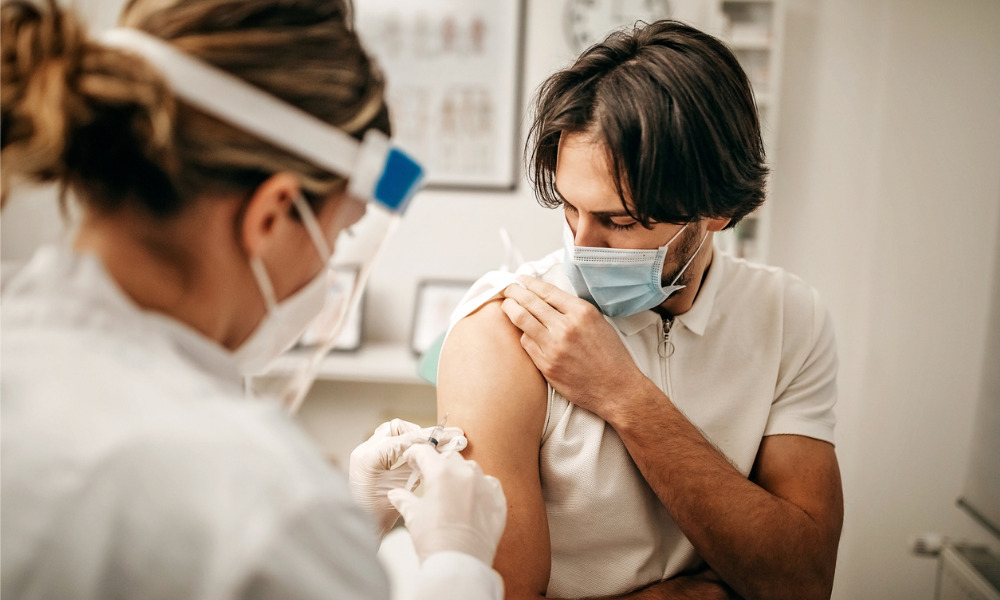 Employees across Canada are beginning to transition into post-pandemic work life as vaccination rates go up and restrictions are lifted. With a return to physical workplaces on the horizon for more workers, employers may be considering whether to implement mandatory COVID-19 vaccination policies.
Scientific evidence shows that vaccination corresponds with reduced COVID-19 transmission, lower hospitalization rates, and fewer deaths. However, from an occupational health and safety perspective, is a mandatory COVID-19 vaccination policy advisable given that employers have a general duty under occupational health and safety legislation to take every precaution reasonable in the circumstances for the protection of workers?
Recently, the Ontario government mandated that long-term care homes implement immunization policies for staff that meet certain requirements. Under the new policies, workers must provide proof of vaccination of each dose, provide a documented medical reason for not being vaccinated, or participate in an educational program on the benefits of vaccination and the risks of not being vaccinated. Employer mandatory vaccination policies engage employee human rights, privacy, and in unionized workplaces, collective agreement interests. These must be balanced against the employer and public interest in mandatory vaccination and considered in light of other measures available to prevent the spread of COVID-19 and fulfill workplace health and safety obligations. Employers have limited guidance from government, but we are not completely without precedent. There is existing case law – mainly from unionized health and long-term care workplaces – addressing the mandatory vaccination of workers against the flu. In many but not all cases, mandatory vaccination policies (or mask or vaccinate policies) have been struck down by arbitrators.
For example, in Sault Area Hospital and Ontario Hospital Assn. (Vaccinate or Mask), Re (2015), 262 LAC (4th) 1 (Hayes) 1, the arbitrator held that a "vaccinate or mask" policy for healthcare workers at a hospital was unreasonable because: (i) the purpose of the policy was to drive up immunization rates rather than to prevent the transmission of influenza to patients; (ii) little scientific evidence was presented to evaluate the risk that unvaccinated employees posed to patients; and (iii) limited evidence was presented to support that masks effectively reduce the risk of transmission.
However, in Health Employers Assn. of British Columbia and HSA BC (Influenza Control Program Policy), Re (2013), 237 LAC (4th) 1 (Diebolt), a mandatory policy requiring healthcare workers to either be vaccinated against influenza or wear a mask during influenza season was upheld. The arbitrator found that the policy was reasonable in the circumstances, in part because expert evidence demonstrated that immunization reduced the risk of transmission to patients and, on average, the risk of infection by 60 per cent and the purpose and effect of masking was to prevent transmission and to provide an alternative form of protection.
Some of the existing flu vaccination case law was decided in the context of flu breakouts at health or long-term care facilities, but none was decided in a global pandemic. The cases arise in a very different context and we should be careful not to rely too heavily on them. A different context could lead to a different result. For example, we have seen arbitrators uphold mandatory COVID-19 testing in unionized retirement, construction, and food processing workplaces. Before the pandemic, it was difficult to imagine a mandatory medical testing program being upheld in construction or other workplaces.
Given the existing jurisprudence, employers contemplating mandatory COVID-19 vaccination policies, should consider whether the circumstances of their workplace are such that vaccination should be mandatory for all employees. They should also be mindful of any available regulatory guidance. In July 2021, British Columbia's Office of the Human Rights Commissioner released policy guidance on proof of vaccination requirements, taking the position that "in some circumstances (employers) can implement a vaccination status policy such as a proof-of-vaccination requirement—but only if other less intrusive means of preventing COVID-19 transmission are inadequate for the setting and if due consideration is given to the human rights of everyone involved."
The vaccine guidance from BC's Human Rights Commissioner makes clear that employers wishing to implement a mandatory vaccination policy, also need to balance workplace safety against employees' human rights. As such, some employers may wish to implement policies focused on vaccine encouragement and education as opposed to vaccination mandates when it comes to return to work.
In the context of taking reasonable precautions to protect workers from the risk of COVID-19 in the workplace, it's important for employers to remember that while vaccination reduces the chance that a person will get sick if exposed to the virus, workplace control measures are key when it comes to preventing exposure. Therefore, COVID-19 vaccines should not replace workplace controls. As employers consider the worker safety implications of a return to the workplace, an assessment of the risks of exposure to COVID-19 should be front of mind for employers. An assessment should focus on the frequency and/or probability of exposure to COVID-19 arising from the nature of work performed, the possible consequences of exposure to COVID-19 and the availability and effectiveness of other controls and precautions to minimize or eliminate the hazard of COVID-19. An assessment could be a key factor in determining whether or not to implement a proof of vaccine policy.
No matter how many of their workers are vaccinated, employers must also continue to follow the advice and guidance of public health agencies regarding COVID-19 control measures which typically do not distinguish between vaccinated and unvaccinated workers. Such measures include protocols to ensure physical distancing, masking and personal protective equipment policies, active screening of workers, enhanced cleaning and disinfection regimes and adequate ventilation. Education and training on COVID-19 protocols and the benefits of vaccination, should also be part of the "reasonable steps" employers are required to take under OHS law, to protect workers.
Currently, OHS legislation does not directly address vaccination or the enforcement of employer vaccination policies for workers. However, OHS law does require that employers take all reasonable precautions for the protection of their workers. Proof of vaccine policies may, in some circumstances, fulfil an employer's obligation to take all reasonable precautions under health and safety legislation. However, with some limited exceptions, employers cannot generally require that employees accept any form of medical treatment, such as vaccination. Therefore, the answer for some employers may be to implement a policy where vaccination is encouraged and promoted but not mandated. As discussed, any vaccine policy must also include the appropriate privacy and human rights considerations and safeguards.
Although our understanding about the transmission of COVID-19 is quite advanced at this point, the fact remains that we are not certain as to how effective the COVID-19 vaccine will be. That brings us back to the fact that "taking every reasonable precaution" to protect workers from COVID-19 exposure requires a multi-faceted risk management approach. Employers should not forego the importance of a risk assessment and control measures, when it comes to preventing the spread of COVID-19 in the workplace and protecting worker safety.